Passion Pit – Gossamer
Gossamer will surprise you with its honesty. Stays true to their upbeat instrumental style while the lyrics have taken a plunge into darkness.
The sophomore album, Gossamer, for the breakthrough band Passion Pit not only took 4 years to come to life, but it was also amazing that it was even completed in the first place. Passion Pit has been thrown into the media spotlight recently due to show cancelations due to "mental health" issues of their front man Michael Angelakos. As many know, Angelakos has informed the media that he lives with Bipolar I, which is a mood disorder that includes episodes of mania and depression. All that being said, Gossamer was an album that took me weeks to really embrace and to completely understand.
Upon first listening to Gossamer I was anticipating the perky, hyperactive musical style of Manners from four years ago.  I was, at first, sorely disappointed to not have heard a single song with the same feel as "Little Secrets" and instantly stopped listening to the album for weeks. Eventually, I was talked into giving it a second chance and I am exceptionally happy I did so. Passion Pit is NOT the same band they were when Manners came out four years prior so it is naive to believe that Gossamer would be identical to it, it is easy to think something like this since, as a listener and a fan, you want it to be like the music that made you love the band, but at the same time you want something that is new and different. That pressure to has to be quite the cross to bear for such a young band. This paradox is often referred to as the "sophomore slump".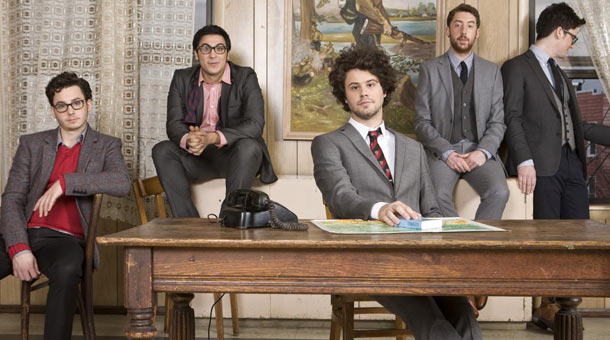 The autobiographical Gossamer takes the listener on a dark journey through the life of lead singer Angelakos life for the past four years. Staying ever true their upbeat instrumental style while the lyrics have taken a plunge into darkness. The lyrics are heavy and thoughtful on the life of alcohol and drugs that Angelakos had been fighting through. The blend of poppy beats and dark lyrics makes a link to the musical style of The Smiths, with the obvious difference in vocal styles. Angelakos has been criticized in the past for his extremely high vocals in the past and his lack of vocal range. However, I feel in Gossamer he proves that he does have some range to his vocals which is can be heard in the opening song to the album "Take a Walk."
Songs like "Love is Greed" is an insightful song into the ideas that Angelakos has about love and his ideas of inner workings of being in love with someone.  With lyrics like "If we really love ourselves, how do we love somebody else?" I feel really captures Angelakos confusion, possible frustration and overall ideas about what love is to him. Other songs that I highly recommend a deep listening to really embrace and understand the path that Gossamer is trying to take the listener down are "On My Way," "Carried Away," "Constant Conversation," and "It's Not My Fault I'm Happy." Gossamer will be an album that will surprise you with its honesty.
Passion Pit – Gossamer Music review