Aunt Martha – Bloodshot EP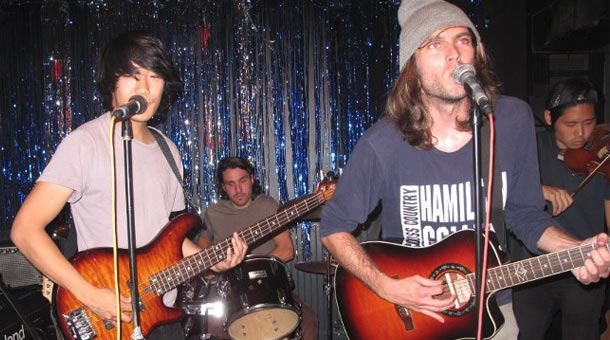 Aunt Martha has a unique combination that works.
On a cold February night in Minneapolis my girlfriend, Abby, and I walked into an unexpectedly uninhabited venue named the Terminal Bar. After we paid the $5.00 cover charge to the very aged bartender, we made our way past the empty barstools and chairs to reach the back where the band was playing. On stage were three guys playing pleasant folk music to the one person in the audience (who later turned out to be their manager). Abby and I took a seat and smiled at each other because we both thought the Terminal Bar would be packed.
After a few minutes of playing, the band jokingly asked the audience (us) if there were any requests. When we replied, "Play the Neighbor Song!" the band looked shocked that we not only knew who they were, but that we knew one of their songs. With smiles on their faces, and a newly rejuvenated spark for the night, they played the "Neighbor Song" and the rest of their set until the show was over.
After the show was over, the band sat down with their manager at a table near us. When they noticed that we were still there, they motioned us over to share a beer with them. They told us that they were about to pack up and leave until we made a request. I shared with them that Abby had introduced me to their music a few months prior and I was excited to find out that they were playing nearby in time for her birthday. We shared stories, took some pictures, and eventually they invited us to go back to their motel and throw TV's out the window with them! Sadly, we declined because we had prior arrangements.
But enough about me, let's get to the meat. The band I am talking about is Aunt Martha. They are a small folk band from Norway, ME, and they have, for lack of a better word, incredibly charming music. Aunt Martha is composed of three members (Tim, Garrett and Brian) and they are all very talented musicians. I am not usually one to get into folk music but when an Aunt Martha song comes up on my iPod, I never hit 'skip'.
Aunt Martha has a more distinctive sound compared to most indie/folk bands. They don't have your typical cookie-cutter riffs and song layout as most of the mainstream groups. I really enjoy how Brian sometimes switches out the bass for violin, which I believe is a highly underrated instrument, how Tim is a definite wordsmith and he brings out his exceptional voice with clever rhyme schemes, and how Garrett's drumming seems to match perfectly with the mood of every song. Some of my favorites include: "Neighbor Song", "Detroit City", and "Bloodshot".
Aunt Martha is getting a lot of headway in their music career. They have two albums, Candymaker and Norway, ME, and one EP, Bloodshot, on iTunes and they recently finished recording a new EP entitled La La Lonesome which you can currently get for free here. Candymaker is their first full length album and it has one of my personal favorites, "Neighbor Song", on it. They have also already completed a U.S. tour and are currently on tour again.
Aunt Martha has a unique combination that works. Since folk music is not usually on my playlist, or radar for that matter, I have to commend Aunt Martha for somehow finding their way in there. I always enjoy their music and I look forward to hearing what they produce in the future. They are also always posting new free music on their website to keep listeners coming back. If they keep delivering great music, I will gladly throw TV's out of a window with them if the offer ever arises again!
Aunt Martha – Bloodshot EP Music review