Woman in Gold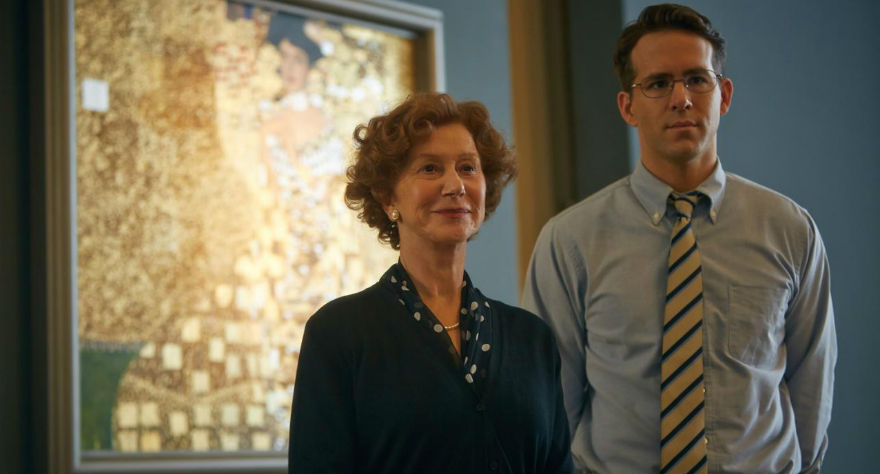 A rousing true story of national and familial identity gets sunk by Hollywood clichés.
If only we couldn't see every beat of Woman in Gold coming from a mile away, it might have been a fascinating tale of identity and family and the American Dream. Instead, it's a merely adequate tale of identity and family and the American Dream. It's a sad Hollywood tradition to take amazing, bizarre true stories, sterilize them, prune them, buff them, and smoosh them into a uniform, textureless box. Simon Curtis' new historical drama is unfortunately just another package shipped out from the factory. There's no risk, no flair, no imagination involved; just a series of moves and tropes we've seen a million times before.
The true story on which the movie is based is awe-inspiring. Helen Mirren plays Holocaust refugee Maria Altmann, who with the help of American attorney Randy Schoenberg (Ryan Reynolds) attempted to recover a Gustav Klimt painting of her aunt, Adele Bloch-Bauer, which had been stolen from her family by Nazis. When Maria fled from Europe to California with her husband during the war, the painting stayed in Austria and over the years became the country's veritable Mona Lisa. Understandably, the Austrian population was outraged at she and Randy's threat to wrest the painting from the Belvedere Palace where it hung and fly it to America in the '90s, despite irrefutable evidence that proved it belonged to Maria by law since the war ended.
It's a thought-provoking dilemma of both personal and international proportions, but Curtis and screenwriter Alexi Kaye Campbell employ hackneyed storytelling tactics that get in the way and make Altmann's improbable, once-in-a-lifetime story feel old hat. Mirren is so seasoned that she occasionally manages to give the mostly flat script a little volume and depth, triumphing in the moment, but since every obstacle and revelation she happens upon is so easily anticipated, we're two or three steps ahead of her, a deadly situation for any actor. Still, the screen veteran is always worth watching, and her turn as a woman torn apart by the unfinished business of her forgotten past is the best thing the film has going by a landslide. As Maria she embodies dignity and an internalized hunger for justice that bubbles to the surface every now and a gain in controlled yet spontaneous-feeling bursts.
As Schoenberg Reynolds has about as much charisma as a roll of Reynolds Wrap. He's a quiet, unremarkable young man wearing unremarkable '90s lawyer clothes. It's not a bad performance per sé, but Curtis makes him shed all the energy and magnetism that got him to this point in his career in the first place, turning him into a Clark Kent-like bumbling nerd. Reynolds is good enough to hang with Mirren on-screen, but without his sharpest tools, he winds up coming off as woefully dull. His character's inner turmoil isn't explored deeply enough, and his subplot involving supporting his wife (Katie Holmes, in a wasted role) and kid is utterly disposable. Daniel Brühl makes a decent impression as a local journalist who provides insider information to aid Maria and Randy, but like Mirren, he has lukewarm chemistry with Reynolds.
The impetus for the eventual friendship between Randy and Maria is one of parallel family history: though he was born in America, Randy's family fled here just like Maria did. Randy's just landed a sweet job at a big L.A. law firm, but he takes time off to help Maria recover her family painting when he discovers it's valued at over $180 million. He insists Maria return to Austria to appear in court, but she's rightly horrified and conflicted by the idea of returning to the place she once called home, which has long since been tarnished by memories of violence, indignation and injustice. She's indelibly linked to Vienna, and her struggle to suppress the fact that she has no choice but to be defined by her sordid past life is the heart of the film. Her journey to self-acceptance isn't told elegantly enough by Curtis, but a surrealistic final scene serves as a beautiful, poetic cinematic statement that says much more than the around 100 minutes that preceded it. It's a shame the rest of the movie isn't as refined, imaginative and piercing as the finale.
About a third of the film is made up of intermittent flashbacks to war-time when Maria was a child living in her well-heeled family's house in Vienna that the Nazis eventually pillage. One scene sees Maria and her husband, under house arrest, elude one of their Nazi guards in a street-level foot chase. It's one of the more engaging sequences in the film, though it feels strangely protracted and slightly out-of-place. The film may have benefitted from dedicating more of its runtime to the ravishing period flashbacks, whose set and costume design are pretty stunning. Instead, the film plays out like a store brand court drama about a true story that's much more interesting without Curtis' cinematic machinations.
Woman in Gold Movie review