Wild Tales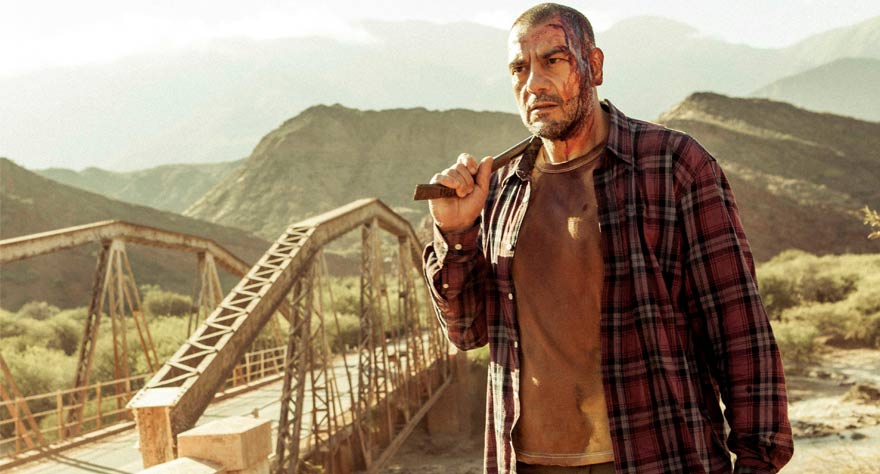 Six hilarious short stories make up one of the most rewarding and entertaining films of the year.
It's unlikely that there'll be a more fitting title to any movie released this year than Damián Szifron's Wild Tales. Ever since it competed for the Palme D'Or at Cannes last year, this Argentinian anthology of six short, absurd stories has injected a healthy dose of entertainment into practically anyone who had the chance to see it throughout its festival run last year. Since then, it's become the most watched film in Argentinian theatres ever, and gave many an Oscar pundit good reason to believe that it would win Best Foreign Language Film (it didn't, but the thought still counts). And if that wasn't enough to make the question "What are you waiting for already!?' ring even harder in the heads of all who still haven't seen it, the film ranked at an impressive #4 in our Best 20 Films Of 2015 So Far. Just like the film itself, the message is loud, clear, and appropriately unsubtle: Wild Tales is an unforgettable ride.
Things literally take-off with a prologue-to-end-all-prologues: two flight passengers, Salgado (Darío Grandinetti, from Pedro Almodovar's Talk To Her) and Isabel (María Marull), are seated in the same row and begin your everyday quasi-flirtatious airplane chit chat. We find out that Salgado is a classical music critic, and Isabel is a model whose ex-boyfriend, Gabriel Pasternak, wanted to become a classical musician until his hopes were ruined by one particularly scathing review from none other than Salgado himself. Coincidence? You'd think so, until things begin to escalate quickly and hilariously. It's worth noting that this prologue contains a freeze frame that will likely remain at the very top of my favorite single frames in 2015.
The overarching theme of violent vengeance is the clearest connection each story has, since none of the characters appear to be connected in any way. The stories to follow involve, in chronological order: a douchebag lone shark (César Bordón) who visits a late-night diner where the only waitress (Julieta Zylberberg) recognizes him as the man who ruined her father's life, a surreal case of road rage where one flip of the finger and a verbal insult leads to outrageousness, a Falling Down-kind of day for demolitions expert Simon Fischer (Ricardo Darín, Argentina's most recognizable actor) who gets trapped in the seventh circle of bureaucratic hell, an attempt to cover up a hit-and-run accident that shifts into a screwy example of avarice, and, finally, a wedding ceremony in which the bride, Romina (Érica Rivas), suspects her groom, Ariel (Diego Gentile), cheated on her with one of the guests. Absurdity ensues, everywhere. The escalation of each scenario is so intrinsically fun to watch that going any further into the plot details would feel unjust to those who've yet had the pleasure of watching these Wild Tales.
What makes Szifron's film feel so fresh and deliciously Schadenfreudian in nature is the sense of humour instilled in every tale. Szifron's screenplay isn't exactly filled with quotable dialogue, and there's not much emotional or psychological depth to any of the stories, but the structure of the storytelling, the incredibly smooth changes of tone, and the fantastically erratic situations and reactions are enough to make this an instant recommendation to anyone looking for a good time. The film is filled with laugh-out-loud spontaneity that's often much too easy to spot in most popular comedies these days. One of my favorite examples is in the road rage story, when we see Diego (Leonardo Sbaraglia) driving to the love theme of Flashdance, and the music stops long enough for the crucial first moment with Mario (Walter Donado) to play out unhindered. Once Diego passes Mario on the road, giving him the one-finger salute and insulting him, he mutters to himself and Flashdance comes back in full force. It's tough to explain in words just how well that switch with the music works. Then there's the hit-and-run story, my favorite of all tales mostly because of how inconspicuously the tone changes from uber-serious to caustically satirical, expertly acted by Oscar Martínez in a scene when his Mauricio realizes that he's getting swindled through his own scheme. Watch how Ariel reacts when Romina delivers the greatest monologue in the film on the rooftop in the final story, or how Lucien Belmond's song "Ariel Libre" marks Simon Ficher's boiling point as calm, collected, and demented.
Wild Tales is a movie for anyone who's felt the pressures of their environment closing in on them, and who always wanted to do something about it. In other words, it's a movie for everyone; a point that makes the film universally cathartic in many ways, adding so much to the immense enjoyment of watching it. Its anthological nature and skin-deep themes can make it an easy target for some to brush it aside as a glib experiment in shock value storytelling with no resonance, but it would take a special kind of expert to locate a single boring moment. Even though certain tales are clearly weaker than others (there's a reason the restaurant tale is the first out of the gates after the opening credits), thanks to Szifron's original screenplay, his genius use of music, and his actors' determined performances (an outstanding mix of veterans and international no-names), Wild Tales works on enough levels to remain one of the most rewarding and raucously entertaining releases of the year.
Wild Tales is out on DVD and Blu-Ray this week from Sony Pictures Classics. You can read our interview with director Damian Szifron here.
Wild Tales Movie review