Welcome to Happiness (Dances With Films Review)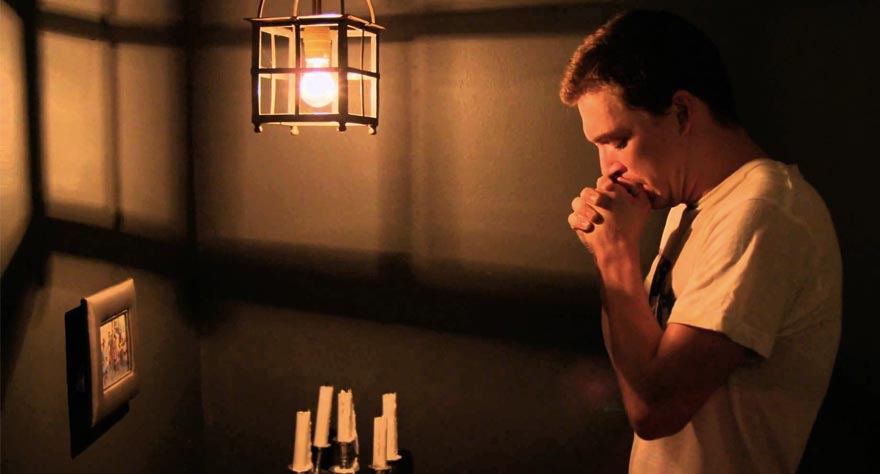 The secret to happiness lies in one man's closet in this charming comedic fantasy.
It seems to be quite a difficult task to create a film that features an intrinsically upbeat message without feeling tawdry or mind-numbingly sugarcoated. There's a reason most films of the aforementioned nature appeal only to toddlers, and it's because anyone past pre-school age knows that life is never perfect. There are always going to be obstacles, and finding happiness will never be as easy as it seems. In Welcome to Happiness, writer-director Oliver Thompson invites viewers into a world where genuine happiness is obtainable, but only to those who are all too familiar with the inherent difficulties of life.
Kyle Gallner stars as Woody Ward, a children's book author whose closet features a mysterious door that allows special, troubled people to enter through in order to find happiness. Despite serving as a pseudo gatekeeper of the door, Woody has no idea what lies on the other side, though he is incredibly curious. After he meets Trudy (Olivia Thirlby), a charming young woman with whom he shares an apartment complex, Woody's life begins to change, resulting in his desire to uncover the truth behind the door to a happier life.
Welcome to Happiness is an extremely "quirky," Wes Anderson-style adventure comedy with an incredible ensemble cast and a dozens of wacky characters. Make no mistake, though, the film is completely comfortable venturing into very dark places. In order to stress the importance of happiness, Thompson opts to show many of the characters at their lowest. However, these moments of bleakness are never held for too long, and there is always a powerful sense of hopefulness throughout.
While the bizarre plot is reason enough to buy a ticket to Welcome to Happiness, the film's star-studded cast secures the film's success. At this point in her career, it seems almost impossible for Olivia Thirlby to not be violently charming, but she outdoes herself here, as one of the most absurdly adorable girls next door to appear onscreen in years. Her chemistry with Gallner is honest and sweet, and ultimately, very realistic. On the complete opposite end of the performance spectrum, the always-hilarious Keegan-Michael Key is absolutely fantastic as a peculiar baseball card collector named Procter, and appears to be having the time of his life in the role. With supporting roles from Nick Offerman, Brendan Sexton III, Josh Brener, and Molly C. Quinn, among others, the film has the feel of a big-budget Hollywood production, but the homey charm of an indie flick.
Thompson (who also edited the film) chooses to use a few strange editing choices throughout. Songs fade in and out somewhat jarringly, and some of the cuts are a bit peculiar. It fits fairly well with the storybook style of the film, but it is still noticeably weird at times. Perhaps that's part of what makes the film so lovely, though. Welcome to Happiness feels like this strange children's story but darker and for adults. There's this universally relatable nature about it, because everyone desires to find happiness in life, but we've all experienced hardships that constantly seem to get in the way; and pasts that we can never seem to fully shake.
As a debut, Welcome to Happiness proves to be a pretty remarkable arrival for Oliver Thompson, who quickly stakes his claim as a filmmaker to watch. Despite a few moments that seem out of place in the grand scheme of the story, there's so much to enjoy about this film that it's really an easy recommendation. It's a feel-good tale that manages to remain mature and, most importantly, honest. It's the ideal two-hour road trip to happiness.
Welcome to Happiness (Dances With Films Review) Movie review