Wadjda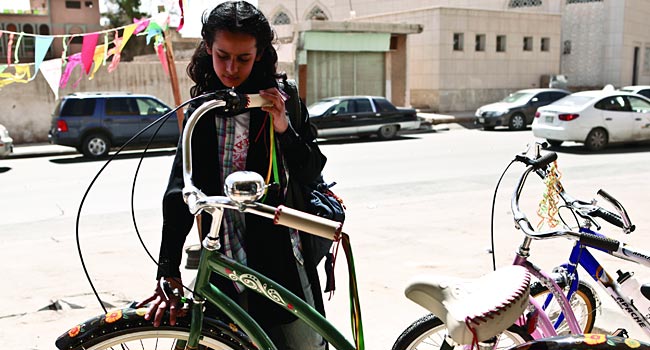 Wadjda is tremendous and will likely move and inspire any who sees it.
In perhaps the most definitive image of Wadjda, the titular 10-year-old girl's bright, zealous eyes track a green bicycle as it appears to glide across the top of a stone wall alongside a dusty road, riderless, like a vision of happiness. Her eyes reveal her spirit: she's driven, uncompromising, courageous, brazen, and full of big dreams. "That bike. Is mine."
Set in Riyadh, the capital of Saudi Arabia, the gorgeously pure and simplistic tale of girl and bike blankets several complex undercurrents, most of which tastefully challenge the conservative impositions of the kingdom on women: women are prohibited from driving, they often can't show any body part through their clothes but their hands and eyes, they're publicly segregated from men, and, up until a recent ruling by King Abdullah, were not allowed to vote or run for office. It must be a frightening reality to cope with, but Wadjda is unstoppable, and the character will no doubt serve to empower many young Saudi girls.
Wadjda is tremendous and will likely move and inspire any who sees it, but no matter how great it is, the most remarkable thing about it lies behind the camera. Saudi writer-director Haifaa Al-Mansour has created in Wadjda the very first film to be completely shot in the kingdom. She wanted to represent what life is like for women in the kingdom, so filming on actual Saudi soil was paramount. She directed outdoor scenes from inside a van via walkie-talkie, so as not to rile up the locals who would disapprove of a woman working with men in public. It's hard not to let the historical significance of the film overshadow its actual cinematic value, but Al-Mansour and her crew certainly deserve recognition for their craftsmanship.
Wadjda (Waad Muhammed, knocking it out of the park in her first role), a pre-teen rebel who oozes '90s American sitcom spunk, is a rare little thing; she listens to English rock music, wears Chuck Taylors, jeans, and print T-shirts that say "I'm a great catch", has the hustle of businessmen twice her age (she sells homemade football bracelets to her classmates), and has secret meetings with Abdullah (Abdullrahman Al Gohani), a local boy she mustn't be caught with. Muhammed's lived-in performance looks effortless; when Wadjda's bobbing her head in her bedroom with her headphones on, Muhammed looks like she's genuinely digging the tunes.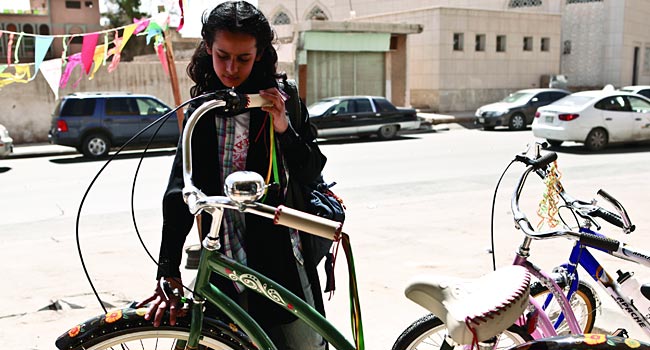 Wadjda's mother (famous Saudi television actress Reem Abdullah, ravishing) loves her very much, but her traditionalist roots won't allow her to support her daughter's transgressions. It makes for a wonderfully complex mother-daughter relationship that's illustrated in both confrontational, intimately edited scenes, and gentle, warm moments of the two cooking and singing together in the kitchen.
The other major female presence in Wadjda's life is her school's headmistress (Ahd), who serves as the film's cold-hearted heel and seems to cut Wadjda off at every turn, punishing her for the very traits and values that make her so wonderfully unique. She reeks of self-loathing as she sneers at the girl, doling out her wrath with calculated bitterness. The fact that the villain isn't male (which would be too obvious and uninteresting) is both tasteful and creative. The male characters in the film are actually all secondary, which is great; the fact that Saudi Arabia's (a theater-less country) first film is driven by women and directed by a woman is a movie-worthy story in itself.
Al-Mansour has been working behind the camera for a while–she's worked in television and made Women Without Shadows in 2005, a documentary that stirred up quite a bit of controversy–but for this being her feature debut, her eye for visual storytelling is startlingly sharp. In the film's opening, she pans across a lineup of girls' feet as they recite prayers in school. Under their drab grey school robes, they're all wearing black shoes. When Wadjda's purple shoelaces on her worn Chucks come into frame, we immediately get the gist of what's to come. It's not the most inventive shot, but Al-Mansour executes it perfectly and it sets the tone just right. Then, there's the brilliant riderless-bike shot, which is one of my favorite movie images of the year.
Despite Al-Mansour's highly critical view of her culture's sex-based traditions, the film doesn't feel like the construct of a provocateur, but rather a beautiful parable that aims to guide Saudi Arabian culture into a new era with a gentle handhold. She addresses many gender inequality issues, but in the context of a well-crafted family drama the edginess of the controversial statements she's making are somewhat veiled. This is a pot-stirring movie, but it can also be digested simply as a girl's journey.
With the bicycle symbolizing ultimate dreams and desire, the film feels cut from the same cloth as Vittorio de Sica's masterpiece, Bicycle Theives, but with an oppositely hopeful core. Hopeful, that is, to those of a liberal mindset; the conservative view in Saudi Arabia is that riding a bicycle compromises a girl's virtue, which makes Wadjda's dream of riding down the streets of Riyadh a controversial one. But to young girls who can relate to someone like Wadjda, the film will be invaluable; like the green bike with colorful tassels drifting along the dusty city wall, Wadjda can be their beacon of inspiration.
Wadjda trailer:
Wadjda Movie review