Undefeated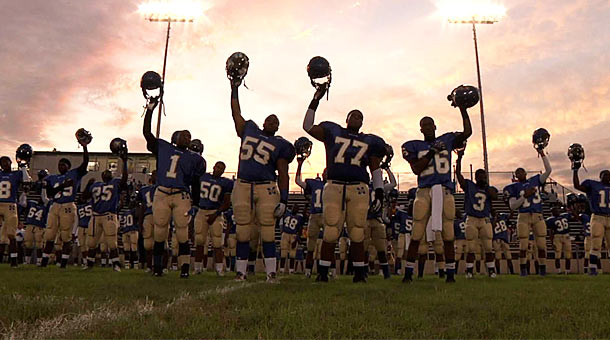 Undefeated is a phenomenally endearing story about struggle and sacrifice of one man's mission to make a difference.
The winner of last year's Academy Award for Best Documentary, Undefeated, tells the story of Bill Courtney and his rag tag group of footballers at Manassas High School in North Memphis, Tennessee and their struggles to come together to complete a winning season. While watching Undefeated I was reminded constantly of my personal favorite documentary, Hoop Dreams, and after finishing this, I believe that this is the best sports documentary I've seen since. Like Hoop Dreams, Undefeated is about so much more than just a sport. While the film deals a lot with football, the team and their games; it's the personal stories of the young men and their struggles that really take ahold of you.
Bill Courtney is in his late 30's and owns a company who deals with supplying hardwood. He has kids and a loving wife. Because he loves coaching football so much, he does it for free at Manassas High. The team Bill coaches is made up of all African Americans, he is white. I kept watching the film waiting for a race problem to come into play, but surprisingly it didn't. Instead, the relationship of Bill and his players comes down to respect.
In the history of Manassas, the football program has not won a single playoff game since the late 1800's, so their goal is to win just one. The documentary follows Bill and the team over the course of a single season through their ups and downs. Bill routinely takes time out of his busy schedule to get these kids to come together to play with each other. He misses so much of his own kids' activities that he begins to wonder why he does what he does. When he was a kid, his father was never around for his games either. He's starting to become like his father and that worries him.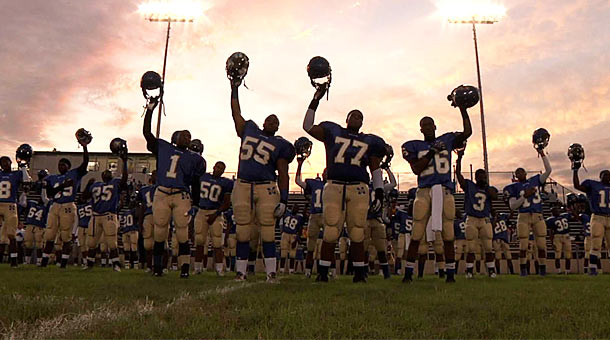 His dedication to the team is astonishing. One scene in the film stands out as two kids start to fight with each other at a team meeting because one of them sat too close to the other. One of them walks out and goes home. Bill leaves the team meeting and follows the kid home to tell him what he did was not right and disrespectful to the others. In another scene, he gets a wealthy friend of his to take in a different player who is struggling with academics, so he can be better tutored. The player stays with the family for most of the week and then goes back to his grandma's on the weekend.
Undefeated wisely sidesteps most of the on-field drama and shoots for more of the human element of the story. These kids are not fighting to win football games so much as there are at trying to have a chance at a better life. The best scene of the film is near the end of the film, when a very wealthy family has come to Bill and tells him that a certain player has caught their heart. They have never met the boy personally or seen him play, they only know his story, but yet they agreed to pay for his college for as long as he needs it. No questions asked.
While the film maybe could've concentrated a little more on the stories of some of these young men, it's never the less an inspiring story of fighting in the face of adversity. The film never acknowledges the matter of race. So it becomes tale about the internal struggle of the human spirit and the will to help others. Undefeated is a phenomenally endearing story about struggle and sacrifice of one man's mission to make a difference.
Undefeated Movie review