Two Night Stand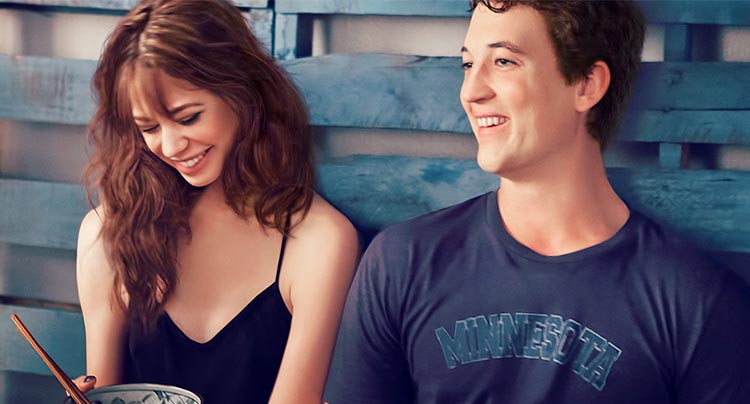 Today's hookup culture doesn't quite get its due in this forgettable rom-com.
While tales of the war zone that is online dating in our modern era are timely, the release date of the latest film to cover the subject, Two Night Stand, seems to be a bit off. Taking place between Christmas and New Years in snowy New York City, the distributors might have aimed for a winter release, capitalizing on the resolutions and expectations that soar at the New Year around romance. Enrollment on online dating sites certainly skyrocket during that time of year, and audiences might have welcomed a cheerful rom-com both commiserating and encouraging their resolve. Instead, it is September, and unfortunately Two Night Stand is a modern digital-era romance confusingly trying to capture the charm of the classic 90's rom-com.
The film follows Megan (Analeigh Tipton) as she faces unemployment, a roommate (Jessica Szohr) with both a job and a boyfriend (Scott Mescudi aka Kid Cudi), and a recent breakup, all around the holidays. She decides to partake in online dating, a common enough practice among twenty-somethings. After a run-in with her ex, her roommate encourages her to find a hookup using the site, a one night stand. With a few glasses of wine in her, Megan reaches out and Alec (Miles Teller) responds. She asks him a few clarifying questions, mainly about the cleanliness of his apartment, before trekking to Brooklyn. The night goes as planned, but it's the next morning that brings a challenge. After a terse morning-after conversation, wherein Megan and Alec decide they'd like never to see each other again, Megan descends to the street to find a snowstorm has trapped her at Alec's. Faced with having to confront and converse with what was supposed to be a hookup partner and nothing more, the two exchange banter aplenty before deciding this may be their chance to give each other a little useful feedback.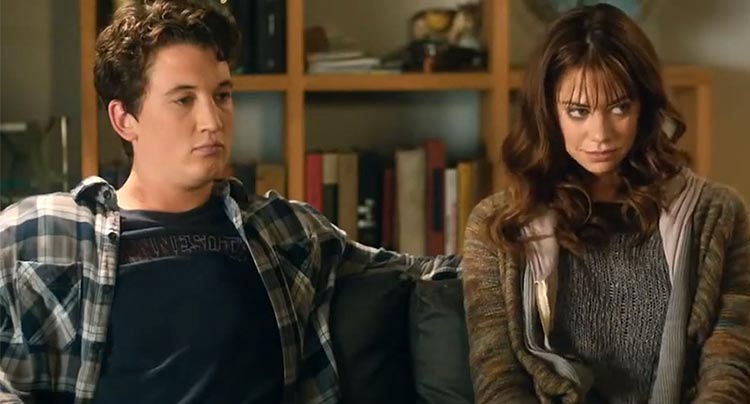 In some ways, first time director Max Nichols accomplishes this strange 90's throwback. Teller is a young Tom Hanks reincarnate but with enough of that fast-talking millennial edge. Tipton bats her eyes, and tips her head with a Meg Ryan quality, and she speaks many of her lines with an unintentional cuteness. While each seems inherently talented, the real problem is that the romantic dynamic of a You've Got Mail or a Sleepless in Seattle just doesn't hold up in today's contemporary hookup tradition. The most relatable parts of the film focus on the dishonesty around online dating, the embellishment and presentation one can manipulate in an online profile. But the film lacks in fully forming either Alec or Megan.
Alec spouts off his philosophy around ambition, his disinterest in being passionate about his career. The sort of manifesto one might expect from a millennial except that they've proven to be one of the most driven and passionate generations, not always around their careers, but around their well-defined values. Megan, on the other hand is current with her comfort discussing sex, and yet seems distressed with her first foray into online dating and hooking up. Additionally she's also given a lot of failed young-people lingo lines–"I've been sexiled"–that completely discredits her.
While Mark Hammer's dialogue keeps up the pace well throughout a film that mostly takes place within one apartment, it only slightly capitalizes on the meet-awkward scenario. And strangely, Megan and Alec's fast-paced and open line of communication (a well-used and modern device) is revoked in the name of conflict for the film's ending. Anyone feeling nostalgic for a 90's rom-com ending will certainly be pleased with Two Night Stand's outcome. Anyone wanting to commiserate around their own failed (or successful) online dating attempts will laugh in Two Night Stand's face.
Nichols makes great use of footage from the giant snowstorm that hit New York last January, one can almost feel the arctic cold of it. And Megan's layered clothing look (no seriously, she must be wearing 6 or 7) had this LA lady wishing for sweater weather. In the end, though, Two Night Stand won't likely garner the same respect it's 90's rom-com subliminal inspirations enjoy, and is more a rentable film for a future snow day. Or an LA sick day, as it were.
Two Night Stand Movie review