The Water Diviner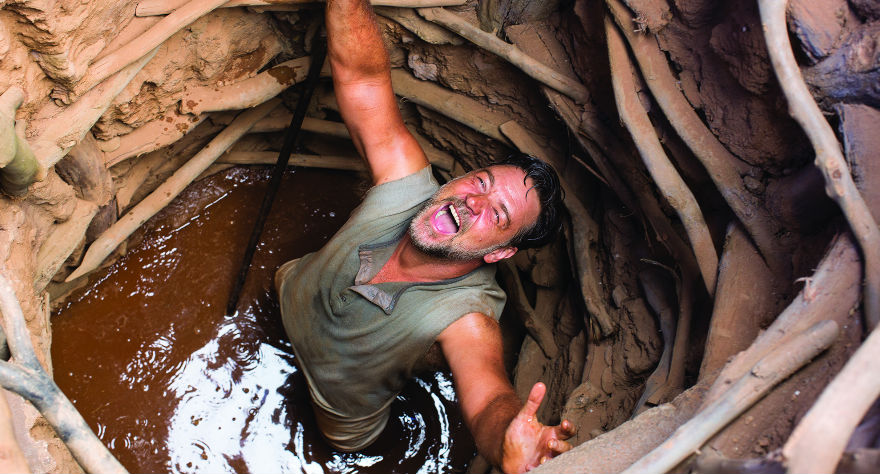 A mournful celebration of Australian history sabotaged by an extraneous romance.
Russell Crowe's shaky-but-inspired directorial debut, The Water Diviner, is a ballad honoring his native Australia, focusing on one of the most formative moments in the country's history: the crippling defeat at the WWI battle of Gallipoli. Australia's resolve and determination to rebuild following such an enormous loss of life is embodied in this film by a grieving farmer named Connor (Crowe) who lost his three sons at Gallipoli. He vows to journey back to the Ottoman empire, reclaim their bodies, and return them to Australia where they can rest in peace beside their mother, who literally perished under the weight of having outlived her children. Left beaten and stripped in the ashes of his former life, Connor's only remaining purpose is to honor his family's memory.
There's an almost insurmountable problem standing in Connor's way once he arrives at the scarred and scorched landscape where his sons were slain by gunfire: their remains lay buried among the thousands of scattered Turk and Australian bones scattered across the battlefield. Thankfully, Connor's a water diviner, someone who can intuit the exact spot where water can be found underground; he made a living off his gift back home, but now must use for a more sullen purpose, locating his fallen sons.
Let's get this out of the way: Yes, the idea that this man could pinpoint the spot where his sons died on the battlefield is utter nonsense. But in a melodrama like this, in which emotions are sweeping and inflated, it's understandable that logic and probability get inflated as well. The success of the main storyline revolving around Connor's oath to retrieve his sons is two-fold: Crowe's acting is sharp and grounded and honest, and the story's presentation is slick, easy to follow yet unpredictable.
The pebble in the film's shoe is a parallel romance plot in which an Istanbul hotel owner (Olga Kurylenko) who, still reeling from the loss of her husband in the war, has developed a searing hatred for Australians, somehow learns within a few days to push all that aside for the sake of Connor's dimples and muscles and manly beard. Connor's interest in her is hard to buy as well: his mission to find his sons is serious business, but hey, I guess he's got time to flirt and go on dates with a pretty lady while he ignores ghosts of his wife and children lurking in the back of his mind. It feels like a big, dumb distraction from the main narrative, which is actually very well done. Connor's fast friendship with the woman's peppy, eager-to-help son (Dylan Georgiades) is cute and occasionally good for a laugh, but whenever Connor refocuses on his primary task, the relationship with the boy and his mother feels distant and trivial.
Crowe's expanded his resume by directing for the first time, but he seems much more comfortable when he exchanges his director's cap for Connor's black brimmed hat. He's a great actor, and that remains his primary strength as he consistently fortifies the film with his gritty performance. His craftiness as a filmmaker is limited by contrast. The battle scenes in the film, for example, are comprehensible and laid out logically, but lack artfulness. The staging and choreography are good, but he never places the camera in the most practical place rather than the most interesting place. The resulting action set pieces look too organized and manicured to feel climactic. The Water Diviner isn't nearly as ugly and misguided as Unbroken, Angelina Jolie's sophomore directorial feature, but Crowe's got some serious holes in his directing game.
As a straightforward historical adventure, The Water Diviner would have been a fine film; unfortunately, it's lovesick, spending too much time with its head in the clouds, dawdling with a disposable romance that makes the film feel cheap and American-ized. Crowe's passion is evident, though, in his lived-in performance as a golden-hearted father carrying a load of regret on his back. The film's got issues, but it's a sincere, mournful celebration of a country that turned the pain of loss into strength.
The Water Diviner Movie review