The Sleepwalker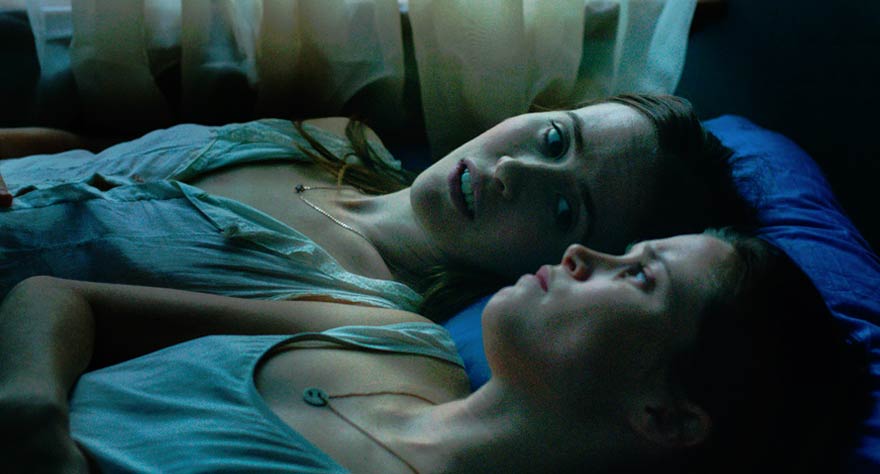 Good performances and cinematography can't save this tone-deaf attempt at a psychological drama.
In recent years, the production company Borderline Films have quickly established a new crop of indie talent. Two of the company's founding members, Sean Durkin and Antonio Campos, have respectively made Martha Marcy May Marlene and Simon Killer, two truly distinctive Indies to come out of America this decade. And while director Mona Fastvold is Norwegian, her film The Sleepwalker feels directly inspired by Borderline, or just Martha Marcy May Marlene. The Sleepwalker has plenty of traits in common with Durkin's film: a similar plot, precise cinematography, the Haneke-inspired chilly remove, and that feeling of something oh so wrong lurking underneath the surface. The connection becomes explicit through the involvement of regular Borderline collaborator Brady Corbet, who co-wrote the screenplay with Fastvold. Unfortunately The Sleepwalker is nothing more than a tone-deaf attempt at the kind of psychological drama its predecessors did so well.
The story centers around two estranged sisters, Kaia (Gitte Witt) and Christine (Stephanie Ellis). Kaia and her boyfriend Andrew (Christopher Abbott) are renovating Kaia's childhood home when they get a late night call from Christine. She's unexpectedly shows up in town, hoping to stay for the night. Kaia picks her sister up, and it's obvious the two haven't heard from each other in a while; Kaia's surprised to learn Christine is engaged and pregnant, and Kaia mentions that she won't forgive her sister for what happened between them. The next day Christine's fiancé Ira (Corbet) shows up, prompting Kaia to offer them to stay the night.
That invitation soon expands from one night to several, and with each night tensions rise considerably. An awkward dinner conversation reveals Kaia and Christine had a troubled upbringing with their deceased father, a successful architect responsible for designing the home they're all staying in. Fastvold and Corbet's screenplay never explains what exactly happened between the two sisters and their dad. An accident involving a fire is about as far as the film gets to explicitly revealing anything, leaving viewers to make their own conclusions based on the sometimes cryptic dialogue. Conflicting accounts from Kaia and Christine on their father also help muddy the waters.
This kind of psychological drama is all too familiar. Implications of physical and sexual abuse inevitably come up, and hints of a sexual attraction between Ira and Kaia tries to generate some underlying tension to the proceedings. Fastvold's idea of creating mystery amounts to watching characters behave in bizarre or erratic ways, leaving room to theorize what past traumas could cause someone to act in such a way. In the right hands this kind of guessing game can work, like in Durkin's film. The Sleepwalker fails at this for two reasons; its central mystery isn't that compelling, and the four central characters are too broadly drawn to want to invest anything into them.
Surprisingly, for a film centered on its two female characters, it's the men who turn out to be more compelling. Abbott, whose full beard and fake accent go directly against type from his role on HBO's Girls, makes his character an intimidating force. He can barely hide his anger at Ira & Christine's presence, as well as Ira's apparent wealth (unfortunately this is the beginning and end of the film exploring class tensions between the two couples), making his presence add a slight amount of unease to some scenes. And Corbet provides one of the only truly intriguing parts of the film with his role. He comes across as an outsider trying to get a feel for the situation, making his motivations hard to pin down. Both actors add nuance to their parts that simply aren't there on the page. Fastvold, on the other hand, certainly knows how to get the most of out the house's isolated location (Zack Galler's cinematography has plenty of style to spare), but ultimately creates a film that fails to engage.
The Sleepwalker Movie review