The Revenant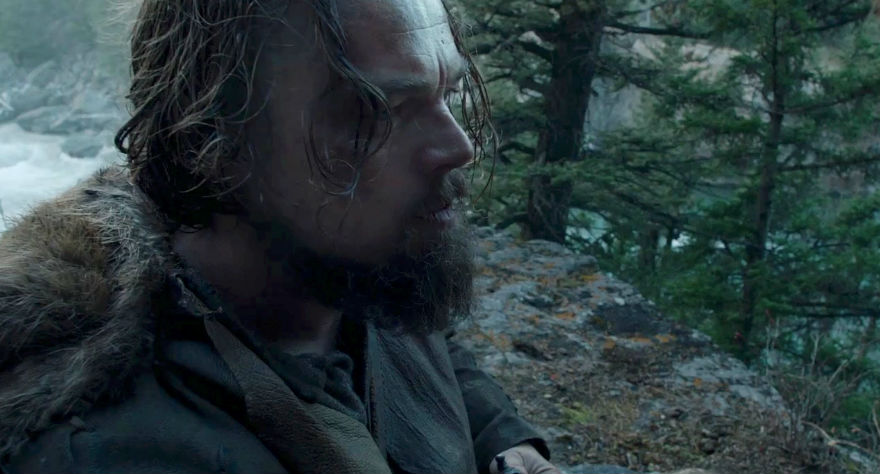 Artsy ambition sullies this bloody frontier tale of man vs. man.
In Alejandro González Iñárritu's The Revenant, Leonardo DiCaprio plays survivalist legend Hugh Glass, a frontiersman betrayed by both his land and fellow man, left ripped and ravaged without anything left to live for. Inch by inch we watch Glass crawl and tumble across miles and miles of picturesque Great Plains scenery, and little by little it becomes clear that, despite the film's impossibly grandiose, elaborate, labored production, its story is relatively uncomplicated. Sitting firmly in the annals of American Myth, Glass' journey is about little more than the unexpected fruits of grit and resilience, a classic survivalist tale through and through.
It's an interesting thing marrying such a straightforward narrative (based loosely on Michael Punke's 2002 novel The Revenant: A Novel of Revenge) with Iñárritu's overblown sense of spectacle and cinematographer Emmanuel Lubezki's floating, balletic long-takes. The combination works, but on a level that likely isn't as high-minded or deeply spiritual as the filmmakers intended. The sights are soar, the sounds swirl, but what keeps things grounded and compelling are the hardworking actors and the simple satisfaction of watching a man on a mission, fighting tooth and nail to reach his target.
The target is a cantankerous, slippery brute called Fitzgerald (Tom Hardy) who earns Glass' ire thoroughly. The rivals are a part of an expedition for the Rocky Mountain Fur Company, scouring the land for pelts to trade. While gathered on the Missouri river, the group is attacked by the Arikara tribe in a dizzying, dazzling bombardment of grotesque tomahawk and arrow kills punctuated by blood-curdling screams of agony all around. The men barely make it out alive, their numbers severed. When a grizzly bear mauling leaves Glass fatally wounded, the captain of the hunting party (Domhnall Gleeson) deems it too dicey to transport him via stretcher across the rocky terrain, leaving him under the care of Fitzgerald and a boy scout-ish tagalong (Will Poulter). They're offered extra pay to stay behind and give their dying comrade a proper burial upon his all but inevitable death, and while Fitzgerald hasn't got an ounce of compassion in him, he needs the cash considering they were forced to abandon their precious pelts in the escape from the Arikara. Once the rest of the party leaves, however, he plots a scheme more befitting of his nefarious attitude.
Glass was a real man, though what we see in The Revenant has gone through three filters of fictionalization—the history books, Punke and Iñárritu. After the Fitzgerald betrayal, the film follows Glass as he uses his frontier skills to nurse himself back to health while he tracks down the man who left him for dead. It's a big, heaping plate of revenge and outdoors survival that's meaty enough on its own, though Iñárritu and Lubezki add unneeded garnishes (shallow spirituality and white-guilt symbolism) that almost spoil the meal.
DiCaprio's performance is tremendous in that he uses every inch of his body to tell Glass' story. It's a mostly non-verbal role that sees him expressing a wide range of emotion with his eyes (in the chunk of the story where Glass is incapacitated) and with his entire body as he slowly rehabilitates and traverses the unforgiving terrain. Overwhelmingly, this is a story of despair and tragedy, but we do get to see love in Glass' eyes early on. In flashback, we see his Pawnee wife and their teenage son (Forrest Goodluck), who he raised to be a tracker like himself. Their fates, of course, aren't sunny because…Iñárritu. DiCaprio. Tragedy is their jam, man.
Iñárritu and Lubezki teeter on the line between visual splendor and artistic arrogance so precariously that it adds to the excitement of their films in an almost meta way. Sometimes the imagery is ingenious; when Glass is all but crippled, Lubezki presents the surrounding landscape as not beautiful, but paralyzingly frightening in its endlessness. But then a bird flies out of a dying woman's chest and you can't help but laugh at how silly it looks. The ambition is bloated and these guys are totally caught up in their artsy maestro bullshit, but even the weakest shots in this movie (most of them involving iffy CG elements) have enough flair to them that you can hardly turn your attention from the screen.
Subtlety and thematic complexity aren't Iñárritu's strengths, so when The Revenant lets go of its "big ideas" and focuses on Glass' manhunt, things get really good. Hardy plays a terrific scumbag, so when Glass finally get his hands on Fitzgerald, it's both gratifying and insanely intense. Admittedly, the pleasures found in the excessively gory final showdown are decidedly testosterone-driven, but if you approach the movie as a primal tale of bloody revenge (á la Kill Bill and Mad Max: Fury Road, for example), there's no reason to apologize for reveling in all the limb-hacking and eye-gouging.
If there's one thing about The Revenant that irked me, it's Iñárritu and co-writer Mark L. Smith's decision to push the story as a revisionist western in which the sins of the Native American genocide are examined through the eyes of a bunch of white guys. It's an insult to both the Native American perspective, which is almost always grossly underrepresented in these kinds of stories, and to the real Glass, whose extraordinary ordeal is more than worthy enough of a movie on its own without faux-mystical themes muddying everything up.
The Revenant Movie review