The Reunion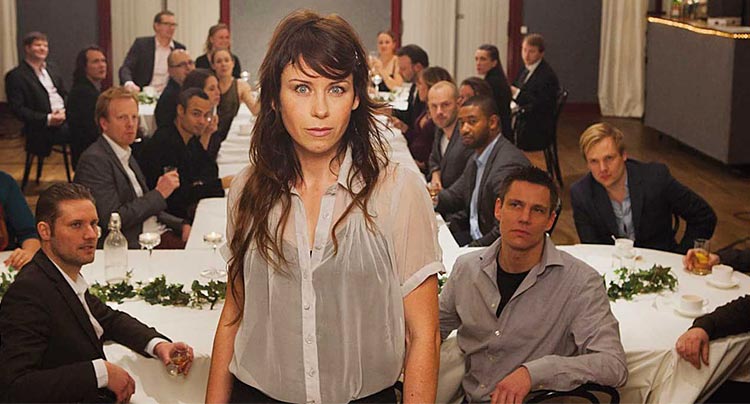 Provides plenty of catharsis for anyone who ever wanted to stick it to their bullies.
Anna Odell's The Reunion is split into two distinct halves, each half appearing to be directly inspired by a different film. The first half, called "The Speech", clearly owes a lot to Thomas Vinterberg's The Celebration. It opens at a 20 year class reunion, where everyone appears to be having a great time. Things change once Odell, playing herself, shows up late. The awkward introductions by her former classmates make sense once Odell gives a speech during dinner; she was the outcast of her class, and spent most of her youth getting ignored or bullied. Her speech makes everyone uncomfortable, but Odell is just warming up.
A speech by the host of the party is such a slap in the face to Odell's own experiences (he closes his speech with "If there's one thing I wish for my kids, it's that they experience the same sense of camaraderie that we had") that she goes into a tirade, singling out classmates and going into detail about the terrible things done to her. Obviously our sympathies would lie with Odell who, as she continues confronting different classmates throughout the reunion, becomes bullied yet again as everyone reverts back to their young selves.
"The Speech" is uncomfortable and frustrating viewing, but the strong emotions generated by the first half dissipate into something more melancholy. As the second part of The Reunion, titled "The Meetings", begins Odell reveals her purpose for making "The Speech". Odell learned that her class did have a reunion in real life, but only after the fact. No one invited her, and as a response to her exclusion she made a film showing what would happen if she did go. Part two comprises of her efforts to get the real-life classmates to watch "The Speech" and get their reactions.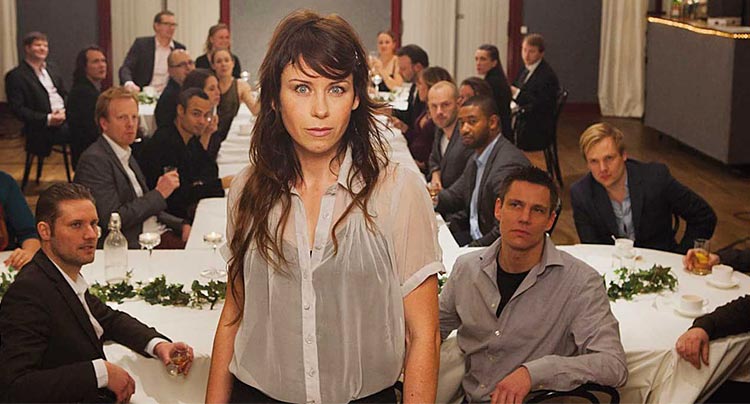 "The Meetings" feels closely related to Abbas Kiarostami's Close-Up with the way it blurs the line between reality and fiction. Odell did in fact hunt down her classmates and get some of them to watch her film, but we only see re-enactments of these meetings (presumably no one agreed to be filmed, which is why the second half is more of a pseudo-documentary). Devastatingly, Odell's portrayal of her old class in "The Speech" isn't too far off from the truth; everyone still treats her with animosity, usually dodging questions about why she wasn't invited and, at one point, brutally insulting her.
Odell, a controversial artist in Sweden making her directorial debut, doesn't seem to have much of an eye for visuals, but she smartly chooses to let the themes and concepts do most of the work. She's clearly concerned with social hierarchies, the way they're formed and how hard it can be to break from whatever 'class' you're assigned to. Odell uses her own experiences to highlight how, no matter how much people and situations can change, it's easy to slip back into the same roles and structures from the past. The satisfaction of watching Odell let out decades of frustration provides plenty of cathartic enjoyment, and her film's meta qualities from the second half make for thematically rich viewing.
People who have been through similarly rough situations growing up will get the most enjoyment out of The Reunion. Odell is a truly fascinating subject, and despite what some may see as navel-gazing there's a lot of bravery in how much she exposes herself emotionally. In the film's stunning final shot, the camera, pointing down towards Odell's school, begins to drift off to the surrounding streets and neighborhoods. It's a gorgeous and disorienting coda that ends things on a hopeful note; there's an entire world beyond the school's walls waiting to be explored.
The Reunion trailer
The Reunion Movie review