The Pretty One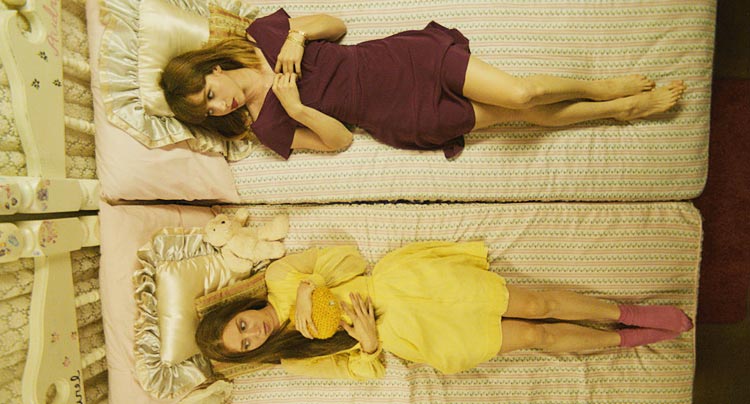 While sticking reliably to indie comedy tropes, a still sweet and funny tale of loss and love.
The quirky indie comedy, what was once a unique and unfiltered genre, has started to grasp onto the same devices, making for predictable whimsy. The Pretty One, the first full length feature from AFI grad Jenée LeMarque from her Black List darling script, seems to have fallen into a few of these indie comedy traps, with it's subtlety and filtered reality, but was no less enjoyable to view, and sweet in it's presentation.
The film features Zoe Kazan playing both roles of identical twin sisters Laurel and Audrey, who predictably are nothing alike. Laurel has never left home, doting on her widowed father (John Carroll Lynch) and painting horrible replicas of famous artwork. Audrey is in LA, flourishing as a successful real estate agent. When Audrey comes home to visit her sister to celebrate their shared birthday she sees Laurel's life, spent living in her dead mother's clothes, caring for their father and pining away for the barely legal boy next door. Audrey decides Laurel needs to get away from home once and for all. She tells her father that she's going to take Laurel home with her to LA and she whisks Laurel off for a makeover. With her hair cut short, suddenly the two really are identical sisters. But tragedy strikes, and the two get into a horrific car accident before they ever reach home or can begin a new life for Laurel together.
When Laurel wakes she can hardly fathom what has happened and is even more confused when her father informs her that "Laurel" didn't make it out of the accident. It isn't until she's home and her memory comes flooding back that she realizes the mistake and that she is Laurel and it's Audrey who actually died. She is about to inform her father and his girlfriend of their mistake when the world's true opinions come clean. That perhaps it was better this way, Laurel wouldn't have been able to handle the loss of Audrey, best it was Audrey that lived. Shocked at this insight into how the world viewed her, especially when no one has a thing to say on her behalf at the funeral, Laurel decides to run away from them all and assume the life Audrey has created. A chance to start fresh as her better half.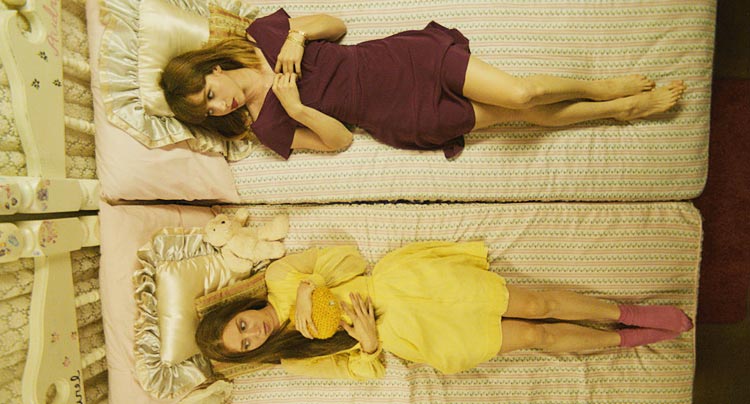 There are plenty of laughs as Laurel tries to assume her sister's identity. Faking familiarity with people she's never met. Trying to sell a house for the first time. Realizing her sister's boyfriend isn't all that great, but that the boy next door, whom her sister hated, seems to be just right. The boy next door being Basel, played by Jake Johnson who's been perfecting quirky comedy on New Girl for a few years now. As Audrey née Laurel begins a romance with the confused but delighted Basel, she loses some of her shell and starts to find the confidence her sister always had. In the meantime Audrey's best friend grows more and more suspicious of this impostor's behavior.
The film's romance is charming, Zoe Kazan's fringe-framed large eyes always reflecting Laurel's naiveté and eagerness to be loved. However, The Pretty One doesn't ever seem to find a good balance between the deep pain of Audrey's death and the light and indie-romantic love blossoming between Laurel and Basel. Kazan plays both equally well, but at points the film feels too divided and it makes it hard to invest in either story. Granted if LeMarque had tried something more straight forward, the humor would have been lost. Instead I almost wish she had embraced darker comedy, allowing Audrey's death to be exactly what it was: a plot device for Laurel to start living her own life and understanding herself.
For a first feature, LeMarque already shows a knack for clean writing and a well-paced story. Her characters fit into a pretty and clean cut world, but one that draws from the same emotions we all use and is therefore accessible. The style of the indie rom-com is wearing thin, and I hope someone comes along to shake it up a bit soon, but Kazan, who was picture-perfect in the similarly quirky Ruby Sparks, continues to find interesting and unique women to play and is someone I'll always keep an eye out for. It may not be able to find it's feet exactly, fluctuating between loss and love instead of embracing the way the two emotions often go hand in hand, but The Pretty One is still a cute and enjoyable film.
The Pretty One trailer
The Pretty One Movie review