The Great Man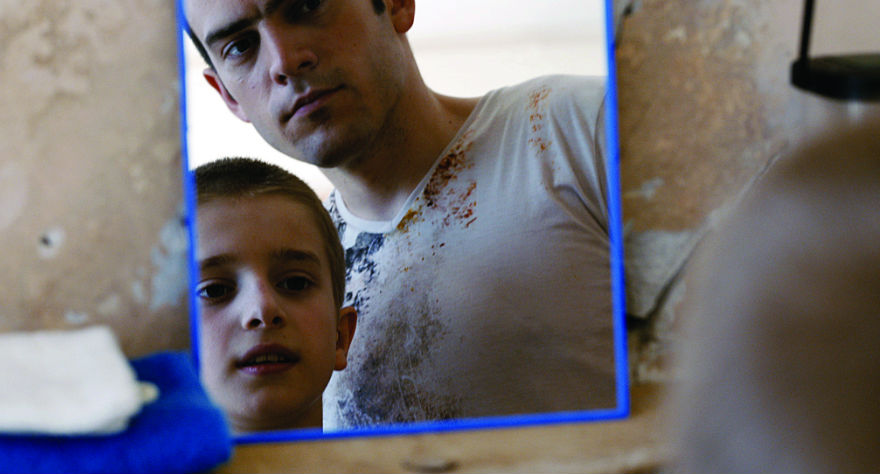 Succeeds in capturing the male bond and its significance in manhood.
Perhaps appropriate for a film called The Great Man, director Sarah Leonor's sophomore effort focuses on the transition from adolescence to manhood. The film, ultimately a tale of two soldiers as they transition from serving in the French Foreign Legion to civilian life, opens with a voiceover by the preteen son of one of these men. Khadji (Ramzan Idiev) unfolds the tale of his father, Markov (Surho Sugaipov), and his father's best friend, Hamilton (Jeremie Renier), as they chase a fierce leopard during their time in service in Afghanistan. They get caught in enemy fire, and Markov must abandon his weapons and the hunt in order to carry his injured friend through the sweltering desert to save his life.
It sounds gruesome and traumatic, but the tone set by Khadji's narration is a far cry from the abrupt assaults that might open a war film like Saving Private Ryan. Khadji's retelling is dreamlike and a bit larger than life, capturing a spirit similar to the heroes of great legends like Beowulf or The Odyssey. Perhaps due to his age (he's 11), there's less of a focus on the why and more of a focus on the heroic characteristics of each man ("If one drank, the other wasn't thirsty"). Martin Wheeler's score, with its slow, careful guitar plucking, seems to reverberate for days, giving us a feeling of warmth (and maybe longing), but definitely not fear or anger. This mood of the nostalgic, though we don't quite know what for, continues throughout this slow-paced character film.
But after 10 minutes, the poetry of the initial voiceover ends, and we're transported to present-day France. Markov, despite saving his friend, gets dishonorably discharged for disobeying orders. Leaving the barracks, Markov, a Chechen immigrant without papers, reunites with his son and undergoes the impossible task of finding work in a country with strict anti-immigration laws. Screenwriters Leonor and Emmanuelle Jacob cleverly leave any social criticism up to the viewer—this is a film that whispers, not yells. Showing the film's love for slow-moving tracking shots, Markov spends his first night with his son (who he hasn't seen in five years) on a tour boat gently gliding along the river. Khadji, feeling a bit abandoned, isn't terribly interested in hearing what his dad has to say. But Markov persists, retelling the story of how the boy's mother was hit by shrapnel during a Russian raid. It won't be the first time people are surprisingly upfront with the boy, whose silent acceptance of everything is hopefully a sign of maturity and not despondency. But as Khadji shows great maturity in accepting the whirlwind information of the day, Markov still ends the night putting his coat on the boy. Khadji is brave, but he still needs a protector.
Despite the film's lack of action and outward intensity (even when the situation warrants it), it's impossible not to feel entirely invested in the budding relationship between father and son, which becomes something of a triangle after an injured Hamilton is reintroduced. The war stories, which first Markov and later Hamilton tell to Khadji, are the most thrilling moments of the film. Unexpectedly, given the film's opening sequence, these retellings are sparse—maybe three in total. It's almost like their sparsity makes us thirst for them even more, as certainly Khadji does, since they're the surest way he has of growing close to his father.
Hamilton's relationship with the boy is a lot less straightforward—partially because Hamilton has some growing up to do himself. He must at first seem nothing like the brave soldier depicted in Markov's stories, the type of man who can hear the silent encroachment of a snake and with godlike reflexes. After a medical leave, he's just like any other 20-something, immature and without commitments, set on partying and sleeping with girls he can barely hold a conversation with. But this is his story too, and without hitting us over the head with melodrama, The Great Man portrays how bureaucracy and circumstances can destroy men—or allow them to rise to the occasion. The performances by the three lead men (including Idiev here) are both believable and affecting. That's why we're willing to take silent journeys on trains; long, windy motorcycle rides through the streets of Paris; and observe serene but uneventful scuba diving scenes. The film's sense of spacious, meandering time makes the moments of true intimate conversation feel intense and lasting. Like they may just as quickly be lost. And when we learn why Khadji has taken up the task of remembering the two men, we crave every detail just as much as he does.
The childlike lens Khadji's narration provides allows for the film to hint at larger sociological issues while still prioritizing the immediacy of relationships. For more than just Khadji, The Great Man is a film about how empowering it can be when one man treats another with dignity and compassion, even when a cold world may not. And in capturing that bond, The Great Man more than succeeds.
A version of this review was first published as part of our ND/NF 2015 coverage. 
The Great Man Movie review