The Death of "Superman Lives": What Happened?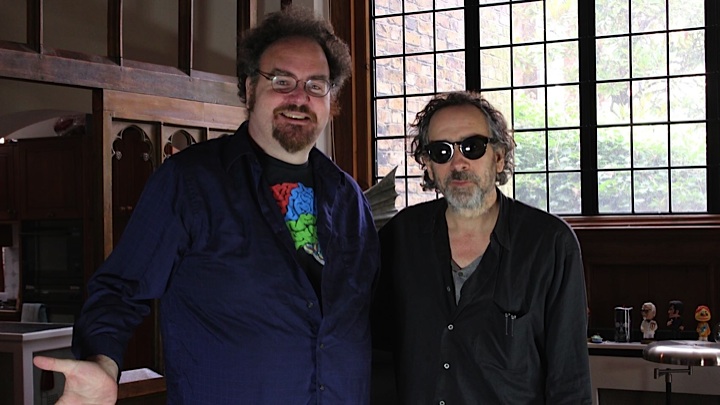 A highly entertaining documentary about an unmade version of Superman highlights the problems with today's comic book adaptations.
Superman Lives is one of the most bizarre and criticized unmade films of all-time, and now thanks to Jon Schnepp we have new insights into the failed project, along with an interesting look in at the equally bizarre nature of the mainstream Hollywood filmmaking machine. The Death of "Superman Lives": What Happened? begins with Schnepp surveying fans at Comic-Con about the idea of a Tim Burton directed, Nicolas Cage starring Superman movie, showing them the leaked picture of Cage (with flowing hair) wearing an early test version of the new suit. Reactions are mixed.
Schnepp then dives into the history of the film, beginning with producer Jon Peters' acquisition of the film rights and hiring of Kevin Smith as screenwriter. It's clear Peters and Smith were never on the same page, as most of their recollections of early meetings never match up. Smith claims Peters wanted a modern, heavily misguided take on the iconic superhero in which he doesn't fly and doesn't don his famous outfit and cape; Peters immediately denies this when Schnepp asks him about it later. Peters represents the creatively bankrupt big Hollywood producer, and Smith represents the true fan fighting for the creative integrity of Superman (at least in Smith's eyes). Their vision is clearly a mess, with the only thing they seem to agree on being that Tim Burton should direct. And so Burton comes on board, but he hates the script, so Smith gets replaced by Batman Returns script doctor Wesley Strick.
This is where things really get rolling, with plenty of interesting developments. Nicolas Cage gets involved in the production, and after getting reminded of his incredible performances in films like Adaptation and Wild at Heart, he seems perfect for the vulnerable, outsider Superman that Burton wants to portray. Schnepp also lets viewers see and hear from the incredible, versatile team of visual artists and art directors Burton put together for the project, a group reminiscent of the team Alejandro Jodorowsky put together for his failed adaptation of the Frank Herbert novel Dune (profiled in last year's Jodorowsky's Dune). But the studio keeps reigning the production in, tightening the budget and creative control, forcing Burton to fire Strick and bring on screenwriter Dan Gilroy (writer/director of Nightcrawler). Eventually it's revealed that what really killed Superman Lives wasn't fan outrage over the leaked photo of Cage, Jon Peters' constant interference, or anything from Burton or his team; it was because of the spectacular string of big budget box office failures (like Batman and Robin) Warner Brothers put out in the late '90s that made the studio nervous of making another dud.
The revealing interviews Schnepp gets for his film makes it an enjoyable and informative watch throughout, but the film also does a great job highlighting the humor that comes out of the behind the scenes tensions. Schenpp also edited the film, and he shows a masterful hand at putting together differing accounts of what was going on behind the scenes to play up the comedy of the situation. Most of that comes into play in the early scenes with Peters and Smith. One of the funniest moments in the film sees Smith talk about how Peters seemingly fell into a producing career after working as a hairdresser for Barbra Streisand, followed by Peters defensively talking about how people don't take him seriously because he started out as Barbra's hairdresser.
But what's most impressive is how Schnepp turns you around one of the most massively criticized attempts at a blockbuster ever. The film seems like a joke in Peters and Smith's hands full of both misguided ideas (from Peters) and unneeded fan service (from Smith), but once Burton comes on to the project, the film surprisingly appears to come to life under his direction. And that leads into the other great victory of this documentary: it shows the real issues with today's superhero movies. It's not so much that they're oversaturating the market, but that something like a Marvel cinematic universe is too safe, to the point where studios are dropping a new superhero into their template of choice. Superman Lives could have been a disaster if it had actually been made, but it definitely would've been a strange and unique take on an iconic superhero, and that's something we don't really get anymore.
The Death of "Superman Lives": What Happened? is currently out on Blu-Ray, DVD and VOD.

The Death of "Superman Lives": What Happened? Movie review