The Beauty Inside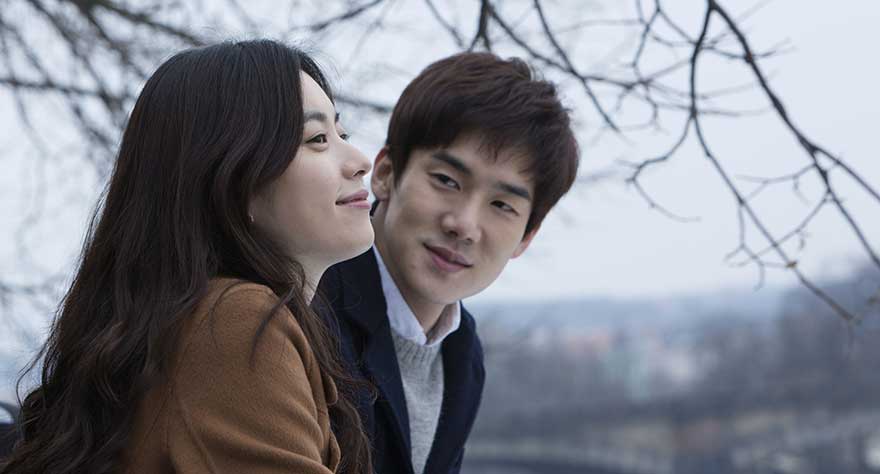 This fun, high-concept romantic comedy casts 123 different actors in the same role.
The true definition of love is something beyond appearance, an abstract noun that is at once magical and mysterious. Debut feature director Jong-Yeol Baik's The Beauty Inside uses this notion to make a concoction that attempts to meet Shallow Hal in laughs and add plenty of slushy romance too. Baik's film is based on the foundation of appearance, which has become most valued in contemporary society. Kim Woo-jin (played by 123 different actors and actresses) wakes up every morning to a different face and body; he is entirely transformed regardless of age, gender, or even nationality. It is a remarkably high-concept pitch that inevitably bears a few holes if one prods hard enough, but Baik takes this story and develops it beyond comedy and into a far more layered romance with a few thoughtful insights.
Woo-jin is, by no surprise considering his condition, a solitary person who spends his time designing bespoke furniture from his drawing desk and MacBook pro. His one friend, Sang-beck (Lee Dong-hwi) is his manager, who has a zeal for eccentric socializing. Woo-jin is a gentle and sincere character, although he clearly carries the burden of his condition, with remnants of tears often etched around his eyelids. It is a truly extraordinary feat that his persona is able to drift between a mighty ensemble of actors, most notably the more attractive of faces in Yoo Yeon-seok, Lee Dong-wook and Seo Kang-jun, to name a few. Others include Japanese actresses (Ko Ah-sung, Juri Ueno) and just about anyone else from a fading old lady to an active young boy. If this sounds ridiculous, it's because it is, so give up now if the idea sounds insufferable. That said, it is an idea that grows as perspective is steadily shifted to a more reliable comprehension.
Although the film doesn't directly deal with such momentous problems as the harsh reality of what it might be like to change appearance every day (for example, there are no journalists, doctors or even lifestyle problems apparent), it does reassure the audience that this isn't intended to be a flat out fantasy by the introduction of Yi-Soo (a winning performance by Hyo-ju Han), the girl who will become the love of Woo-jin's life. Once the relationship develops, the film begins to explore the agony of something that cannot be, namely a loving homogenous relationship. Yi-Soo is undoubtedly promiscuous in falling for this transformative man, but Han pulls it off with a curious and thoroughly admirable sentiment. She truly believes in this situation, and so it makes her journey (and ours) more agreeable.
Occasionally, it feels as if Baik is too hooked with the universal theme of love; lines like "They say love is the answer to every problem, but it also ruins everything," can feel a bit trite. However, the likelihood is that without a growing pot of sentiment, any further interest in what can only be a fleeting concept (without a fantastical world to supplement it) is unlikely to prevail. In this sense, the story is trapped from the start. The first question to ask will always be: how could he/she ever find love? The love game might be considered a safe one to play, but then anything thematically serious would surely be rendered absurd or deceptive within a high-concept framework like this. The Beauty Inside can't really be described as anything other than fun, warm and silly. It's polished to technical perfection, of course, and littered with musical accompaniments, but ultimately the best word for it would be "watchable."
The Beauty Inside Movie review