Ten Thousand Saints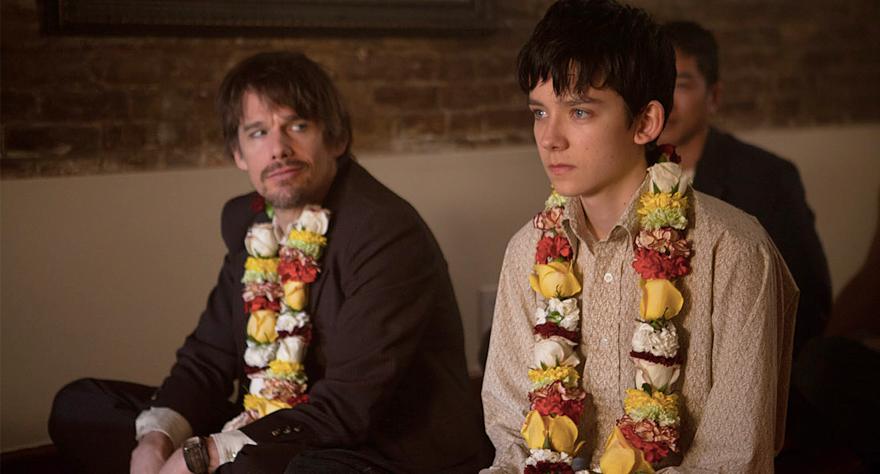 The 1980s straight edge hardcore scene sets the backdrop for this coming of age tale.
Filmmakers have historically had a difficult time capturing the true essence of the American hardcore scene onscreen. More often than not, cinematic approaches to hardcore feel inauthentic, cheesy, and occasionally even desperate. With Ten Thousand Saints, directors Shari Springer Berman and Robert Pulcini approach the subject matter admirably, albeit a bit unsuccessfully, before transitioning into a predictably sweet story about the perils of young love.
As a drug-using hardcore kid growing up in 1980s Vermont, Jude (Asa Butterfield) yearns to get out of his hometown. After a devastating accident leads to him moving to New York City to live with his estranged, pot-dealing father (Ethan Hawke), Jude is exposed to a whole new world. After befriending Eliza (Hailee Steinfeld), a directionless cocaine addict, and Johnny (Emile Hirsch), the frontman for a straight edge hardcore band, Jude finds himself reevaluating his past, his present, and his future.
Equal parts redemption story and coming-of-age tale, the appeal of Ten Thousand Saints lies more in its compelling cast of characters than its plot. Extremely character-driven, the film provides a realistic look at teen life. Though it's set roughly thirty years ago, Jude and Eliza deal with issues that are as relevant now as ever and are sure to be extremely relatable to teenage viewers.
Because the film is based around a subculture, Berman and Pulcini utilize plenty of exposition to keep the audience up to speed, but it always feels like exposition. As Jude navigates through the film, he explains the concept of the straight edge lifestyle time after time after time as if he were reading the definition off of Urban Dictionary. At times, the dialogue is borderline cringe-worthy and most of the characters don't appear believably to be a part of the hardcore scene, which is distracting. Aside from the musical scenes, Ten Thousand Saints could easily be added to the ever-growing list of movies that don't accurately capture the essence of the hardcore scene.
Thankfully, the film has plenty of heart elsewhere, particularly in its cast. Performances are strong across the board, with angst-filled teenagers and their equally confused parents proving both empathetic and likable in spite of themselves. Butterfield and Steinfeld share a charmingly awkward chemistry while Hawke and Emily Mortimer provide a majority of the film's comedy. It's an interesting dichotomy between generations, and the way in which Berman and Pulcini analyze two vastly different forms of rebellion is very sharp and interesting. There proves to be a vicious cycle as the new generation rebels against their parents who chose to use drugs in rebellion against their parents who remained abstinent and sober.
While this isn't explored as in-depth as it perhaps could have been, it serves as the basis for the best scenes in the film—most notably one where Jude's mother and Eliza's mother have an emotional heart-to-heart conversation about their children. It's a beautiful moment, wrought with sentimentality, and it sums up the entire film. Ten Thousand Saints, at its core, is about a group of flawed people who all learn more about themselves through their interactions with each other, and try their hardest to become better human beings as a result.
While certainly not a dark comedy in the traditional sense, Ten Thousand Saints consistently finds humor in plenty of tragic situations. Death, drug abuse, unexpected pregnancy, abortion, assault, and adultery are all explored during the film's 113-minute running time; and while not a decidedly adult film, it ventures into some extremely bleak territory.
Despite not portraying the American hardcore scene in the most authentic light, Ten Thousand Saints is a well-acted, technically sound film with a wonderful ensemble cast and an adequate amount of charm.
Ten Thousand Saints Movie review