Spotlight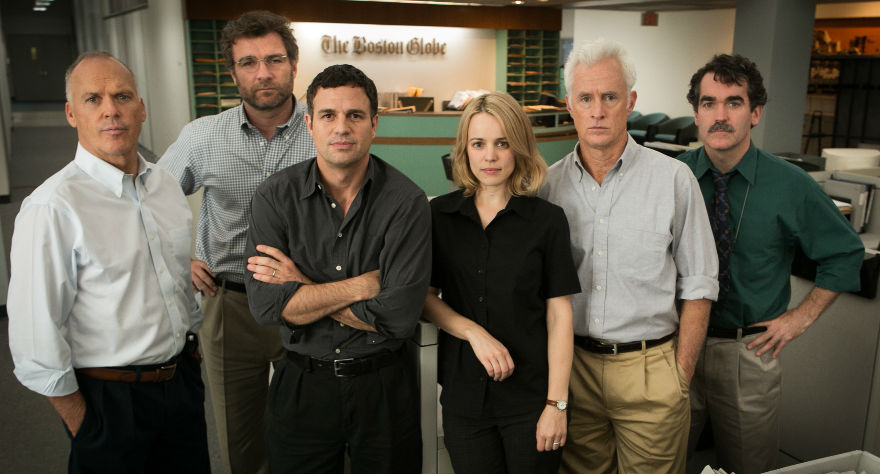 An electric newsroom drama sporting a stunning ensemble.
The Catholic Church's sex abuse scandal is subject matter that evokes feelings of sorrow, disgust, confusion, regret, anger—bottom line, it's one of the most unpleasant news stories to come to light in the past 50 years. Several documentaries have been made about the controversy (most notable is Amy Berg's penetrating 2006 exposé Deliver Us From Evil), and each one is a horrific experience, for obvious reasons. Now, director Tom McCarthy examines the scandal with his incredible newsroom drama Spotlight, which focuses on the grinding efforts by a small team of reporters at the Boston Globe to break the conspiracy story. It's a movie that has every right to be entirely dour and depressing—but is not.
It doesn't deflect or skate around the terrors lived through by the priests' young victims, and yet it still crackles with electricity. It's both powerful and—get this—entertaining. The wound inflicted by the perpetrators and those in the Catholic hierarchy who protected them won't heal anytime soon, but with Spotlight we're reminded that, in the spirit of free press and honest reporting, there lies hope for justice.
McCarthy doesn't present the reporters at the center of his story as paragons of journalistic nobility or even as Bostonian hometown heroes. It's a more modest, workmanlike procedural that's as, if not more concerned with its characters' psyches, ideas and idiosyncrasies as it is with their hard-nosed truth-gathering efforts. Heading up the Globe's Spotlight investigative department is editor Walter "Robby" Robinson (Michael Keaton), who's spent years building unshakeable trust within his small team, Sacha Pfeiffer (Rachel McAdams), Michael Rezendes (Mark Ruffalo) and Matty Carroll (Brian d'Arcy James).
Their new boss, editor Marty Baron (Liev Schreiber, in a measured performance that could be his career-best), is slightly cold and semi-robotic in temperament (he and the gregarious Robby share an awkward rapport), but with his arrival he brings Spotlight a mission of utmost importance, motioning them to look deeper into the case of an accused priest. His directive is met with skepticism both by Robby's team and the Globe's higher-ups (personified by a John Slattery, playing the boss' boss' boss) due to the church's strong presence in the city, but when the team begins gathering details and testimonies, it becomes clear that the church could very well have been covering up child-sexual-abuse scandals on an unimaginable scale for a long, long time.
The film is gripping in the way it follows the team's cumulative breakthroughs on their path to uncovering the ugly truth about the Catholic Church to the public because it does so on a personal level. We see each of them put their nose to the grindstone as they search for clues high and low. They haul boxes and boxes of old files and articles from the Globe basement to their offices, sifting through everything by hand. Sacha goes from door to door, pen and notepad in hand, getting to know the tortured victims and their stories. Michael hounds an elusive attorney (Stanley Tucci) who's worked closely with the victims for years. Robby incessantly pesters a tight-lipped lawyer (Billy Crudup) to give him a list of names that could blow the case wide open. Seeing the characters not just get their hands dirty, but deal with the psychological trauma of studying and living with these atrocities for months on end.
Keaton's ball-of-fire turn in Birdman didn't earn him an acting Oscar, so it's a bit of a surprise, in that context, that he's put his hat in the awards ring again with a performance that's so low-key and operates mostly on undercurrents. He's quiet and extraordinary, though the even quieter Schreiber threatens to steal the show with a cerebral supporting effort that will likely usher in a new era in the Ray Donovan actor's career. Ruffalo, McAdams and the supporting cast are great as well, and if the Oscars gave out awards for ensemble casts, this lot would easily run away with it. The way the actors interact and move around each other feels so dynamic and pulsating and alive that the gravity of the story will sometimes dissipate for a moment as you're caught up in the cast's sizzling chemistry.
Intricate work is done by McCarthy and co-writer Josh Singer to ensure the movie can't be read as a blatant attack on the church. It's undeniable that their presence in the city was, in a way, mafia-like (they did cover up a bevy of serious crimes, after all), but McCarthy and Singer refuse to exploit the narrative in a way that cheaply villainizes them. The real villain here is the idea of institutionalized secrecy. Staunchly, the filmmakers focus on Spotlight's investigation and the emotional trials the journalists faced. It's really a class-act of a movie, with all involved approaching the material as tastefully as possible without losing a modicum of artful intent on the way. Spotlight is the best kind of newsroom drama in that it doesn't get weighed down by meditations on the virtues of old journalism. Instead, it celebrates the people who changed the world with unglamorous, day-to-day, hard work.
Spotlight Movie review