Speed Sisters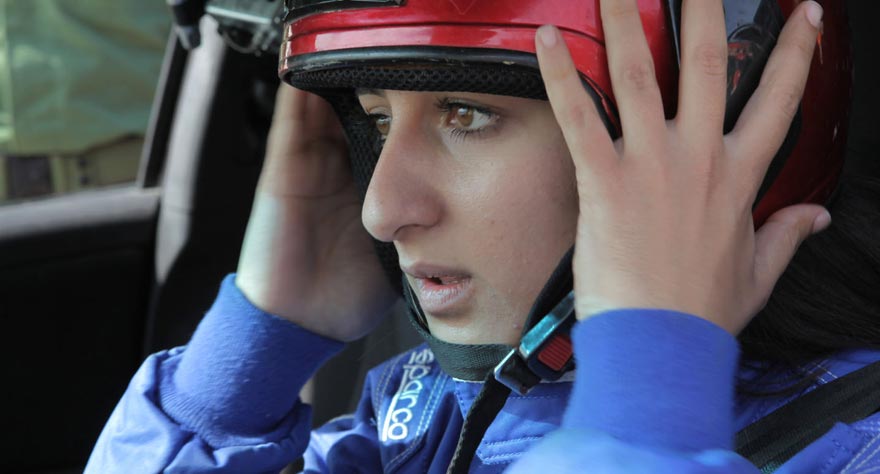 Everything we would enjoy in a fast-paced racing film, along with the edge of a realistic political commentary.
There are many stories a filmmaker could tell about the lives of Palestinians under occupation. Despite the news stories we may hear in the press, in the Western world we are so entirely disconnected from their life experiences that any insight is not only helpful but necessary. We need to hear their voices and, at the very least, witness their experiences, even if many of these are beyond our understanding. Speed Sisters provides such an educational insight without compromising its identity as a wholesome celebration of its subjects, a testament to both the subjects and to director/producer Amber Fares.
A Lebanese-Canadian woman who was raised in Northern Alberta, Fares travelled to the Middle East to better understand her heritage; it was this journey that led her to Palestine's Speed Sisters, the first all-women race car driving team in the Middle East. We are introduced to five women, each with different backgrounds, different talents, and most importantly, different reasons for racing. One of the biggest strengths of this documentary is that it allows each of these women to accurately represent themselves—they are not forced into boxes or censored to fit the personality we might believe a female racer should have. They also have varying financial situations, which only serves to emphasise their single common trait: a dedication to racing. This is reinforced by the decision to include scenes from the women's daily lives and interviews with their families. One of the most promising racers, Marah, is made all the more sympathetic through childhood stories and words of support by Khaled, her father and biggest fan.
Naturally, as explained by their manager Maysoon, the running of a female racing team in a country under occupation is not without its difficulties. While many of the local men state they are now used to seeing the women race, on the track there are still some clear prejudices to be tolerated; Maysoon herself admits to frequently diminishing her authority in order to make other men feel in charge. Because of a lack of provided training grounds, the team must train next to an Israeli detention site, which comes with its own hazards. This is all without even mentioning the multiple Israeli checkpoints the drivers must frequently pass through, and only a few of them have passes to do so. None of these women are willing to let this hold them back, however, and find their own ways to pursue their dreams. Mona, who races mostly for the fun of it, doesn't want to let her personal life fall by the wayside. Noor, the wild drifter with the personality (and hair) to match, learns new techniques and pushes herself at every race. But Betty, who is determined to be the fastest woman on the track while maintaining her femininity off it, turns out to be Marah's biggest competition within the group.
Speed Sisters is everything we would enjoy in a fast-paced racing film, along with the edge of a realistic political commentary and the introspection of a personal adventure. Perhaps its biggest aid in succeeding with such a high standard is its pacing—both Fares and editor Rabab Haj Yahya know exactly when to switch between fast-paced races, establishing shots of Palestinian life, and sit down interviews, never allowing one aspect to dominate too much screen time. Paired with a largely Middle Eastern soundtrack including Palestinian hip-hop and other tracks from the region's indie music scenes, we are easily drawn into a world of which, in reality, we know nothing of. Yet Fares applies a simple but true formula to this film: when a narrative is so specific it cannot be anything but authentic, it becomes universal.
It would be difficult to improve upon the director's own words when it comes to this documentary. It provides such a fascinating perspective, and each driver brings her own honest approach to both the track and to life. "Each one in her own way took me on a ride through Palestine that I will never forget," Fares says. "They taught me to push boundaries, while still respecting your community. They taught me about resistance, about not giving up and what it means to stay true to your dreams despite endless obstacles." This is exactly what Speed Sisters is about.
Speed Sisters Movie review