Spartacus and Cassandra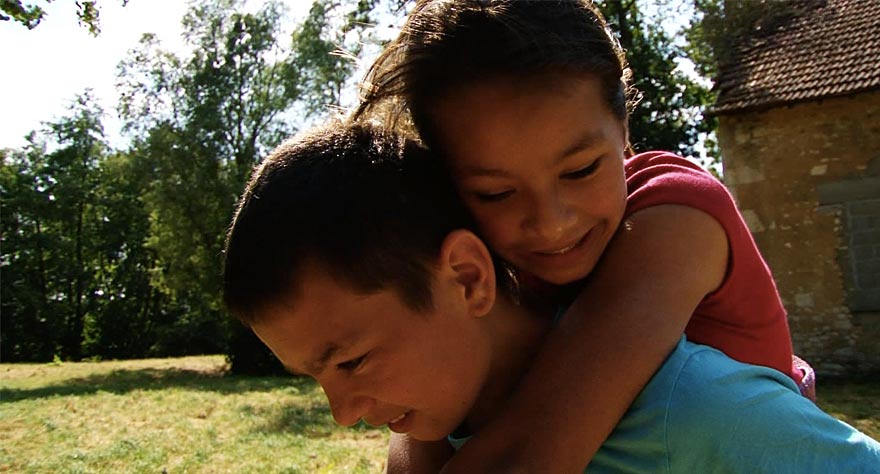 Highly empathetic doc finds subtle power in story of Roma immigrant siblings searching for a better tomorrow.
Spartacus and Cassandra begins with the retelling of a child's first 13 years of life. Born in Romania, he walks at age one. At two, he eats mud. His father goes to prison a year later. Year four brings begging. At seven, he comes to France, stealscar radios with his sister to get by and escapes a hostel not longer after. His family's squat burns down two years later and now, at age 13, the boy finds himself at a crossroads. An immigrant in an unforgiving land, a victim of circumstance and a member of a poverty-stricken family, both he and his sister have been put through the meat grinder in their seminal years and still, they hold onto the hope that something better is waiting on the other side.
The siblings described are, of course, the Spartacus and Cassandra of the title. Along with a drunken father and an emotionally unstable mother, they are homeless. However, a young trapeze artist named Camille has given them (and other street children) refuge. She's built her own small community that's open 24 hours a day. With child services lurking about, Camille wishes to become the duo's legal guardian and give them greater opportunities in life. While much stands to be gained, the separation is not easily made, as the father advocates maintaining custody of his children, bandying vague and unrealistic plans while his wife struggles with the notion of letting them go. Heartache tugs at all involved and thanks to director Ioanis Nuguet's sensitive approach, and it's hard for the viewer not to get caught up as well.
The sense of immersion that Spartacus and Cassandra offers is perhaps the film's most striking asset. Talking heads are absent, no questions are asked and the cameraman is seemingly invisible to the wrenching human drama playing out between the run down subjects. The audience is afforded an amazing degree of intimacy with these people and their crumbling environment. Strenuous phone calls as well as circular conversations riddled with good intentions and misunderstandings establish the children's complicated relationship with their parents. Meanwhile, scenes of Spartacus rebuking a curfew or gritting his teeth through a late night homework session tell of his thirst to break the necessary systematic constrictions placed upon him. Cassandra has an easier time adjusting to these things, but her brother wanders, failing to see the use in the likes of history or language studies. In spite of such stubbornness, the film captures an unprecedented maturity in the siblings and it's fascinating to watch how they relate to the world around them, their words often more practical than those their parents impart. There's a degree of world-weariness for sure, but one cannot mistake the impression of a cautious optimism flashing across their eyes from time to time, the feeling encouraged by a powerful and complementary bond between brother and sister.
Although much of Spartacus and Cassandra is done in a naturalistic fashion, Nuguet pulls a kind of stylistic coup with a series of tastefully placed poetic interludes. Unfiltered daily struggles captured with simple camera angles, free of dazzling edits, gives way to elliptical sequences of dynamic visuals and softly spoken ponderings. The floating shots and sparse, contemplative prose (whispered by the children, who write poetry as a hobby) possess shades of Terrence Malick and the beautifully evocative, abstracted asides serve as an interesting counterweight to the grittiness the film otherwise exudes. As the main line of focus plays to issues of a tangible, immediate nature, these interludes appeal to the bigger picture, posing philosophical concerns and symbolically expressing the children's attitudes. It may not always be an easy balance with the other material, but the scenes are nothing less than captivating and reinforce the overriding spirit of the picture.
For all the beauty that is miraculously unearthed in Spartacus and Cassandra, the film is somewhat undermined by the slightness of the story's details. The tale belongs to the children, so a lack of deeper perspective when it comes to the adults is understandable. But the context of their situation is frustratingly vague. There's little else to latch onto. Conversations about the children's welfare are repetitive and tedious, ultimately adding little to the audience's knowledge of the situation, and the specifics of time and future solutions are hard to come by. Without these things, it may be difficult for some to tune into the real life drama of the film, no matter how tenderly it is presented.
The film's gentleness cannot be underestimated. In conveying a childhood of many uncertainties, one question far outstrips the others in its prevalence: "Where are we going?" Again and again this is asked, only to be met with directionless bickering and a brutal, lasting silence. The answer could be right in front of them, but the compromise accompanying the decision might never be reconciled. At one point, Cassandra says, "The only solution for me to live without my parents is for my parents to be able to live without me." Achingly insightful, the line neatly encompasses the raw impact of this heartfelt portrait of an immigrant family in turmoil. The issue at hand may be quite personal to those involved, but the empathy that these documentarians evoke gives it a rich universality. For that reason, Spartacus and Cassandra is a minor humanistic triumph, but a solid directorial debut.
Spartacus and Cassandra Movie review