Silvered Water, Syria Self-Portrait (TIFF Review)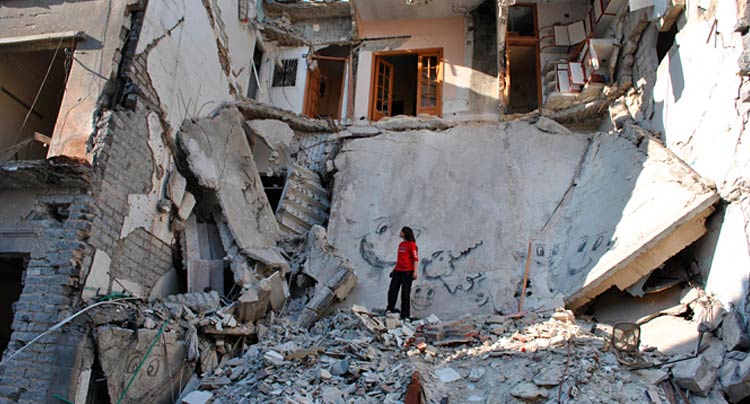 A difficult but essential documentary about the horrors of Syria's civil war.
As Silvered Water, Syria Self-Portrait opens, a title card claims "1,001 Syrians" helped make the film. The reason for such a bold and unconfirmed claim is because of co-director Ossama Mohammed's reliance on footage from online sources. Mohammed, a Syrian filmmaker, left his country in forced exile back in 2011 as the Syrian Civil War broke out. Now living in Paris, Mohammed's only window into the turmoil of his homeland comes from uploads on sites like YouTube and Liveleak.
The footage Mohammed includes is, unsurprisingly, horrific. Some of the first images we see are a teenage boy, tied up and beaten by (presumably) soldiers in Assad's army before getting sodomized. Protestors march the street in peaceful protests, only to get shot at by soldiers. The clips range wildly in quality: blocky pixels, garbled sounds, frantic and blurry movements as cameramen run for their lives. There's no need to delve further into the horrors shown on-screen; Mohammed wants these videos to awaken viewers to what's going on in Syria. Describing them would take away from their intended impact.
Mohammed narrates over the footage, explaining with just enough information to give proper context while talking about his own inner conflicts. He dreams about a young boy shot and killed for stealing his camera while he was in Syria. Mohammed films rain hitting his window from outside his apartment in Paris. He moves his camera along a sidewalk, down a staircase, and films outside the window of a moving train. The camera's restlessness shows Mohammed's life as an unsettled one, his turmoil constantly felt. Mohammed can only watch from a distance, his cries of anguish going unheard from an apathetic international community. The low quality of the footage shot by Syrian civilians and soldiers serve as a cruel reminder of how limited Mohammed is in getting a proper view of what's going on. His perspective will always feel as blurred and blocky as the footage he relies on. What he sees is literally compressed.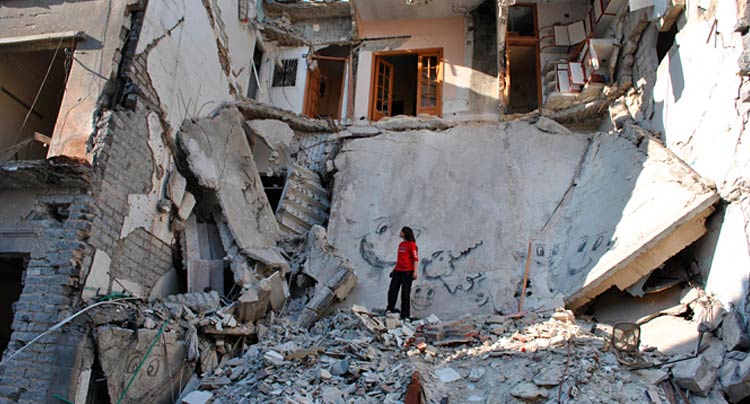 At this point, co-director Wiam Simav Bedirxan enters the picture. Bedirxan, a filmmaker still in Homs, contacted Mohammed to ask him what he would film if he were still in Syria. The two filmmakers exchange messages while Bedirxan films as much as possible. The footage is harrowing and heartbreaking, especially when Bedirxan starts teaching children in her (now destroyed) neighbourhood. Some of what Bedirxan films may feel manipulative, like a sequence of injured animals roaming around the city. The choice to include a sequence like that may not be agreeable, but it's perfectly understandable. Mohammed and Bedirxan are focused on civilian suffering as a result of the war. Seeing people try to drag bodies off of loved ones off the street with sticks so snipers won't kill them is the sort of image where politics can't justify the acts shown on-screen. And Silvered Water, Syria Self-Portrait is full of these moments.
Bedirxan herself is the inspiration for one of the film's titles; her name "Simav" translates to "Silvered water" in Kurdish. The second half of the title refers to Mohammed's involvement. Mohammed and Bedirxan use their collaboration to loudly protest what's going on in their country, but Mohammed brings another fascinating element into the film. As he watches from afar, Mohammed tries to understand and deal with everything happening back home (at one point he even starts analyzing the found footage as if it were a film). Mohammed uses the film as a means to cope with his situation.  It's another example of how rich of a film Silvered Water, Syria Self-Portrait is, a difficult but essential film.
Silvered Water, Syria Self-Portrait (TIFF Review) Movie review