Sembene!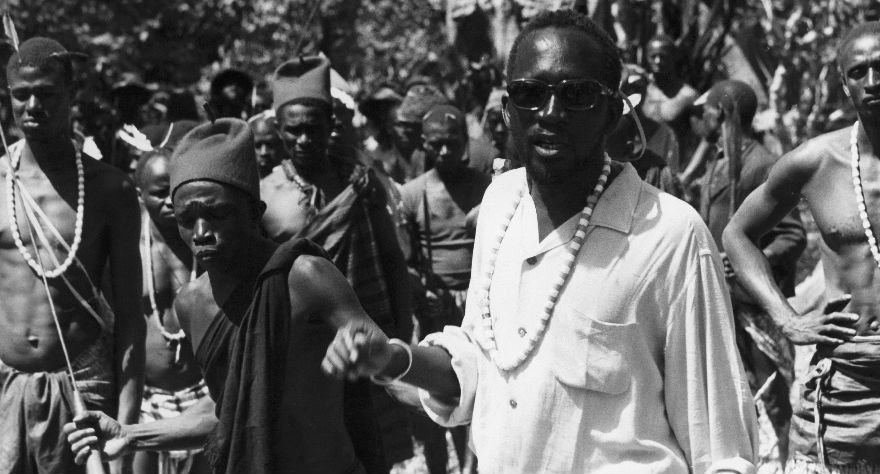 A tribute doc too formal and academic to get fully caught up in emotionally.
Widely regarded as "the father of African cinema" (though he himself declined the moniker with contempt) Ousmane Sembene made waves where other filmmakers made ripples, altering the landscape of African culture and its worldwide perception via nine politically inflammatory, groundbreaking films he directed over his 38-year career. Single-minded and passionate (and decidedly stubborn and arrogant), Sembene changed the world by setting fire to injustices and stereotypes that dehumanized he and his people, though his raging crusade left his loved ones scorched as well.
Sembene's accomplishments, influence, philosophies and moral shortcomings are examined thoroughly and artfully in Sembene!, Jason Silverman and Samba Gadjigo's new documentary chronicling the Senegalese icon's unremitting fight against ignorance throughout his controversy-laden career (Sembene died in 2007 at the age of 84). Gadjigo, an educator and longtime partner and disciple of Sembene's, narrates much of the film, conjuring memories of his late friend starting with a late-life correspondence in which Sembene gifted Gadjigo with a key to his seaside home. Camera in tow, the co-director enters the house in the present day, revealing a rotting treasury of the late director's possessions—books, photo albums and film canisters wasting away in piles that leave Gadjigo staggered at how the man's legacy has gone abandoned.
The son of a fisherman, Sembene served in WWII and earned a living as a dock worker in his early years. When a back injury forced him to lie belly down on a bed for months, he immersed himself in literature and became a self-made novelist. Outraged that black people had no voice in cinema, he studied film in Moscow and set out to make his own films, films concerned solely with the experiences of the sub-Saharan African people.
Without precedent and without an African film industry in place to finance his work, Sembene re-defined his destiny by using resourcefulness to build his projects from the ground up. His films gave the world its first glimpse African life through African eyes, challenging his international audiences to dispel perpetuated stereotypes about black people (his stirring drama Black Girl, following an African maid's life on the French Riviera, was a New Wave-inspired eye-opener), though he applied the same level of scrutiny to his own government, urging his countrymen to abandon sick, antiquated traditions in the name of progress and revised notions of justice. Moolaade, his final film, is a devastating indictment on African female genital mutilation that raised awareness of the horrific practice internationally. His films were infamously banned both internationally and domestically on several occasions, though the bans arguably backfired and spread his message further and faster than his detractors could have ever predicted.
Silverman and Gadjigo provide an academic retrospective on Sembene's work via select film clips and archival behind-the-scenes footage as well as painting a more personal, often unflattering picture of the man. His son Alain is interviewed, outlining just how big of an absentee his father really was, and his streak of unfaithfulness to his wife is briefly brought to bear. Sembene's willingness to finish his films at any cost breached ethical boundaries regularly, from the time he intercepted funds meant for upcoming filmmakers to the frightening incident in which he subjected a little girl to emotional torture to make a scene feel more authentic. The best interviewee is Bouboucar Boris Diop, one of the younger filmmakers swindled at the hands of Sembene. He can't deny his deep admiration for the late trailblazer, but there's more than a smattering of residual resentment and bitterness to his testimony.
Sembene! is too dry and formal to be lovable, but it makes its point emphatically, paying tribute to a filmmaker whose pugnaciousness was both a gift and a curse. The complex, dark corners of Sembene's life aren't explored enough, which is ironic for a movie about an artist seeking nothing less than the whole truth. One can only wonder if Sembene would approve of Silverman and Gadjigo's reluctance on this front.
Sembene! Movie review