Saint Laurent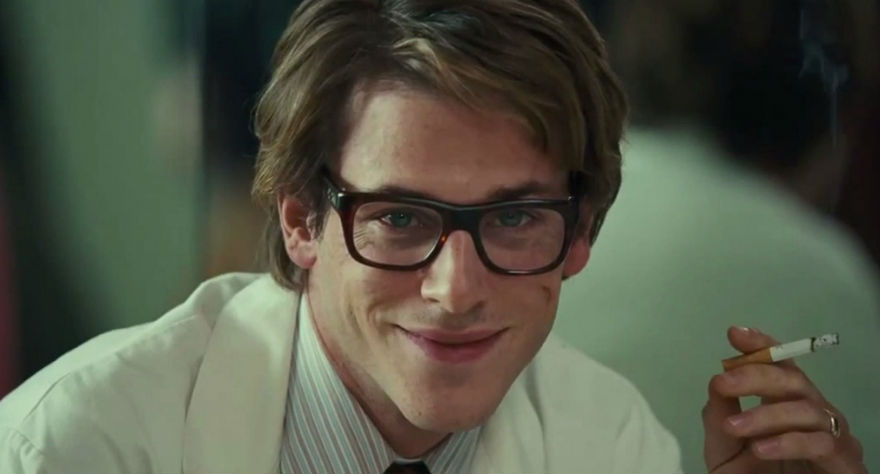 A disorienting Yves Saint Laurent biopic that feels like chasing the fashion icon through a maze of mirrors.
Bertrand Bonello, a characteristically unorthodox, visually gifted filmmaker, pays tribute to the life of Yves Saint Laurent in the most nebulous way with Saint Laurent, a stupefying art film starring Gaspard Ulliel as the chain-smoking fashion icon. Unlike last year's rigid biopic Yves Saint Laurent, Bonello's picture is more impressionistic and smaller in scale, a disorienting haze of sex, drugs and excess unconcerned with the Saint Laurent's myriad accomplishments. It's a film about texture, rubbing and poking its fingers in and around the nooks and crannies of Saint Laurent's life that the other film brushed over in one fell swoop.
Instead of dramatizing, say, Saint Laurent's volcanic rise to prominence at Christian Dior (an indisputably defining period which is audaciously given no screen time), the film fastens tightly on moments of little historical significance and flashes of sweaty debauchery that serve as opportunities to observe his behaviors, habits and vices. An emblematic scene sees a stone-cold wasted Saint Laurent sprawled out on his couch, the room a mess of spilt booze and broken glass that leaves his arms bloody. There's a toppled bottle of his favorite pills, the contents of which are gobbled up by his poor French bulldog, Moujik. The inebriated pooch just happens to be one in a long line of Moujiks; Saint Laurent had a routine of replacing his deceased dogs with new, identical ones. What this says about him is for us to interpret on our own.
The film mostly occupies the period in the 1960s and 1970s that comprised Saint Laurent's professional heyday. Highlights are his affair with model Jacques De Bascher (Louis Garrel), his relationship with model/designer Loulou de la Falaise (Léa Seydoux), and the unveiling of his 1976 "Russian Ballet and Opera" collection. The "Russian" portion of the film provides the best moment, a breathless, Mondrian-inspired split-screen runway montage that blows everything we saw in Yves Saint Laurent out of the water. (An earlier split-screen montage of runway models contrasted newsreel footage from the turbulent years of 1968 and 1969 is almost as exhilarating.) Seydoux  and Garrel don't get much to do besides look ridiculously pretty (can't be mad at that), and they exist almost exclusively on the periphery.
In fact, if you take a step back, you'll see that everything in this movie—the characters, the locations, even the lines of dialogue—seem to exist on the blurred edges of reality. It's all fluid; nothing is concrete. There's no effort made by Bonello to contextualize anything that happens in Saint Laurent save for that newsreel/runway montage, which comes closest to making a strong statement. Any other narrative threads or statements are as graspable as wet spaghetti.
The name of Bonello's game is abstraction and refraction. The film feels like following the smirking specter of Saint Laurent through a maze of mirrors (like the one in Enter the Dragon) while tripping on a cocktail of opiates. His image is swirling all around you, and it's an intoxicating thing. After 150 minutes of this, though, you get queasy, and all you want to do is get out of the stinking maze and go home. Saint Laurent is often frustrating, tedious, and ultimately doesn't say all that much about the guy. But there are fleeting moments when you do feel absorbed in Saint Laurent's psyche, and in these moments the film is one hell of a drug.
Ulliel's greatest gift to Saint Laurent is that his performance is the only thing that feels bolted to the ground in a film that feels narcotized beyond all recognition. He's like a possessed sex demon inhaling his fill of hedonism wherever he goes. A lot of the film resembles those trashy fall-from-grace rock 'n' roll biopics where the rock star gets lost in a whirlwind of sex and drugs, but Ulliel elevates the material by accentuating Saint Laurent's more sinister, predatory side. (There's no better example of this than the creepy final shot, in which Ulliel stares down the camera, a Cheshire Cat grin creeping across his face.) Otherwise, the film is pretty formless. It moves and sways and slips out of your fingers like a puff of smoke. That can be a beautiful thing in small doses, but at 150 minutes Saint Laurent feels like a chore.
Saint Laurent Movie review