Rob the Mob
A relentlessly entertaining take on reckless love and domestic mob life.
Rob the Mob opens with a robbery, but not the perilous kind the title suggests: In early 1990's New York, Tommy and Rosie (Michael Pitt and Nina Arianda, both delivering terrific turns), a frantic, foul-mouthed young couple, botch a barely thought-out flower store stick-up, earning Tommy a ticket to jail for 18 months. Rewind to moments before the failed heist: The thieving lovebirds fall into a heated spat in the car because Rosie chose to bid her man good luck with a classic "I love you!", last words Tommy considers a bad omen. But it's that very love–that fevered passion that drives them wild–that defines them.
The film is based on the true story of Tommy and Rosemarie Uva, a boroughs-bred Bonnie and Clyde who were fixing to get rich quick by stealing from the only folks in the city who would never call the police: The Mafia. Director Raymond De Felitta, who's got a proclivity to profiling life in New york (Two Family House, City Island), loosely adapts the Uva's New York robbing spree to great success. It's a relentlessly entertaining take on reckless love and domestic mob life, presenting tried-and-true themes and motifs in creative ways that make it all feel fresh again. Clever writing and killer performances (particularly the young leads) solidifies Felitta as a great Big Apple storyteller.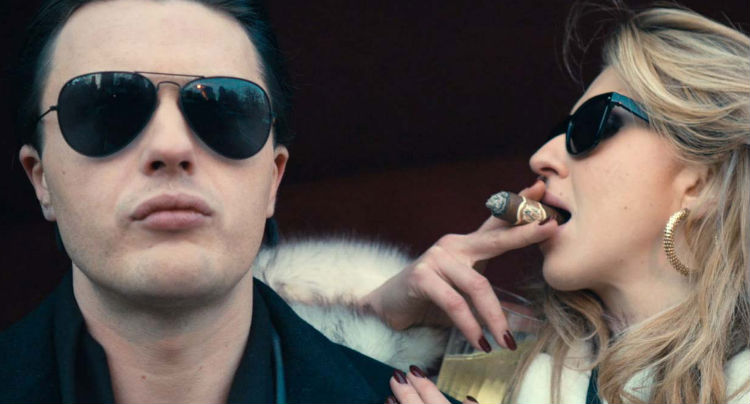 Following Tommy's stint in the slammer, he reunites with Rosie to find that she's straightened up, landing a secure job at a collection agency under perpetually cheery boss Mr. Lovell (Griffin Dunne). She convinces Lovell to hook Tommy up with a job as well, but Tommy's distracted at work as he's become enamored with the John Gotti trial, which he goes so far as to skip work to attend himself. While at the trial, he notices a testifying mobster mention that guns are forbidden at Mafia "social clubs". Barely getting by on Mr. Lovell's measly paychecks, he and an initially leery Rosie kick off a spree of wise-guy shakedowns that, to their surprise, actually yield some big-time dividends.
The social club stickups are wildly varied, each permeated by a sense of unpredictability. Tommy, armed with an Uzi he doesn't know how to use (Rosie has to teach him how to load it in a funny moment), isn't taken seriously by the mobsters at first (they get a good laugh out of the kid's foolhardy audacity), but they're eventually forced to comply when Tommy accidentally starts spraying bullets around the room like a broken sprinkler. Tommy's bumbling inadequacies as a criminal (Pitt's comedic timing is spot-on) make these scenes outrageously funny. After each robbery, he ducks into Rosie's car and they drive home to bask in their bounty of greenbacks and gold chains. Steal and wheel.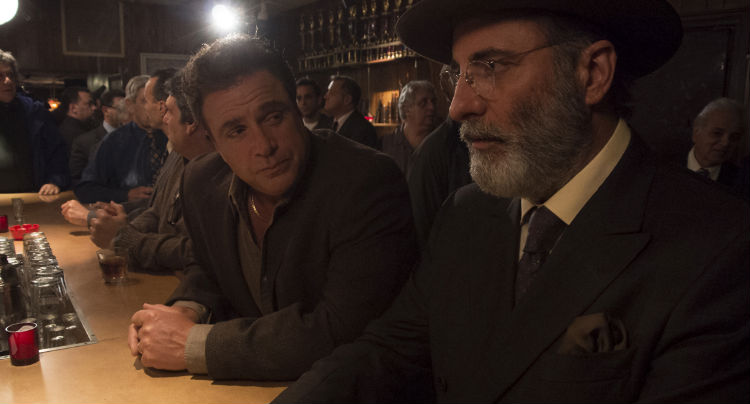 Unbeknownst to Tommy and Rosie, the clubs were being monitored by the FBI, who leak info about the heists to seasoned tabloid reporter Cardozo (Ray Romano). Desperate for a headline, he offers to tell the couple's story on the front page of the paper. Being the self-centered dummies that they are, they dish on all the juicy info, and Cardozo keeps his promise, spreading their story to the masses. Mob boss Big Al at first considered the social club heists as a minor annoyance, but when Tommy finds a piece of evidence that could take down Al's entire syndicate on an aging wise-guy named Joey D (Rocky's Burt Young) and uses it to blackmail the salt and pepper-bearded don, he's forced to sic his goons on the young-idiot Robin Hoods.
Scribe Jonathan Fernandez has fashioned a highly entertaining, taut script that doesn't force De Felitta to rely on visual flair to hold our interest like a lot of modern mob flicks do. The story takes time for intimate, hushed moments of genuine emotion, but always feels brisk and on the move. De Felitta recognizes and delights in the crackling chemistry between Arianda and Pitt: They can jump from wanting to strangle each other to wanting to screw to cracking dumb jokes without a hiccup. Arianda, a Broadway star, is electric as the mouthy firecracker Rosie, and Pitt is magnetic, turning his character's intellectual shortcomings into irresistible charm. Romano and Garcia impress as well, never going over-the-top and servicing the story perfectly. Garcia's scenes with at home with his young grandson, teaching the youngster to make arancinis and instilling in him the importance of love and passion, are surprisingly touching moments of real emotion that add depth to an already excellent film.
Rob the Mob Movie review