Muscle Shoals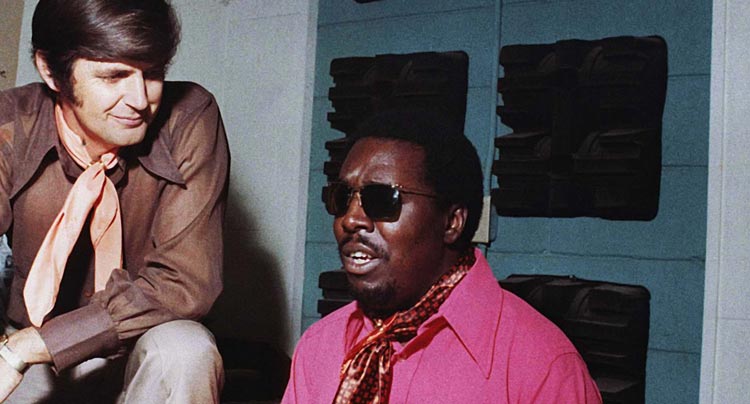 You don't have to be a music geek to appreciate it.
Since its birth, rock music has thrived on rumour and myth. For example, you don't have to search too long before finding urban legends about various musicians who supposedly sold their soul to Satan in return for musical bounty. But while the small town of Muscle Shoals, Alabama is steeped in some fascinating lore of its own. Muscle Shoals, a documentary from first-time director Greg "Freddy" Camalier, shows that the town's legendary place in music history cannot simply be dismissed as a fluke or the stuff of old wives' tales.
Even if you're not familiar with the town of Muscle Shoals, you've almost certainly heard the soul and rock music that has been recorded in this sleepy Southern locale. The film opens by introducing us to a man named Rick Hall, who founded FAME Studios in Muscle Shoals back in the 1950s. Early hits by acts like Wilson Pickett and Percy Sledge were recorded at FAME and attracted the attention of legendary Atlantic Records producer Jerry Wexler and kicked off an impressive run of artists who stopped by FAME. The film also explores how the success of FAME Studios then led Hall's trusty session band to open a competing recording studio of their own across town, which they dubbed Muscle Shoals Sound Studio.
Hall's former session band, later deemed The Swampers, played on many of the songs that were recorded at FAME in its early days, but thankfully, the film doesn't harp on the cross-town rivalry between Hall and The Swampers. Clearly Hall wasn't pleased with the new competition in town, yet all of these years later, there doesn't seem to be much ill-will remaining between the men.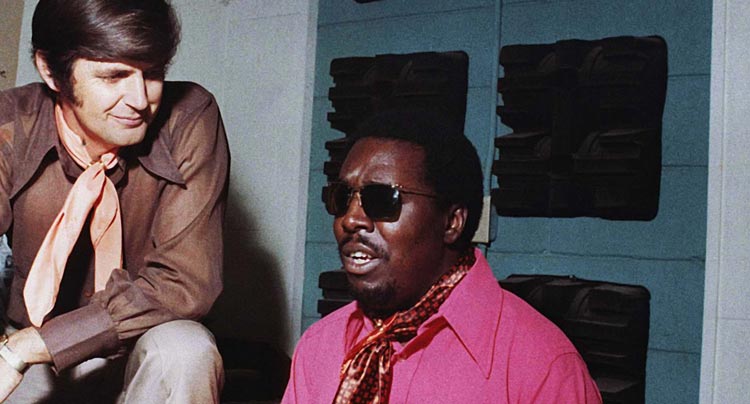 Camalier instead seems more interested in delving into who these men are as people than he is on focussing on business spats that occurred over 40 years ago. And perhaps by sheer force, Hall more or less becomes the central figure in the movie. With his impressive moustache and Southern drawl, Hall is equal parts charisma and incorrigibility. He's lived an odd and often sad life, but he's a born storyteller, and watching him talk casually about the transformative sessions he recorded with Aretha Franklin in particular is an absolute treat.
But while Hall may be the main attraction here, Muscle Shoals has a pretty impressive arsenal of interview subjects. Aretha Franklin, Mick Jagger, Wilson Pickett, Greg Allman, Steve Winwood, Bono, Percy Sledge, and more also lend their voices to the film, many of whom have great stories of their time in Muscle Shoals and who eloquently expound on the unique and relaxing aura of the town.
That said, the film perhaps tries a bit too hard to build this mystique of Muscle Shoals, going to great lengths to convey a sort of spirit or "magic" to the town that is essentially intangible and doesn't add a whole lot to the power of the film. Between the killer soundtrack and the hugely entertaining stories that the film's subjects have, that should be more than enough to make even the biggest skeptic believe that there's something special about the town. (Or, at least, to believe in the immense talent of the musicians and the producers who worked in the town's music studios.)
You don't have to be a music geek to appreciate Muscle Shoals. The film moves at a brisk pace, examining a wide variety of musicians and genres that found a temporary home in Muscle Shoals. Everyone is bound recognize at least a few of the songs that were recorded in Muscle Shoals and find their way into the film, whether it's the Rolling Stones' "Wild Horses", "Percy Sledge's "When a Man Loves a Woman", or Lynyrd Skynyrd's "Free Bird". This is a musical legacy that speaks for itself and Muscle Shoals does a brilliant job at putting it on display and delving into some of the stories behind these great songs.
Muscle Shoals trailer
Muscle Shoals Movie review