Mr. Holmes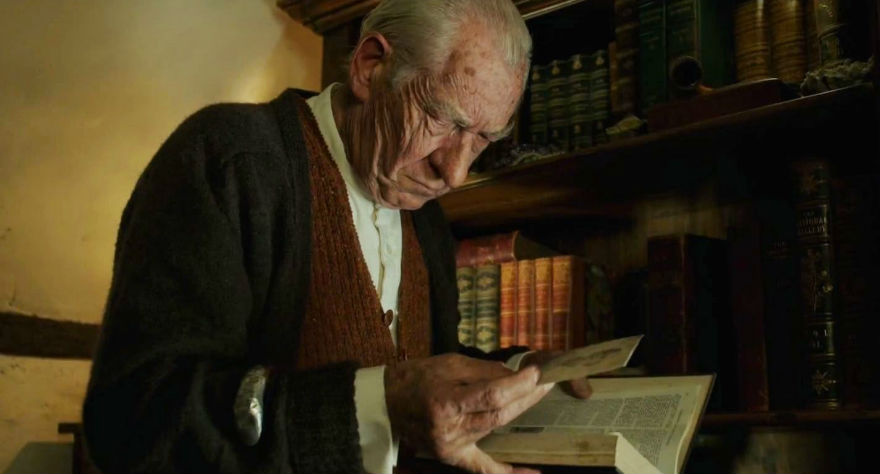 McKellen's Sherlock Holmes is arguably the best of the modern era.
Ian McKellen and Bill Condon haven't worked together in 17 years. In 1998, they made the excellent Gods and Monsters; now, they're weaving a brand new tale about the world's greatest detective in the wonderful Mr. Holmes. The craziest thing about this reunion is, McKellen plays an elderly crank confronting mortality in both movies. Talk about gas left in the tank. McKellen's one of the finest actors working, and his performance as Sherlock Holmes is one of the crowning jewels of his late career.
Sherlock Holmes is as trendy and popular now as he's ever been, and of the handful of actors who've embodied Mr. Holmes over the past several years, I'd dare to say McKellen is the best of the lot (not a knock on Cumberbatch; put down your pitchforks). The film, adapted from Mitch Cullin's 2005 book A Slight Trick of the Mind, finds Holmes face-to-face with his greatest adversary: the merciless ticking hands of time. Holmes is defined by his intellect, after all, and erosion of the mind is one thing, tragically, that old folk like him simply can't escape. Given this scenario, is there any choice other than the cerebral, soulful Sir McKellen to fill the 93-year-old detective's shoes? No; his casting is as close to perfection as one could hope for.
The story is no less complex or enthralling than your classic Arthur Conan Doyle yarn, juggling three unique, parallel stories with vigor and precision. Sherlock may be in a self-reflective, somber state, but the film that frames him moves with energy and brisk forward momentum. The primary plot line takes place in 1947: Holmes is retired, fighting off Alzheimer's in a countryside home in Sussex to live out his final days. He's watched over by a widowed maid, Mrs. Munro (Laura Linney) and her bright (and nosy) 10-year-old son, Roger (Milo Parker). No longer inundated with deathly mysteries to unravel, Sherlock spends most of his time tending to his beloved bee colony, harvesting their honey and admiring the splendor of their well-oiled hierarchy.
There's also a more curious connection between Sherlock and the bees, one that leads us to the film's second narrative thread. They remind him of his final, unsolved case, which rattled him to the bone 30 years prior. In flashbacks to 1919 London, we learn how a troubled woman and a magical music instrument scarred him for life. Of the three tales, this one is vintage Holmes and will feel most familiar to diehards. The third story is the bizarre in the best way, as Holmes travels to Japan (again in flashback) in search of prickly ash, a plant with properties that may be the key to stopping his mind's degradation. His guide is Mr. Umezaki (the terrific Hiroyuki Sanada), a devout fan of Sherlock's who's more than happy to aid him in his quest.
In an interesting deviation from canon, Sherlock is world-famous in very much the same way he is in our reality: his old friend Mr. Watson has written a popular series of mystery books based on their old cases, which have even spurned movie adaptations. A delightful scene sees Holmes watching one said film in a theater, chuckling and cringing at the absurdity of it all.
The central relationship between Sherlock and young Roger is the lifeblood of the film. The three plot lines are well-woven and involving, but these are the real stakes: Sherlock is hanging onto our world by a thread. He's got no loved ones because he views all around him as pawns in his grand game of chess. With his best days seemingly behind him, a young boy reaches out a hand and offers him a final chance to live life with others, rather than in the presence of them. Sherlock's always been almost-human, but there may be hope for him yet.
Parker is as key to the film as McKellen. He never panders, he isn't concerned with being cute, and he's got such a rage in his eyes that we fully understand why Sherlock is compelled to tame it. Roger's fascination with the detective and his legacy drives a wedge between he and his mother, who he essentially treats like a peon. His resentment of her, and her consequent resentment of Sherlock creates a tense dynamic between the three leads, who breathe life into every carefully-penned, contemptuous line of dialogue (adapted from Cullin's book by Jeffrey Hatcher).
Benedict Cumberbatch and Robert Downey Jr.'s more charismatic interpretations of Holmes fit their respective properties appropriately, but McKellen's more pained, desperate version has almost bottomless depth. Much like Roger, you treasure every moment you're with the old curmudgeon. Condon and Hatcher were just the men to bring this atypically humanistic vision of Sherlock Holmes from book to screen, and Mr. Holmes is a movie I'll be itching to revisit for years.
Mr. Holmes Movie review