Miles Ahead (NYFF Review)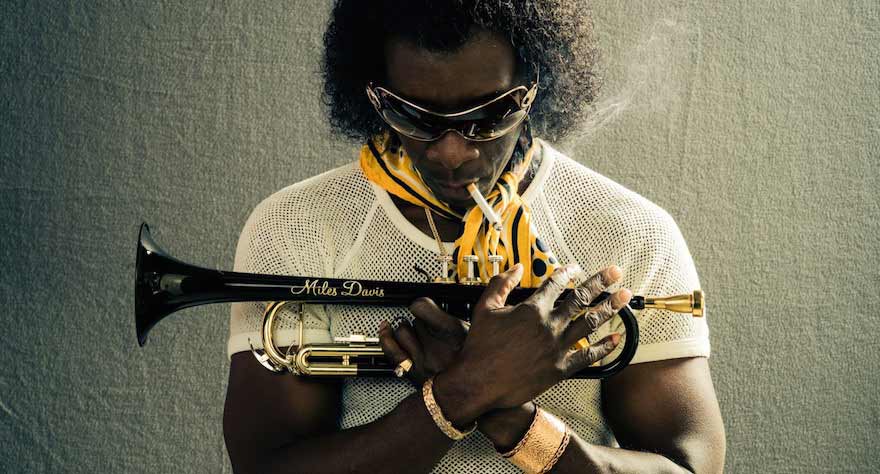 The freeform, aimless style of Don Cheadle's Miles Davis biopic is watchable but unrewarding.
Don't call his movie jazz. Hazily moving back and forth in time, Miles Ahead takes place during the legendary trumpet player's self-imposed 5-year hiatus from making music during the 1970s, flashing back to memories of his tumultuous relationship with ex-wife Frances Taylor (Emayatzy Corinealdi). It's a disjointed, bizarre, and oddly compelling structure that Miles himself may have admired. Don Cheadle—playing Miles, co-writing, and making his feature directorial debut—hones in non-musical moments from Davis' life in creating this muddled biography, with at least one more gun-toting car chase than expected. As cool as Miles Ahead's stylistic flairs are—bleeding Miles Davis performances into the middle of a boxing ring and elsewhere—Miles Ahead still falls victim to the stiffness of conventional biopics, hampered by its own ambition.
Cheadle has worked nearly a decade on Miles Ahead, co-writing the script with Steven Baigelman (story credit on last year's James Brown flick Get On Up) and even turning to IndieGoGo for a final bit of fundraising. More than any other element, Cheadle the actor appears ready for the challenge of capturing the soul of Miles. He convincingly resembles Davis when tapping on his trumpet and donning the garish outfits Miles wore at the time. Sounding like a man in recovery from a weeklong binge, Cheadle's Davis adopts a scratchy, apathetic tone somewhere between conversational dialog and a man mumbling under his breath. His performance brings the dynamic, unpredictable energy Miles Ahead needs, but the film surrounding him is too sparse to keep pace with his rhythm.
Miles Ahead's frantic assembly loses sight of the characters in Davis' radius. Though flashbacks (and flashforwards) transport the film back over a decade, the majority of the "present day" action occurs across two crazy days during Davis' exile. He's bothered by the unrelenting knocks at his door from fictional and inexplicably pursuant Rolling Stone writer Dave Brill, played by Ewan McGregor, who alternates between authentic and fake bafflement. Davis asks Brill if he can drive before using the writer as a chauffeur to Columbia Records, where he arrives gun-in-hand to demand a $20,000 payment. One of the executives (played by a mustache-twirling Michael Stuhlbarg) makes sleazy attempts to win over Miles before hatching a plan to steal Davis' latest recordings—which he literally refers to as, "gold." The subsequent chain of events involved in the losing, tracking, and re-acquiring of this unreleased recording borders on ridiculous, and would more appropriately belong to a Guy Ritchie heist plot than the Miles Davis story.
These distractions pull the film away from the music. Miles Ahead never plays like a greatest hits record, often turning away from the Kind Of Blue hits in favor of obscure cuts from Miles Davis' career. Even when songs are heard, they are relegated to the background of scenes in which Davis fruitlessly searches for his new sound. In the beginning, pouring a session tape, Davis stares down his trumpet from across the room and mutters, "Fuck you lookin' at?" Cheadle attempts to define the obstacles Davis had in returning to recording after taking time off, but in the context of his erratic vision, Davis' inability to compose is reduced to a subplot.
Cheadle reaches for a lot of disparate concepts with his long-in-development Miles Davis biopic. He looks to articulate the impact of his music while focusing on the prolific musician's least productive period. Cheadle tries to make a film about the essence of Miles' work but offers an intentionally limited perspective on the man. Miles Ahead remains entirely watchable, yet the ways in which the film falls short of its target are frustratingly apparent throughout. When Cheadle trots out as Davis with #SocialMusic emblazoned on his vest during the film's finale, it's one final oblique maneuver that seems as confused as the rest of this incomplete portrait. Despite a tremendous performance at its center, Miles Ahead gets lost in its attempt to embody Davis' artistic spirit.
Miles Ahead (NYFF Review) Movie review