Microbe & Gasoline (NYFF Review)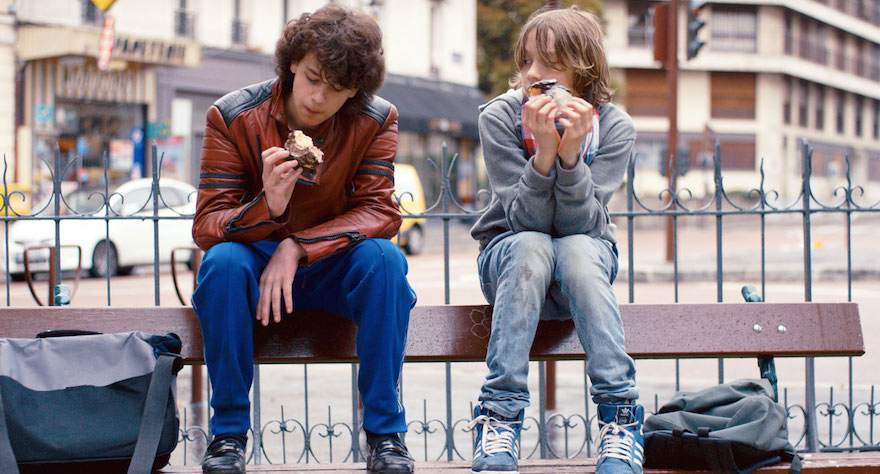 Michel Gondry's sweet coming-of-age film is a familiar but fun look at the adolescent desire for freedom.
The whimsy nature of Michel Gondry (Eternal Sunshine of the Spotless Mind, Be Kind Rewind) meets the adolescent exploration of the coming-of-age genre in Microbe & Gasoline. Following two young friends that build a house on wheels in order to take a road trip across France, Gondry surprisingly downplays the potentially fantastical elements of this premise. Sure, the filmmaker indulges in a backward dream sequence and a homemade house on wheels, but even the execution of those components is decidedly restrained in comparison to Gondry's previous effort, his arts and craftsterpiece Mood Indigo. His latest film is an enchanting, youthful romp with a truly laissez-faire attitude towards growing up.
Daniel (Ange Dargent in his feature debut), nicknamed "Microbe" by his classmates for his diminutive size (though he points out he's not the shortest kid in school), is a social outcast frustrated by being overlooked or mistaken for a girl. He avoids the other boys in school, preferring to sketch portraits of a girl he speaks to but won't pursue. Daniel finds kinship with the arrival of Théo (Théophile Baquet), a new boy whose souped-up bicycle and engine-repair hobby earns him the name "Gasoline" (as well as snide comments about his diesel smell). When the pair grows tired of their school and their moms, Microbe & Gasoline hatch a plan to build a portable shelter to transport themselves around the countryside for the summer. Should it be a car? Should it have a shack? Why not both?
Microbe & Gasoline is less concerned with the consequences of the boys' actions than it is with their routes to self-discovery. As the young teens leave behind their families, the film does as well. The policemen whom Daniel and Théo worry will disapprove of their unlicensed vehicle instead want a selfie with their jalopy RV. They undertake this journey with only minor complications. Rather than condescend to its protagonists, the story embodies the boys' budding desire for independence and treats each moment with the level of significance it has to the film's characters. Gondry demonstrates real affection for his naively inquisitive pair, and their funny, genuine but juvenile heart-to-hearts.
Despite its eccentricities, Microbe & Gasoline can't help but feel overly familiar at times. Like too many of these unconfident adolescent stories, Daniel's insecurities are largely alleviated by a slight makeover and a pep talk about a girl. His mopiness isn't as engaging as Théo's defiant goofiness. Among somewhat recent young male-skewing escapist semi-fantasy, 2013's The Kings of Summer more effectively conveys the annoyance of being caught between childhood and maturity. What allows both of these movies to succeed is the specificity in the characterization of its leads. In Microbe & Gasoline, Daniel and Théo are distinct, charming young men that behave like actual teenagers.
Gondry's work can feel devoid of cynicism. The only cynical characters in his latest movie are the stifling adults who aim to get in Daniel and Théo's way. This might be too precious for some audiences, but their exuberant adventure is often fun enough to merit the idealism. The very French Microbe & Gasoline entertainingly captures the adolescent yearning for independence from an adult regimented world.
Microbe & Gasoline (NYFF Review) Movie review