Memories of the Sword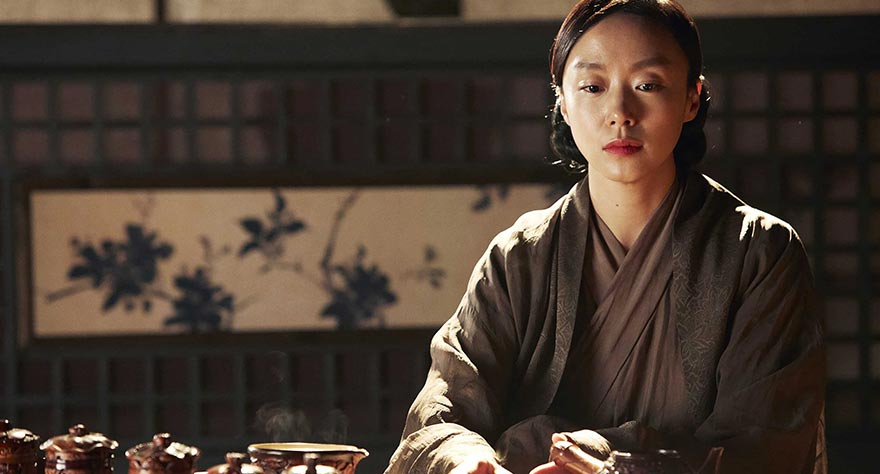 History meets destiny in this beautifully crafted South Korean period tale of love, honor, betrayal, and vengeance.
I first saw Byung-Hun Lee in 2013's Red 2, but I didn't really take notice of the South Korean superstar until I caught the sublime I Saw the Devil while binge-watching SoKo thrillers on Netflix. While I haven't been eager to seek his work in the two G.I. Joe films, I am a huge fan of Masquerade, a 2013 South Korean period drama in which Lee plays two roles (in a plot device similar to Ivan Reitman's Dave, although far more serious). After this year's disappointing Terminator: Genisys, in which he also appears, it seems Lee's talents are better suited away from Hollywood, and probably more appreciated as well. In his latest film, Memories of the Sword, he returns to period drama in an entry in the genre that includes action, romance, and pathos.
In medieval South Korea, teenager Seol-Hee (Go-eun Kim) is being raised by her surrogate mother, teahouse owner Seol-Rang (Do-Yeon Jeon). However, Seol-Rang knows more than just making tea. She was once a great sword master but has since gone blind. Still, she has the skills to train the child in her care to be a sword master for a new generation, but one with a clear and singular purpose: when Seol-Hee turns 20, she will kill the people who killed her natural parents. What Seol-Hee doesn't know is that Seol-Rang is one of those people. The other person is Deok-Gi (Byung-Hun Lee), a high-ranking general in the Goryeo Dynasty. But this isn't a mere tale of revenge, and there is more to each of these characters than initially shown.
Actually, there is much, much more than meets the eye, and all of it is sensational, thanks in large part to the film's screenplay, co-written by Ah-reum Choi and director Heung-Sik Park. This duo has written a richly crafted tale that balances concurrent themes of history and destiny. Weaving into that fabric a collection of carefully considered origin stories, paths to glory, roads to hell, romance, tragedy, and even a political coup. It has all the trappings of something gloriously Shakespearean, but the ambitious filmmakers also double-down with numerous action sequences. That the film is only a minute over two hours is nothing short of remarkable, as there is enough content here for a TV miniseries three times that long. Yet, with the exception of a pair of integral characters who could have been better developed, the story never feels like it's rushing to get anywhere. This speaks to both the density of the material and to Park's skill as a director.
Park doesn't only carry a heavy load, he balances it, too. Moods in the film run the gamut. There is the joy a teenage girl feels when her skills move to another level (symbolic of puberty, really, adding a coming-of-age element to an already full slate of themes). There is the tender romance between two people fated to be together, yet fated to be apart. There are calculating political maneuvers made and passionate battles fought. There is fear. There is regret. There is a sense of tragic inevitability that ultimately casts a pall over the latter portions of the film.
In what is probably the best scene of the film, Park's balancing act is on full display. In a heavy rain, a band of assassins attacks the home of Deok-Gi. As his men fight off the attackers in a space of land in front of the house, Deok-Gi makes a pot of tea and "hears" (via voiceover) Seol-Rang explain how to prepare perfect tea. Amidst chaos and violence, Park manages to deftly integrate a breathless education in boiling water. It's hypnotic.
The action in that scene—and most of the action in the other scenes—does not disappoint. Park uses every hand-to-hand combat direction resource at his disposal: from blocking and choreography to razor-sharp editing and just enough wire-fu to dazzle viewers without defying belief. He also masterfully utilizes changing frame rates to slow or accelerate the action, leaving the viewer breathless from the pulsating tempo of the action. The best action scene of the bunch occurs in silhouette, when Seol-Hee infiltrates Deok-Gi's compound and dispenses of several of his men.
Memories of the Sword is not without flaws, but I cannot remember the last time a film had me so eager to see what the next scene would bring the way this film did. I have been a fan of South Korean period dramas for some time now, and this film has earned its place in my collection of favorites.
Memories of the Sword Movie review