Manglehorn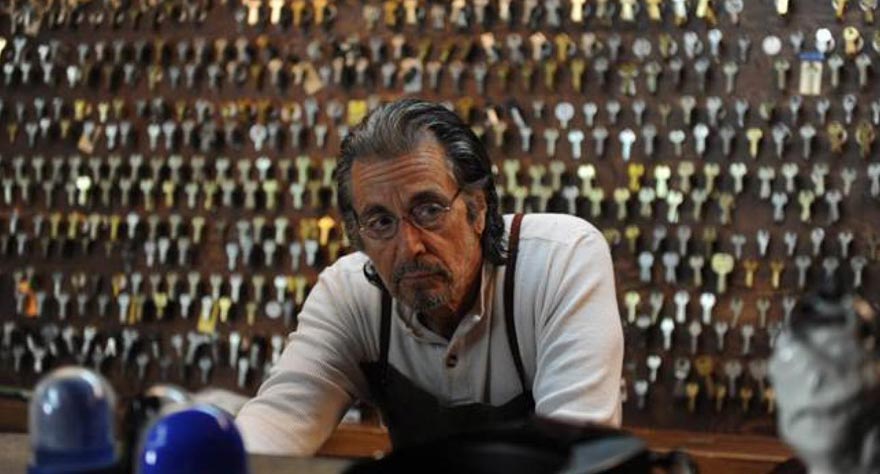 Al Pacino can't pull this nostalgic film out of its reverie.
It's not always entirely clear how director David Gordon Green chooses and/or writes the projects he'll direct. At best we can call him eclectic, at worst erratic. Clearly he doesn't want to be pegged into any one genre, a noble intention, but it means watching his films is an exercise in expectation. You just never know what you're going to get. Manglehorn is a nostalgic drama with notes of comedy and plenty of Green's Malick-y influenced quiet, but mostly it feels like a sleepy character study about a man lost in his uninteresting past.
That man is A.J. Manglehorn, a locksmith in a small Texas town (a favorite setting of Green's) who lives inside his lonely rituals of work, small talk with the local bank teller (Holly Hunter), eating at a nearby cafeteria, and writing love letters to Clara, the one who got away years ago. His relationship with his workaholic ambitious son (Chris Messina) is tenuous and the closest friend he has in his life is his fluffy white cat, Fanny. As Manglehorn goes about his life, building up the courage to hang out with Dawn the bank teller and explore what it might be like to have a real life (and female) friend, his love letters to Clara lamenting the lost past they once shared are narrated by Pacino with a slight Southern drawl keeping the past as ever-present.
As almost a metaphor for how pointless his love letter sending is, his mailbox has a beehive growing out of it, making checking for daily mail a physical challenge. Everything else happening plot-wise is predictable; since it's established so heavily that Manglehorn is lost in his nostalgia and couldn't possibly move forward without first making a disaster of things. And so he manages to further estrange himself from his son, be unfeeling toward Dawn, and be entirely too caught up in his cat's health. It's all just so uninteresting.
As if to directly correlate the level of dull content pieced into the script, Green cast the legendary Al Pacino to play the titular character. In fact, Green created the entire idea for the film based on an interaction he had with Pacino years previous where he wanted to tap into Pacino's particular talent for being an indecisive and enigmatic character. He was right to want to utilize the particular flavor of idiosyncratic that Pacino continues to master as he matures, but leaving out context is the film's biggest flaw, and it seems a writing issue.
The film's writer, Paul Logan, was a PA on Green's film Prince Avalanche. He's written no other produced features, and the fact that most PAs on film sets have almost no interaction with the director makes it all the more impressive this young man was given the opportunity to write a film for David Gordon Green, especially one with Al Pacino hand-picked for the role. But talk about not taking advantage of a situation. A film that lives in the past, but never really explains the past is a film about nothing. It's just too hard to tap into Manglehorn's all-consuming nostalgia without any justification for it. The forward movement of the story is molasses-paced, and while sweet and subdued perhaps, it's just too inexplicable most of the time. Even Manglehorn's eventual decision to break off the honeycomb below his mailbox and stuff it inside the box feels less like a moment of triumph and more like the inexplicable actions of a confused old man.
Like all of Green's other films, there is a distinct color quality to the film. Manglehorn is green-tinged and highly vignetted, adding to the inclusive feel of the film and, perhaps inadvertently, emphasizing the small-scale of its scope. The music of the film is manipulative, attempting to evoke feeling and there is too much reliance on it to add where the writing lacks.
Al Pacino is great as lonely and quirky but has almost a little too much street cred to be believable fully. Holly Hunter is easily likable in almost everything, and she really does come across as the sort of bank teller anyone would want in their life. She's the only character for which genuine emotion is evoked and more filmmakers should really be utilizing her these days. But neither of these talent behemoths can make up for what is a droll and partially formed script. David Gordon Green can continue to explore and take chances, but like Your Highness and The Sitter, we're going to have to continue watch as he sometimes fumbles.
Manglehorn Movie review