Magic Mike: XXL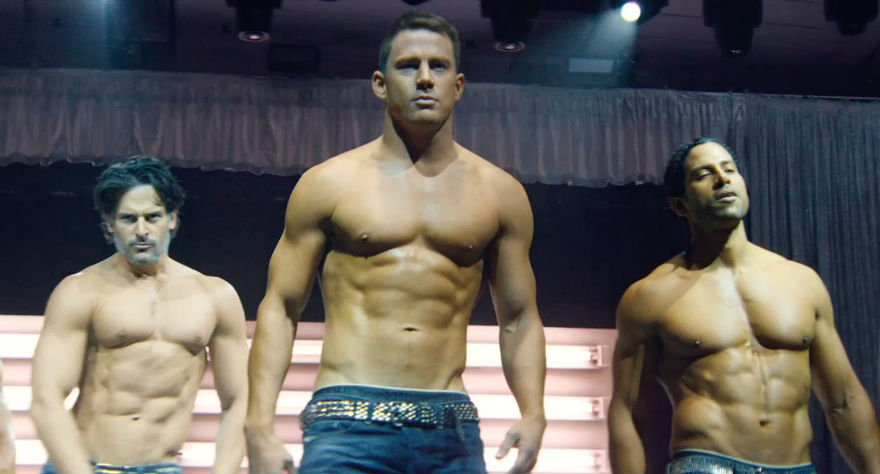 Male entertainers are the heroes in this goofy follow-up to Soderbergh's 2012 surprise hit.
It came as a bit of a shock how much fun I found myself having as I watched the bronzed, gyrating man-tasy that is Magic Mike: XXL. It's the follow-up to Steven Soderbergh's unexpectedly artful 2012 film Magic Mike, which starred Channing Tatum and was based on the teenage stripper chapter of his life. Like its predecessor, XXL takes a vocation that's been culturally passé for about two decades and makes it fun again.
Director Gregory Jacobs goes even deeper (*ahem*) and gets to the heart of the matter, taking a look at the virtues of "male entertainment," from its rejuvinative properties to its nature as an outlet of expression for its oily practitioners. The movie isn't as fun when the studly cast members start spinning their wheels with the comedically impotent dialogue-driven segments, which take up too much of the swollen (*ahem*) two-hour runtime; the real "magic" happens when the guys start speaking with their bodies.
Take the first routine we see: Mike (Tatum) is hard at work, grinding not a blushing female, but some metal parts for his new furniture-making business. He's alone at night in his tiny workshop when suddenly his jam, Ginuwine's "Pony," hits the speakers like a sticky handful of dollar bills slapped on a cleanly-shaven buttock. As if compelled by the stripper gods, he begins undulating, thrusting, and swinging around the cramped environment like a bulky, after-hours Gene Kelly. The choreography is so cheesy and so smooth that you can't help but smile, and that pretty much sums up the type of enjoyment the movie offers. At the expense of their dignity, these bros just want to make you happy, by any means possible.
Sick of toiling away on tables and bookshelves, Mike rejoins his old troupe of stripper buddies on a road trip from Central Florida to Myrtle Beach, where they hope to blow minds at the annual stripping convention. Jacobs and returning penner Reid Carolin seem determined to make the road-movie schematic more than just a way to cart us from dance routine to dance routine, protracting the male-bonding scenes and stuffing them with idiotic banter that's semi-charming and natural sounding but woefully unfunny. I would have preferred putting the story on the fast track.
Big Dick Richie (Joe Manganiello), Ken (Matt Bomer), Tarzan (Kevin Nash) and Tito (Adam Rodriguez) each have a certain charm, and the actors seem to be having a genuinely good time bickering and taunting each other, but they're the kind of guys who are most interesting at parties. On their off time, they're high-fiving morons, for whatever level of entertainment that's worth. Watching them drink on the beach and ride around in a cramped ice cream truck (with their trusty chauffeur, Tobias, played by Gabriel Iglesias) is grating, though their travels introduce us to new characters like a young, cagey photographer (Amber Heard) and a bad-bitch stripper overlord from Mike's past, Rome (Jada Pinkett Smith).
Mike hits up Rome for a favor after Tobias crashes the ice cream truck, leaving the burly outfit without transport. She runs a steamy establishment in Savannah, a sprawling Victorian mansion lit like a sexy haunted house of sorts and run like 24/7 strip show, where dry-humpy performances can pop up in any room at any given time. This section is the movie's best showcase, seeing a slew of talented male dancers (including a ridiculously spry Michael Strahan) blow the minds of the hoards of black, female beneficiaries. To earn Rome's help, Mike is forced to take up his former "White Chocolate" persona and put on the show of his life. He obliges, putting on a borderline pornographic display that's unbelievably entertaining in its silliness.
It's true that Magic Mike: XXL is a shameless excuse for women (and men) to whoop and holler at the hard bodies on screen, but that ain't a bad thing, not at all. That's the whole point of the story: these guys are here to please and make their audiences feel special. It's one of the worst feelings in the world to feel neglected and invisible, and for a man to devote his entire body and attention to a woman for a dance or two is a beautiful thing. (Male onlookers aren't left out of the equation, either; a delightful early segment sees the guys compete at a drag bar to see who can queen it up the most.)
It's an honest-to-goodness good time, and on a cinematic level, it's far from trashy (though he's still "retired" from directing, Soderbergh is credited as a producer and cinematographer). The camera moves and lighting are great and show off the zany choreography perfectly. Tatum's career as an actor has been a lot of fun to watch, and it's nice to see him be so expressive with his body in a time when everyone seems to be clamoring for more "serious," talky performances from him. He's a tremendous physical actor, and he continues to evolve that aspect of his repertoire. Magic Mike: XXL is a perfect movie to unwind to after a long work week, and no one will judge if you doze off during the boys' banal chit-chat.
Magic Mike: XXL Movie review