Life in a Fishbowl (TIFF Review)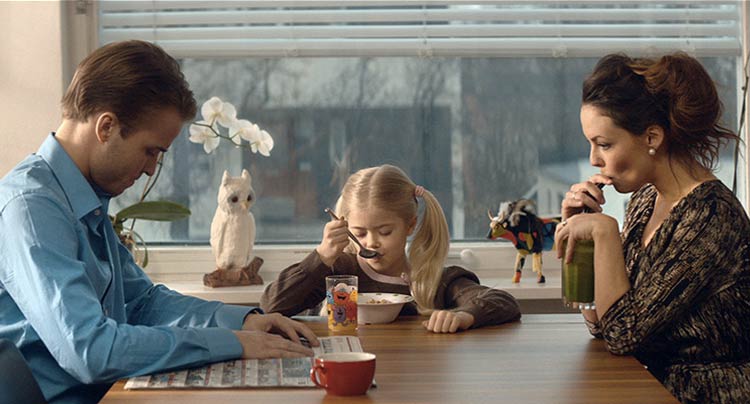 An accessible drama that treads familiar ground but executes it well enough to make most of its tropes forgivable.
Iceland takes a stab at the multiple narrative structure with Life in a Fishbowl, a film that's become a hit in its home country. The film follows three different people living in the same town, and as these stories usually go (think Babel or Magnolia) all three end up crossing paths with each other at some point. Director Baldvin Zophoníasson crafts a finely made, accessible drama, one that treads familiar ground but executes it well enough to make most of its tropes forgivable. And while Life in a Fishbowl is far from bad, its clunky screenplay holds it back from living up to its full potential.
Eik (Hera Hilmar), a single mother working at a pre-school, turns to prostitution to pay off her debts; Mori (Þorsteinn Bachmann) is a successful writer and poet with a tragic history, his demons pushing him to spend most of his days drinking; and Solvi (Thor Kristjansson) is a former athlete starting a new job in the financial sector. It takes some time before the three different narrative strands start connecting. Eik and Mori strike up a close friendship, and one of Solvi's first tasks at his job is to convince Mori to sell his home to the bank. The three lives end up intertwining through other, more interesting ways, but don't expect any big revelations or last act twists. Zophoníasson uses these characters to make a social and political statement about his country, showing the difficulties in personal failure and overcoming past tragedies to earn redemption.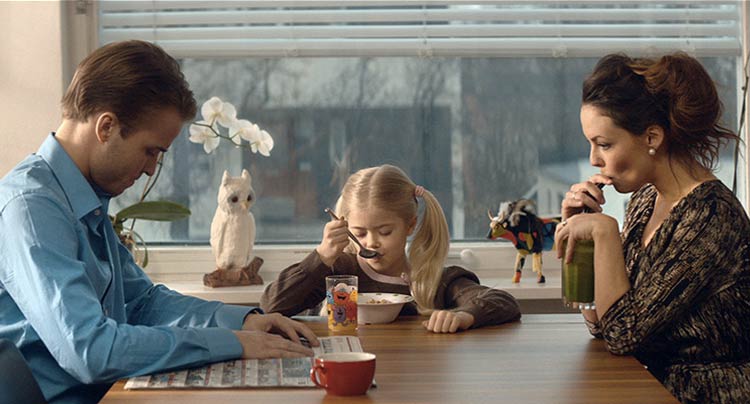 Solvi's storyline gives a look into the kind of predatory financial practices that led to the financial meltdown, and Eik & Mori's stories both represent the lower social classes hurt most by what happened in 2008. Eik and Mori's friendship make up the heart of the film, mostly thanks to Hera Hilmar and Þorsteinn Bachmann's excellent performances. It's also the most satisfying part of the film because it's the strongest link between the three narratives. Solvi's storyline stays separated for the most part, and while Thor Kristjansson does a fine job portraying Solvi's gradual transformation from good-natured husband to corporate sleazeball, it never connects in the same way as Eik and Mori's storylines. It also ends disappointingly, feeling inconclusive compared to the satisfactory wrap-ups for the other two characters.
Zophoníasson shows his hand a little too much as well. There's a revelation in the latter half that doesn't hit the mark, mainly because it's an inconsequential twist to the narrative. This is where it feels like Zophoníasson twists things around to wring more emotion out of viewers, a move that's only bothersome because of its transparency. The same goes for one key segment involving Mori; with a supporting character's fate left hanging, the film deliberately switches over to another plot for what feels like ages, purposely dragging the tension out before cutting back. It's not like these kinds of decisions are bad, they're just unsuccessfully executed, and seeing the director's hand ruins the ability to stay involved with the material. Life in a Fishbowl will definitely resonate with audiences outside of Iceland (I wouldn't be shocked if it ended up as a contender for the Best Foreign Film Oscar), but its well-handled drama can only help it so much.
Life in a Fishbowl (TIFF Review) Movie review