Learning to Drive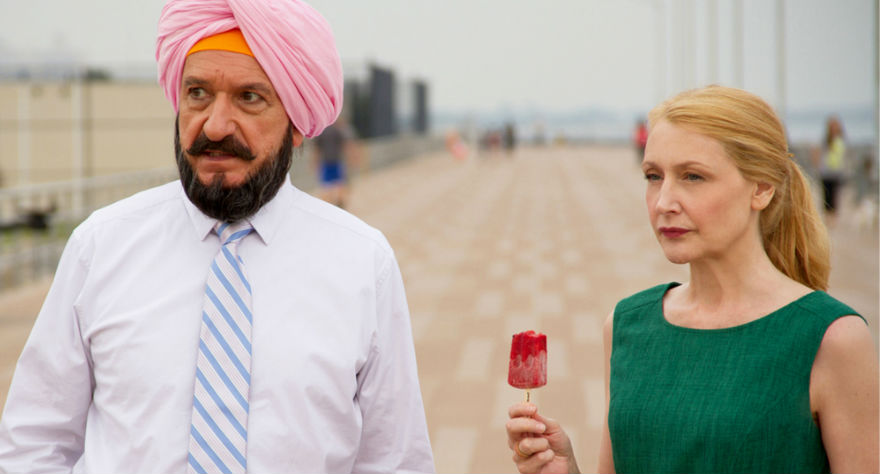 A script too safe for actors with bottomless resources.
As actors, Patricia Clarkson and Ben Kingsley have bottomless resources. They're two of the best working today, and Learning to Drive is simply a vehicle for them to pilot smoothly toward the finish line. It's really nothing more than that; the lead performances are extraordinary, but the script, the imagery, the sound—every other element—is decidedly ordinary. Director Isabel Coixet and screenwriter Sarah Kernochan paint New York City from an ignorant tourist's point of view as it weaves a rudimentary tale of a vehophobic book critic named Wendy (Clarkson), who's just been dumped by her husband, and her noble Sikh driving instructor, Darwan (Kingsley), who's determined to teach her how to grab life by the wheel. It's thin, copacetic material (the source material, a short story by Katha Pollitt, has more edge), but it lays enough of a foundation to allow Clarkson and Kingsley to work.
At the outset, Wendy's left alone in her Manhattan home by her asshole of a husband of 21 years (Jake Weber). They had a huge fight in the back of a cab the night before, and in the morning, the driver, Darwan, shows up on Wendy's doorstep to return a package she left on the seat. She notices from the big-lettered advertisement on his cab that he doubles as a driving instructor, and she asks him to be her vehicular Jedi master of sorts.
A teacher-student friendship blossoms at a steady rate, with Wendy and Darwan using each other as a rock to cling to as the rapids of life threaten to wash them downstream. Wendy wants desperately to visit her daughter (Grace Gummer) in Vermont (especially with her impending divorce looming), but can't clear her head of her husband's memory, an obsession that inhibits her abilities behind the wheel (her mind drifts frequently as she daydreams about he and his new girlfriend). Darwan has a seemingly tighter grip on reality though he lives with complications of his own. A political refugee, he and his illegal-immigrant roommates are under constant threat of deportation. Making things more knotty is the fact that his sister has arranged for him to marry a complete stranger to gain her access into the U.S.; Darwan finds he has more affection for Wendy than his new wife.
The script isn't flawed in any major way, but it's resoundingly underwhelming. Its views of New Yorkers (Wendy) and immigrants (Darwan) are as one-dimensional as can be without being offensive though Clarkson and Kingsley do a lot of heavy lifting to give their characters more depth. There are actually several moments of delight in which the acting between them is so good and dynamic you almost forget about the artifice that is the movie around them. In fact, it sometimes feels like the actors abandon the cross-cultural themes completely as they get lost in playing off of one another. In these moments, it becomes woefully apparent that the heavy-handed driving metaphor Kernochan drives home so incessantly is nothing but a pestering distraction from the real work being done by Clarkson and Kingsley.
Learning to Drive has some sweetness to it, most of which comes from the compassion in Kingsley's eyes. The thought of someone in a scrambled mental state such as Wendy's getting behind the wheel of a car is terrifying for its dangerous implications. If only Coixet and Kernochan would flirt with danger a little more in their filmmaking, we could have had a more memorable film on our hands.
Learning to Drive Movie review