Jingle Bell Rocks!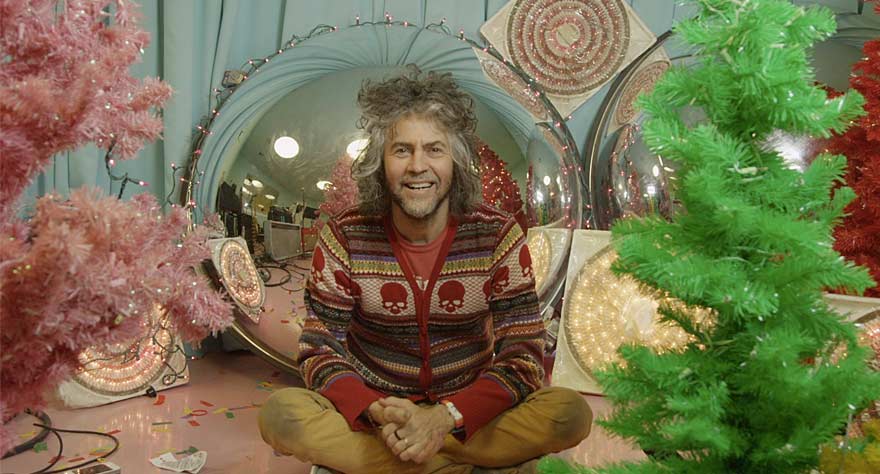 Christmas music enthusiasts try to justify their mania in this obsessive documentary.
I love Christmas music, and although I won't say I can listen to it year-round, I will admit to wallowing in it during the season, with a brief visit sometime in the summer when the mood for a quick reminder strikes. My musical tastes are pretty varied, or so I thought. What I once considered obscure tunes in my collection have turned out to be common when compared to most of the songs featured in Jingle Bell Rocks!, a new and seasonably timely documentary from Mitchell Kezin.
Kezin is a Christmas music junkie. The first-time documentarian spends countless hours poring through bins of albums and 45s at record stores and thrift shops, all in a quest for holiday vinyl rarities. He isn't alone. Throughout the course of Jingle Bell Rocks!, the filmmaker shares the joys of obscure and alternative Christmas music with a crew of fellow collectors, music experts, and celebrities, including filmmaker John Waters (Hairspray, Polyester), syndicated disc jockey Dr. Demento, and rap legend Joseph "Run" Simmons (Run-D.M.C.).
If there is such a thing as the documentary equivalent of fan fiction, Jingle Bell Rocks! is it. Writer/director Kezin's filmmaking inexperience shows, as the film plays more like a "What I Did On My Christmas Break" student film than it does an actual documentary. The film's biggest problem is a lack of focus among and within the competing narratives.
Kezin attempts to tell several stories, and while one single story dominates, no one story is served well by any of the others. That dominant story centers on Kezin himself and other collectors of obscure Christmas music.  Yet while their passion might be specific, they really are no different than collectors of baseball cards or comic books or Precious Moments figurines. They are no different, that is, with one exception, and it's the fatal flaw of this particular storyline.
These collectors have nothing specific they are looking for. These aren't people (all men, for whatever that's worth) looking to complete some kind of set the way other collectors complete sets. There is no dog-eared checklist with notes in the margins. There is no moment when a months-old list of three missing things finally becomes a list of two. There is no sense of accomplishment or failure. This is a story about a group of people who own thousands of recordings and are simply looking to acquire thousands more. They aren't looking for anything specific, but they'll know it when they see it. That's fun for a little while, but the repetition of watching men flip through stacks of wax and go, "Oh, look at that!" or "Oh, I never heard of this one!" grows tiresome and eventually feels like Kezin simply wants to give his friends and colleagues more screen time while they shop for whatever they find.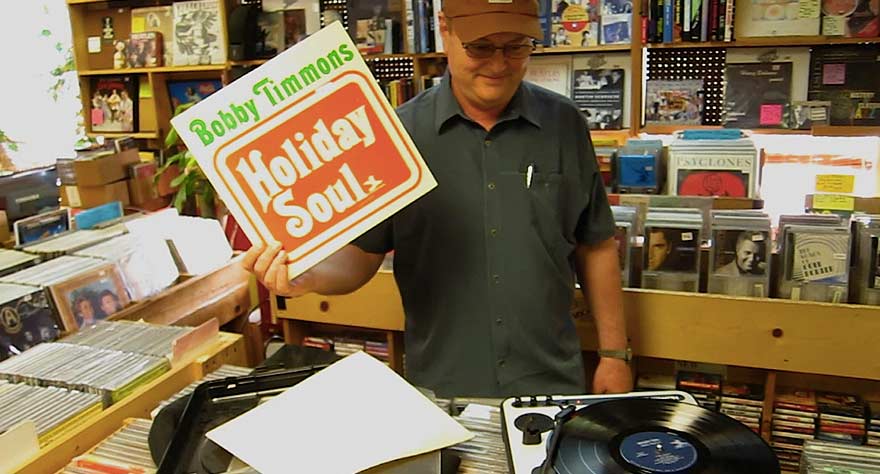 That repetition is further troubled by a randomness of geography that is difficult to follow. Kezin and his band of Merry Christmas men ping-pong from Hollywood to Chicago to New York City to the Poconos (!) to Birmingham to Baltimore and so on, in part to go looking for more records, but also in part to tell another story. That story tries to be the history of obscure Christmas music, but it only manages to be the history of certain obscure Christmas songs. While this is at times frustrating, there are three sensational moments here – one about a Christmas song written for and performed by Miles Davis; one about Christmas music in the Vietnam era; and the origin of "Christmas in Hollis" by Run-D.M.C.
The most intimate story, though – and the one with the biggest impact – is the story about Kezin's childhood, his absentee father, and how a little-known song by a very well-known singer spoke to the filmmaker in a way that resonated with him for decades and helped fuel this obsession. The genuineness of this tale is terrific, and although the story gets lost in the noise of the rest of the film, it closes strong.
A film with so many songs doesn't have time to play them all in their entirety, of course, and that's okay; there is usually enough of each song played to get a good flavor for the number. That said, there is still a lot of dialogue competing with music, almost always to the music's detriment. No truer is this than during the Miles Davis story, when Kezin plays one of the jazz master's original session recordings, and repeatedly interrupts it.
There are several good ideas for stories in Jingle Bell Rocks!. There's even a small though fascinating bit on the "mix tapes" (in CD form) these collectors compile, copy, and give to friends at the holidays. But other than the one about his dad, which has a definitive beginning and end, it's as if Kezin doesn't want to cut any partial stories for the sake of telling at least another whole one.
What is left onscreen is part history, part homage, part catharsis, and part celebration of holiday hobbyists. Jingle Bell Rocks! is very much like the record stores and thrift shops its filmmaker and his friends frequent: a thing jammed with such an enormous amount of scattered stuff, finding the gems requires great patience.
Jingle Bell Rocks! Movie review