Jauja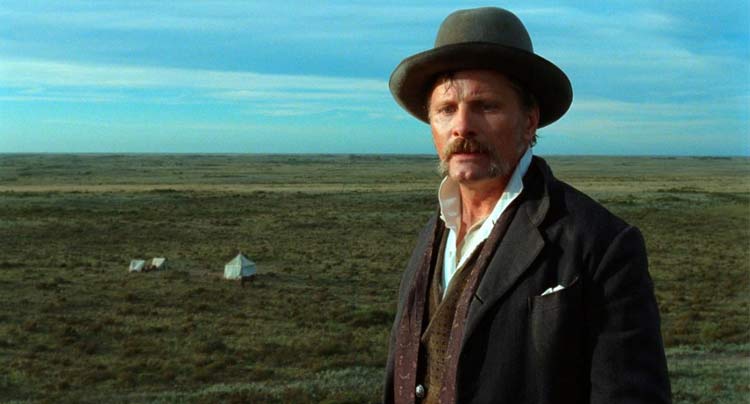 Transcends expectations and delves into a philosophical discourse devotees of existentialism will adore.

Lisandro Alonso's Jauja, world premiering in Un Certain Regarde, is from another planet. Much like Ceylan's Winter Sleep this is what a real experience feels like in the movie theater. Unfortunately, I was unable to get too acquainted with Lisandor's previous films before the festival began and only managed to catch his 2004 film Los Muertos, about a man released from prison and his journey back home to his daughter. It's a captivating, at times tedious, affair. Man's displacement in nature and within family feels like one of Alonso's major themes. Snail-like camera movement, lengthy takes, and no musical accompaniment, his preferred tools. 10 years later, and after a couple of more films I will most definitely be seeing soon, he has a made a film that is in a different league, using everything seen in Los Muertos (right down to the subject of a father searching for his daughter) to infinitely higher degrees. It's unbelievably not competing for the Palme D'Or and I'm not sure how that happened, but I've got an inkling that it will wind up as the granddaddy of the UCR; with more experience and wisdom captured in a few frames than entire films in the section.
The film opens with a caption about what 'Jauja' is exactly; a mythical, earthly paradise, which man has sought for centuries and never found. The time and setting of the desolation that surrounds the 4:3 frame is never revealed, though it looks to be the period of the conquistadors when European forces were conquering aboriginal peoples. Danish Captain Dinesen (Viggo Mortensen) has joined camps with a Spanish infantry and brought his daughter Inga (Ghita Norby) along. The first section of the film establishes the relationships between Dinesen, the Spanish lieutenant Pittaluga, Inga, and Inga's Spanish soldier-lover Corto. Word has reached their camp that captain Zuluaga, renowned for his bravery and experience in the desert, has disappeared under mysterious circumstances. When Inga steals off one night with Corto, Dinesen wakes up in a panic and – not heeding the advice of the seedy Pittaluga – rides off into the desert to search for his daughter.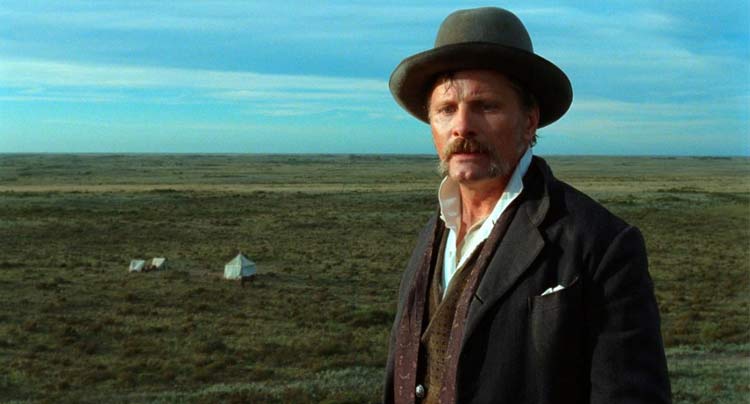 The film truly takes off once Mortensen's captain begins his search. The establishing scenes contain more dialogue than the entire length of Los Muertos and while the words spoken lay the foundations of the themes (mysticism, perversion, loss of self) it is the framing and depth of field in this beginning sequence that is instantly captivating. Characters on the left side of the screen in the forefront are contrasted with an action occurring in the distant background on the right, with the vacuum in the middle providing the groundwork for the thematic use of space in the mid-section. Once Dinesen begins his search, the desert that 'devours everything' becomes the film's antagonist as it eats up time itself. Detailing how it does this would classify as a spoiler, but suffice it to say that Dinesen's search for his daughter and the desire to go back home, as he feels more and more alienated in the foreignness that surrounds him, transcends expectations and delves into a philosophical discourse devotees of existentialism will adore.
It's quite difficult to find the right words to describe the sensations and deep impact Jauja leaves you with. Directors that immediately come to mind in terms of aesthetic and thematic influence are Andrei Tarkovsky, David Lynch, and Carlos Reygadas though my unfamiliarity with such directors as Alejandro Jodoworski and Manoel de Oliveira feels like a deficiency here. This is the kind of philosophical, deeply visual filmmaking which many will be able to appreciate, and my respect for Viggo Mortensen (who is a magnanimous minimalist here) has sky rocketed. He is the biggest star Alonso has worked with, and if nothing else, his name alone should guarantee a lot of buzz. Of course, Alonso's mastery alone should be enough because he has created something spectacular here. As I conclude these thoughts, my mind is flipping through the poetic excursion it just had the privilege of experiencing; scenes allowed to sink in so that the vastness of the volcanic nature swallows all attention, or the peculiarity of the aspect ratio which brings to mind Cormac McCarthy's lack of quotations; an artistic expression which empowers the themes and mysticism of the film. Rating this film feels almost ridiculous as it's one of those picture that transcends all kind of formality. Is there an infinite out of 10? Like Winter Sleep, principle prevents me from giving it a perfect 10, and besides, more viewings feel essential to get a full grasp. Can't wait to go back to Jauja.
This review was originally published as part of our Cannes 2014 coverage. Jauja is out in limited theatrical release today, March 20.
Jauja Movie review