Jack (TIFF Review)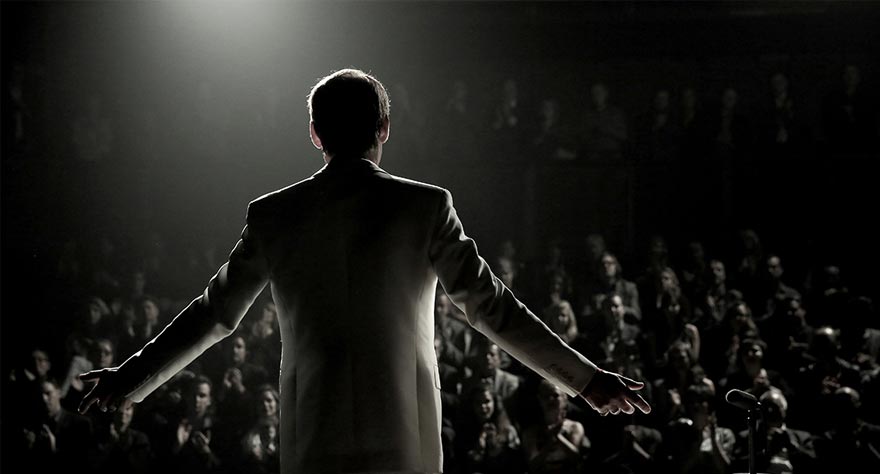 Put aside the status quo and step into the shoes of madman Jack Wunterburg.
Jack is a striking biopic that forays into the enigma of controversial criminal Jack Wunterberg whose case of the early '90s went largely unresolved. In fact, sophomore director Elisabeth Scharang (In Another Lifetime) is so flexible and supplementary in her approach to telling the ghastly tale, that it feels like a mockery of the incident, or perhaps even a merciless exploitation of Jack. However, this is an effective approach, as the psychographic pieces are powerful and go the distance of novelty.
Jack is a killer. He is first convicted of murder in 1974 and sentenced to 15 years in prison. This initial murder is the launching point. From then on, the narrative coils between a few brash scenes in prison, many sexual encounters with women upon release, and triumphant times of success with the intellectual elite in Vienna. Jack becomes a writer, his typewriter is his saviour and words are his freedom. "Time is running… but my time stands still," Jack narrates as he sits engulfed in the writing of his novel. Despite the public knowing of Jack's earlier crime, they are clearly able to look beyond it and take the man as an artist devoid of circumstance. The revolving point for Jack's story comes when prostitutes begin to go missing again in Vienna. Is Jack still a killer? "Once a murderer, always a murderer?" Jack asks his fellows in his feverish tone and his sunken cheekbones expressing a callous look.
Johannes Krish (Revanche) plays Jack with as much virtuosity as you'd expect from a psychopathic character. Although he is never labelled as a psychopath, Scharang is careful to raise more questions than she answers about the man. Bold colours, costumes, Austrian pop music (Naked Lunch mix the soundtrack), devilish performances, and candid material seek to match this film with the likes of other psycho-thrillers, such as the work of Nicolas Winding Refn (Bronson, Drive, Only God Forgives) and even the deftly affecting films of Alejandro González Iñárritu (21 Grams, Babel, Biutiful). The linchpin with all these films is in the distressing performances. And here, Krish is so volatile that we can never second-guess his actions and where the plot will lead him.
As gripping and haunting as sequences of the film may be, it isn't without a fair share of laughs, most of which place the audience right along the mischief of Jack's own rotten behaviour. His charm for the truth and poetry in all things can become attractive, which would explain his relentless womanizing qualities. An elderly architect falls deeply for Jack. He is boundless in expressing his desire for her and making her feel wanted, but he quickly becomes reproachable, as games turn sour with a severe disposition of rage. Jack's feelings have been bottled since childhood—no surprise there—but he is adamant to find success by following his own path in life. In fact, Jack is so obstinate that he will become noted that he does indeed claim that title, hence the success of his writing. It is slightly ironic, but persistence often meets great reward.
This character study seems like familiar territory, Jake Gyllenhaal's recent performance in Nightcrawler comes to mind. But Jack is a biopic that doesn't just wish to track a narrative of one insane man, it's far more interested with bigger questions and in actually hiding the facts (an interesting dichotomy considering much of the film was developed on factual evidence). There's very little exposition in the film and things end up piecing together as it goes. There's a beautiful Terrence Malick quality of well-poised shots of nature and wilderness, which makes a stirring mix with the precariously sadistic tone of the film. Human beings all warrant their shades of grey, and Scharang isn't afraid to question the status quo.
Jack (TIFF Review) Movie review