I Am Big Bird: The Caroll Spinney Story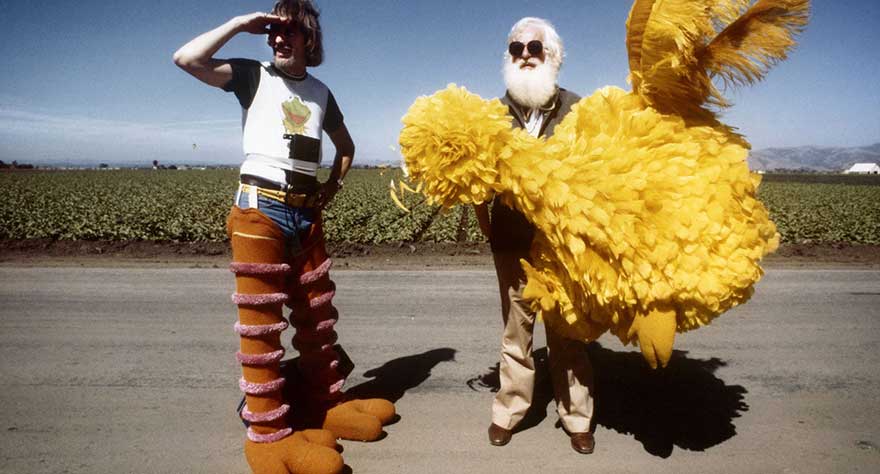 Often syrupy and sometimes manipulative, this Big Bird documentary is still a nostalgic force forty years later.
Recent festival coverage has afforded me the opportunity to catch a few excellent documentaries that tap directly into my youth: Chuck Norris vs Communism, Raiders!, and The Go-Go Boys. Each is about some facet of show business, and each has its own charm, but all are steeped in the nostalgia of my teen years in the 1980s. Yes, there was life for me before the Decade of Decadence, and I Am Big Bird: The Carroll Spinney Story taps deeper into my nostalgic core with a look at a phenomenon that took off during my formative years in the 1970s.
The documentary tells the life story of the man who would go on to portray the most beloved characters on the longest-running children's show in television history. The documentary covers everything it should. It touches on Spinney's childhood when, at a young age, he knew he wanted to be a puppeteer. It was a career path his nurturing mother supported and enabled, but his abusive father thought would lead to failure.
The film looks at Spinney's marriages, his children, and, of course, his professional path, beginning with the early success that led to his introduction to Muppet creator Jim Henson, which led to his being cast as Big Bird on TV's Sesame Street, a role he still plays today at 80 years old (He is also the original Oscar the Grouch). The film goes on to document moments along Spinney's 46-year career, and finds insights and reflections from many people who knew him from Sesame Street's early days, including the actors and actresses that play original and/or long-time characters like Bob, Luis, Maria, and Susan. Also prominent in the film is Spinney's current wife (of over 30 years) and manager, Debra.
About 13 minutes into I Am Big Bird: The Caroll Spinney Story is when I realized something wasn't right. The film leads off with a brief overview of Spinney's youth, from his childhood love of puppetry to his first encounter with Henson (a sequence loaded with terrific old footage, albeit with a score a little too sweeping for so early in the film). This is fine. It's the imagery from Vietnam that follows that is stunning. While brief, the war footage is violent and at times bloody, but it serves no purpose to Spinney's story other than as a shocking representation of a marker on a timeline. The footage does nothing more than serve as a representation that times were changing in America in the late 1960s. It's manipulative, and feels grossly out of place.
For the remainder of the film, the narrative ebbs and flows in a similar fashion. It covers wonderful times in Spinney's life, but treats each low not just as a setback, but as a staggering emotional moment. For example, after going to work for Henson on Sesame Street, Spinney struggled to fit in with the rest of the crew on the show; as a result, he almost quit. Had that happened, the world would have known a different Big Bird. But it didn't happen, and the viewer knows this already. That makes the event interesting, but certainly not worthy of the agonizing pathos co-directors Dave LaMattina (who also wrote) and Chad N. Walker apply. Rinse, lather, sob, repeat.
Not only does this become cumbersome to watch, it actually creates a cry wolf problem when something of true emotional heft is covered in the film. There are two specific moments that warrant tissues: one is the death of Sesame Street's Mr. Hooper, and the other is the funeral of Muppet creator Henson. The moments still pack a punch, but their affect is lessened because of the emotional white noise that comes before and after. This narrative approach reflects either a peculiar lack of confidence, or a complete lack of storytelling acumen from the filmmakers. With seemingly unfettered access to the Sesame Street vaults and a career the likes of Spinney's, this desire to repeatedly return to moments in an effort to trigger the viewer's waterworks is wholly unnecessary. It's also unfair to Spinney, who seems like an incredibly nice man (his wife is the same) and a gifted artist with a remarkable story to tell.
The film is not without merit. The historic footage alone is spectacular, and it's great to see the old cast in the present day and hear them reminisce about the early times. Also, there is an animated segment about the mechanics of the bird suit that is must-see; it's so much more than a bird suit.
Often syrupy and at times emotionally manipulative, I Am Big Bird: The Caroll Spinney Story has the potential to be a celebration of the life of a true American legend. Instead, the filmmakers relentlessly attempt to score cheap emotional points, and they do so to the detriment of the genuinely emotional moments. Were it not for the film's pure nostalgic force, it would be worth skipping entirely.
I Am Big Bird: The Caroll Spinney Story Movie review