How To Plan An Orgy in a Small Town (Slamdance Review)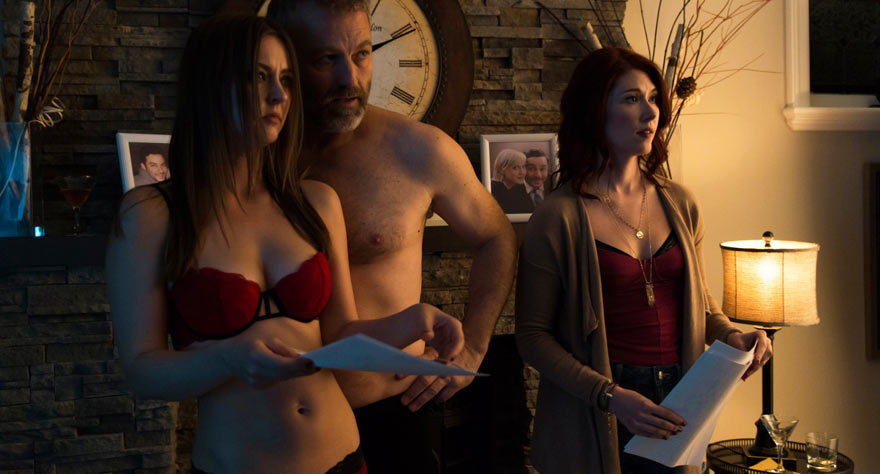 Small towners attempts to be sexually adventurous are too sad to laugh at.
There's an interesting effect the so-called "sex comedy" has on our collective response to racy material. As far as sex goes in film, we seem to react in exact proportion to the way the film's characters treat the subject. If sex is taboo to the characters, we're exhilarated to see it happen, if sex is boring for them, we're desensitized and numb. A virgin anticipating their first time places sex on a pedestal we can't wait to see them reach, and a person who uses sex for comfort won't surprise us with their promiscuity.
This is where How to Plan an Orgy in a Small Town goes especially wrong (except maybe also in having such a long title). It assumes that the audience has its own opinion on the audacity of the sexual escapades happening and will find humor in being shocked, but then gives us characters who express no such sentiment and thus direct our reactions to be just as tame as what we're seeing. It's an interesting conundrum and seems to get at the heart of comedy itself.
Jeremy Lalonde may not be trying to shock us with his film (which he also wrote), but he's at least trying to make us laugh. Opening on that all too familiar scenario, teenagers in love about to get it on for the first time, he sets a more dramatic tone to start when the intimate act gets broken up by other teens at the party who instantly shame young Cassie by forcing her to leave the party in her underwear. Feeling rejected by her teen-love, Adam, and trying and failing to get home undetected, insult is added to injury when Cassie's mother (Lauren Holly), a famous writer of young adult stories, insults Cassie's sexuality and indecency. In rebellion, Cassie runs through the small town of Beavers Ridge with no top on, solidifying her place in their history.
Fast forward 12 years—or should I say "Flash Forward" in honor of Jewel Staite who plays grown Cassie? Sorry, couldn't resist the reference—and 30-year-old Cassie is a respected sex-columnist with a book deal. News that her mother has passed away forces her to return to Beavers Ridge. Adam (Ennis Esmer) has grown up to be an estate lawyer who married Heather (Lauren Lee Smith), the snobby girl who broke up their sexual tryst years before. It's Adam who breaks it to her that her mother has in fact left her nothing, which leaves her in a tough spot as she was depending on an inheritance to pay back her book advance, writers block having left her bone dry.
Things get interesting when Adam's wife Heather discovers Adam can't get her pregnant. This being her only reason for existing means she's forced to look for viable semen elsewhere. Cassie runs into the old gang at her mother's funeral and a sort of throw down of prudes versus sexuals occurs. As a sort of gauntlet, Cassie asks if they've participated in an orgy, this apparently being the peak of sexual freedom. None of them have, and she leaves the victor. It's only later that Cassie reveals to her best friend Alice (Katharine Isabelle) that she is, in fact, a virgin. The orgy idea, however, has provided Heather with the perfect way to get her hands on someone else's swimmers, and with her husband's blessing. She asks Cassie to lead an orgy, and seeing a potentially interesting story in the entire scenario, Cassie agrees.
It's at this point that things could get interesting, except that the film establishes very early in the film that pretty much all the participants recruited for this orgy do, in fact, hate each other. Adam and Heather's marriage is shaky, Alice and her slimy real estate husband Bruce (Mark O'Brien) are separated, Chester (Jonas Chernick) the local record store owner hardly seems the type to be friends with any of these people and is clearly in love with his employee Polly (Tommie-Amber Pirie), and Cassie opts to direct them rather than participate. Awkwardness ensues, but the film misses its mark in what would make a more interesting exploration.
Each of the participants involved in the orgy have some sort of sexual issue, a result one imagines from growing up in a sexually repressed town. Except that their histories aren't explored in any way and the mental blocks each faces are meant to be more funny character quirks than full-blown plot points. The biggest fault of this is in Cassie's development, which should clearly explore why a person who's made sex their life's work would abstain. The film abuses her abominably by implying that it's a residual love for her high school crush that has kept her back. For 12 years? There is serious psychological issues here.
The film's ending only extends its naivete, and doesn't do much in the way of empowering its characters, especially Cassie. If Lalonde had allowed his characters to mimic real people, it could have found some real humor. But when sex becomes the gimmick, and the characters take on the same old tropes when dealing with it, there's nothing to laugh at. Unlike more successful indie sex comedies like last year's The Overnight where sexual psychology fueled the events of the film and provoked thoughtfulness as well as laughs, How to Plan an Orgy in a Small Town checks its psyche at the door and represses laughs as much as it represses true sexual experience.
How To Plan An Orgy in a Small Town (Slamdance Review) Movie review