Help Us Find Sunil Tripathi (Hot Docs Review)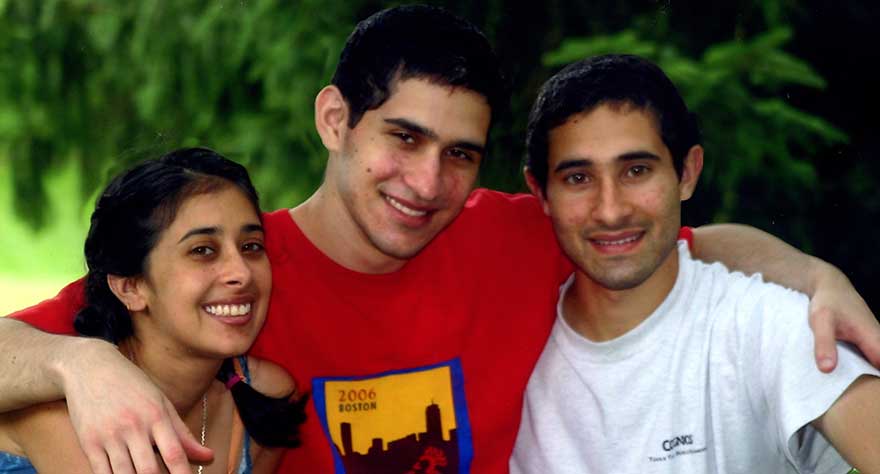 An exceptional documentary about a tragic misidentification that fires on all cylinders.
On March 16, 2013, Sunil Tripathi walked out of his apartment in Providence, Rhode Island, and vanished. The story of his disappearance, though, is only a fraction of the story that he became associated with in the following month. Help Us Find Sunil Tripathi is an ambitious documentary, one not only interested in exploring the viral and ultimately volatile Internet fallout in the hours following the Boston Marathon bombings, but also one not willing to forget the people, the family, and the boy at its center: Sunil himself. The result is a fascinating and heartbreaking piece of cinema, one that highlights how quickly people turn vicious and how, despite everything, love can endure all.
For all of this, Help Us Find Sunil Tripathi is, first and foremost, about Sunil. As his buoyant family describes him, Sunil was a perpetually happy child, a boy who could always be found wearing a grin. He was passionate about music, studying the saxophone methodically, eventually taking his skill to Brown University before becoming a philosophy major. Through here, the film moves quickly, establishing Sunil through interviews with his sister Sangeeta, brother Ravi, mother Judy, and father Akhil, along with a deep archive of photographs, through which we watch him grow into a 22-year-old man. But during his junior year at Brown, Sunil grew distant, and then deeply depressed, as he struggled to finish up the year, and decided not to return in the fall.
Then Sunil walked out of his apartment and into the night. And in the weekend following his disappearance, his family, both immediate and distant, refused to sit idle. Instead of waiting to see what the police would do, they set up an operating base on the Brown campus and began their own search, the scale and magnitude of which was wildly impressive. But the days turned into weeks, and the weeks into a month. The family though was not ready to give up. Then, on April 15, 2013, almost exactly a month after Sunil's disappearance, the Boston Marathon was bombed. And for a day or so, these two events stayed as separate as they were, until a subreddit dedicated to helping identify the then unidentified Suspect 1 and Suspect 2 made the leap: might Suspect 2 be the missing Brown student? The idea caught like wild fire. Then, Suspect 2 was Sunil Tripathi.
For all intents and purposes, this is where Help Us Find Sunil Tripathi blossoms into a necessary film. For the first half of its run time, we follow the Tripathi family as they refuse to give up hope, ever expanding their search, gaining steam on social media, and trumpeting the importance of love and family. Throughout, director/cinematographer Neal Broffman gives a fierce sense of setting; Providence is gorgeously captured, a sort of constant winter, dark and chilly, the river placid and menacing. Broffman juxtaposes this cold with the warmth of the interviews from Sunil's family and friends, all of whom are magnetic–Sangeeta and Ravi especially, the familial love obvious. When the film switches gears, it does so nicely. Certain sections uncoil like a thriller, while others act as meditations, looking to meticulously piece together the events following the misidentification and the dark implications of this new crowd-sourced crime fighting era.
And while most of the film fires on all cylinders, it is still, at times, the film of an director early in his career. For instance, all the Fincher-esque blue-tinted shots of Providence make the filtered and awkwardly staged shots of Sangeeta and Ravi staring into the distance stand out noticeably (even when their intention is clear). And while this writer wasn't bothered by the convoluted set up of interviews following the misidentification, the technique clearly drew attention to itself, probably needlessly, and will likely cause some dissonance among viewers. Nonetheless, the film handled the heavy integration of Tweets and Reddit posts better than most, and, in one scene, incredibly.
A film like this could have gone on longer than its breezy 75 minute run time. It even could have been two films. But what makes Help Us Find Sunil Tripathi so successful is its duality. The film is not just about the poignant disappearance of a troubled young man (one of thousands yearly in the US). Nor is it about the utterly tragic nightmare the collective internet unleashed upon an innocent family in a matter of hours. It's about both. It's about Sunny and the future. And, like every good documentary, it asks more questions than it answers. It should be watched, and its questions should be asked. Because, ultimately, it is a film that says, "We're people and we're still here."
Help Us Find Sunil Tripathi (Hot Docs Review) Movie review