Freeheld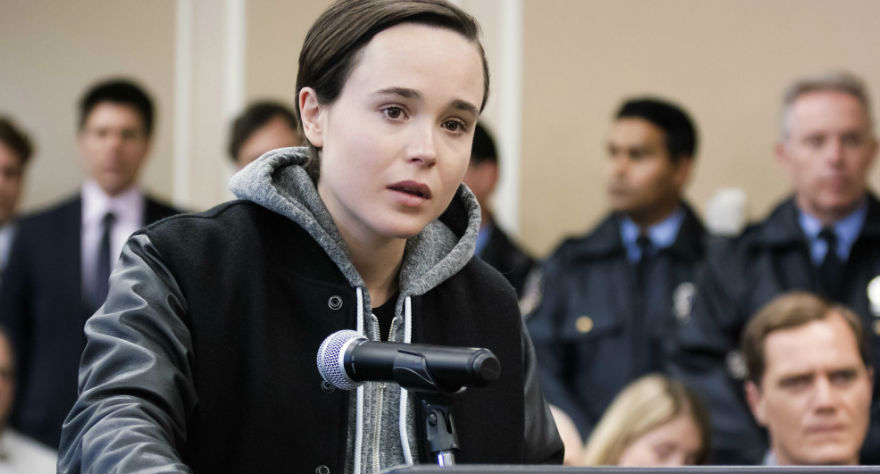 Two powerful performances uplift this formulaic gay rights drama.
There's no surer sign that awards season has begun than the arrival of a tearjerker like Freeheld. Based on a true story, the film depicts the final years of New Jersey police detective Laurel Hester's life (she's played by Julianne Moore), in which she falls in love with Stacie Andree (Ellen Page), is diagnosed with late-stage cancer, and is prohibited by the Ocean County, New Jersey county court to pass along her earned pension to Stacie, her legal domestic partner. Laurel's battle for equal rights made national news, but she and Stacie remained each others' top priority until the end.
More than anything, what Freeheld gets right is that it's a love story from beginning to end. It's about a remarkable relationship that held strong in the face of death and injustice, not the injustice itself. The movie is very romantic and more adorable than you'd expect. Its primary goal is to pay tribute to Laurel and Stacie rather than galvanize people to make change (though it does that too).
One criticism the film can't avoid is that its structure is formulaic, which it absolutely is. The script, written by Philadelphia screenwriter Ron Nyswaner, doesn't take any chances and presents the story without stylistic inflection. Director Peter Sollett doesn't get very inventive with his visuals either, but that doesn't mean the film is artless. The filmmaking and plot do just enough to support the performances of Moore and Page, both of which are monumental and powerful enough to make the movie a solid success.
The lead actors' chemistry takes off immediately when Laurel and Stacie meet at a friendly volleyball game. Their attraction is obvious though Laurel is still in the closet as her high-standing position at the police station would surely be under threat should her narrow-minded brethren learn about her sex life (this all takes place in 2005, a much less LGBT-friendly time than 2015). Laurel and Stacie fall hard for one another despite the difficult, secretive nature of their romance and decide to apply for domestic partnership.
They move into a fixer-upper and are immediately visited by Laurel's longtime police partner, Dane Wells (Michael Shannon), who sees Stacie working in the front yard and takes her for the gardener. Too much of the movie spends time using Shannon as a proxy for the LGBT uninformed though Wells' arc is nevertheless true to life. With Laurel on the verge of getting the promotion of her life and the handy Stacie landing the perfect gig at an autoshop, life couldn't be grander.
Tragedy strikes when Laurel gets cancer and is told she doesn't have much time left. Naturally, she wants to arrange for her pension to be rightfully passed on to Stacie so that she won't lose their dream house. Her wishes aren't granted, however, by the county's Board of Freeholders, who deny Laurel's request. A courtroom battle turns into a gay rights demonstration when a loudmouth gay rights activist (Steve Carell) stages a takeover, filling the courtroom with fellow activists, essentially hijacking Laurel's case in the name of gay marriage (Laurel's compliant, but would rather the fight be in the name of equality). Dane valiantly protects the couple as well, but Stacie is laser focused on Laurel throughout, as their time left together is slim.
The movie, smartly, feels in the spirit of Stacie and her struggle to stay single-minded. This could have been an underdog courtroom drama or a plasticky prestige piece, and it does veer into those territories several times. But ultimately Freeheld is a soul-stirring romance. Page and Moore don't just look madly in love with one another; they look super-duper cute together, and that's the difference-maker that makes this story feel genuine. Stacie is a soft-spoken, repressed person, so when she learns that a full recovery for Laurel is an impossibility, she sinks deep into hopelessness. Page is a heartbreaker, crying in helpless disbelief rather than wailing at the top of her lungs. Moore's tasteful as well, and she and Page ebb and flow nicely as Laurel and Stacie support each other.
Unlike the atrocious Stonewall from a few weeks back (which took a big ol' ignorant dump on one of the biggest moments in gay rights history), Freeheld plays to both gay and straight audiences. Moore and Page are given free reign to act their asses off and do the true story justice, and while Sollett and Nyswaner won't win any awards for their contributions, their two leads are shoe-ins for Oscar noms.
Freeheld Movie review