Fort Buchanan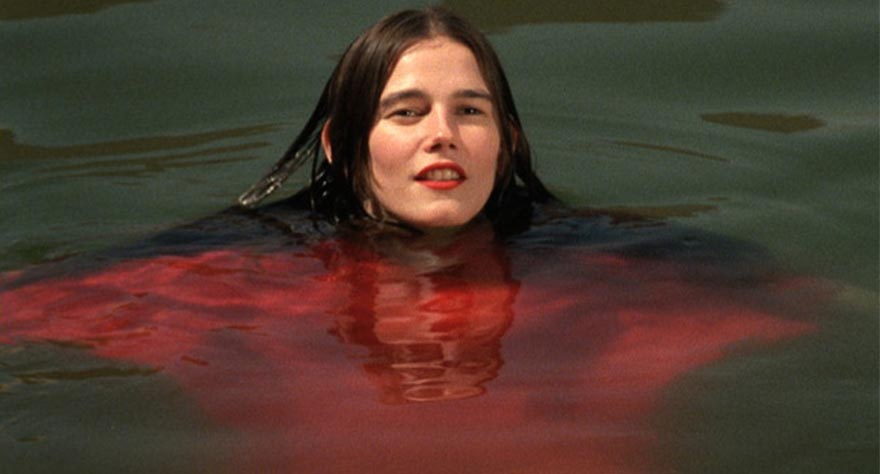 This entertaining and beautifully shot tale of loneliness and ribaldry at a military base makes for an unconventional debut.
Fort Buchanan will screen in the Film Society of Lincoln Center's series 'Friends With Benefits: An Anthology of Four New American Filmmakers.'  To find out more about the series visit the 'Friends With Benefits' website.
While I've never served in the military (and thus have never been deployed), my family's history has loads of this experience. While I often think about the grandparents and uncles and in-laws who have served, I rarely consider that while they were gone, they were forced to leave people behind—people who had to tackle childrearing as de facto single parents, as well as managing their own loneliness. In Fort Buchanan, writer/director Benjamin Crotty focuses on a group of military spouses and how they cope with childrearing and loneliness. However, the first-time filmmaker does so in the most peculiar of ways.
When his husband is deployed to Djibouti, Roger Sherwood (Andy Gillet) finds himself left alone to raise their 18-year-old adopted daughter Roxy (Iliana Zabeth). The two live on-base at Fort Buchanan, where they befriend a collection of other military wives whose husbands have also been deployed. As time passes, Roger finds himself increasingly distraught by loneliness, frustrated by his own weakness, and vexed by his blossoming daughter's growing rebelliousness. That Roxy has become the object of desire of the lonely wives who are helping to raise her escapes Roger entirely, and efforts to address the emotional distance that comes with the geographic separation between Roger and his husband only make matters worse.
There's something quite hypnotic about Fort Buchanan, a lean 65-minute feature that's an expansion of Crotty's 13-minute short film Fort Buchanan: Hiver. The film's titular military base setting is quite perfect for the story, allowing for spouses to be believably absent while creating a space where Roger's pangs of loneliness can coexist with the raging libido of a collective of horny housewives. That said, it's really a base in name only; nothing about the setting says "military base" apart from the sign out front, and the setting feels more like a secluded resort deep in the Pocono woods, complete with something of a strapping and handsome farmhand/groundskeeper. It's at this base/resort where the denizens spend their days lounging about without worry, discussing, among other things, the nicknames they have for their private parts.
This conversation actually happens, and it's an emblem of the open sexuality that flows throughout the film. These wives, apart from their husbands for an unknown length of time, are allowed to go on "playdates" while their husbands are away. Once they clearly define their meaning of the word for Roger (he hears "playdate" and thinks back to when Roxy was a little girl), the playdates are revealed to be (mostly) of the sapphic variety. It's here where a subplot begins about a friendly competition among the women to see who can bed the nubile, barely-legal Roxy first. This openness of sexuality, combined with cinematographer Michaël Capron's lush 16mm lens and Ragnar Árni Ágústsson's era-reminiscent score, gives this slice of the film's narrative a very '70s European cinema feel, invoking memories of films about sexual awakening like Just Jaekin's Emmanuelle (1974).
All of this goes on right in front of Roger, whose physical and emotional detachment from his husband, coupled with his frustration at Roxy's age-appropriate defiance, makes him mostly oblivious to it. In the film's second act, Roger is determined to make some kind of connection with his husband, Frank (David Baiot), so he travels, unannounced, to Djibouti. Everyone else (Roxy and the wives) goes with him, as if on a vacation away from their vacation. They lounge in the heat of the African Republic's climes (lending again to the idea that the military aspect of the film is for narrative convenience only) while Roger changes his appearance in an effort to mend his fractured marriage. While there, Roxy makes a heterosexual connection.
Not to be limited to tales of heartache and carnal pleasures, Crotty infuses a humor in Fort Buchanan that is something akin to slapstick. Moments of physical comedy occur when least expected, at times happening in the background while a more serious moment happens in the foreground. These tonal shifts might not do their specific scenes any particular favors, but they are genuinely funny, and make considering the film as a greater whole a slightly different exercise.
The third act falters with the introduction of a new character who appears to have been added so Crotty can take the film down a darker path. I like the idea in general, and the ending fits with the film's subtle theme of Post Traumatic Stress Disorder, but with only a 65-minute runtime, the character would have been better served being introduced and developed earlier. Still, the third act is a stunner on its own.
Fort Buchanan is a terrific first feature and with it, Crotty proves he is fearless in the face of defying conventional filmmaking. The film, while not perfect, is in that sweet spot of being both enjoyable on its own and an indicator of the kind of talent Crotty has. Given time to hone his skills and focus his creative efforts, Benjamin Crotty could be around for a long time.
Fort Buchanan Movie review