Force Majeure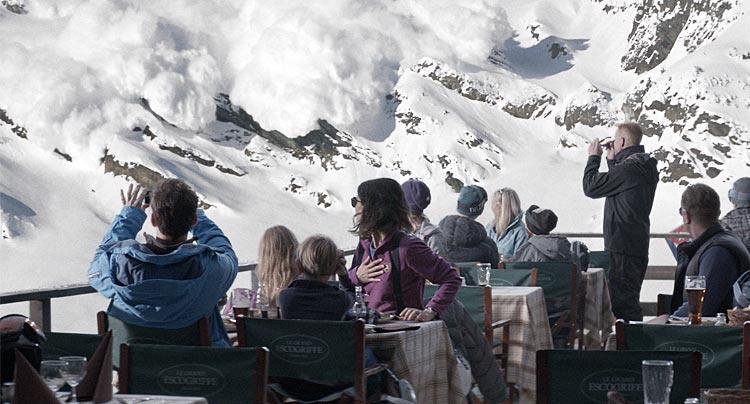 A life-threatening event tears down a family's perception of patriarchal machismo in this entertaining absurdist tale.
Ruben Östlund is a provocative filmmaker, making sure audiences react to what he puts on-screen. This isn't the kind of provocation that would classify him as an enfant terrible either. Östlund doesn't use explicit sex or violence to get people talking. He's highly aware of social norms and expectations, and in Play, his last film, he gleefully dwelled on the contradictions that arise from such standards. That film, based on a real-life case where several black kids elaborately robbed young white boys, was an exercise in frustration. The film's climactic scene has a father of one victim aggressively confront one of the young perpetrators, only to get chewed out by someone watching nearby for attacking a poor minority. Force Majeure doesn't have anything as maddening as that sequence, only because he sets his sights on a more digestible topic: the white, affluent, nuclear family and its patriarchal centre.
Tomas (Johannes Kuhnke), Ebba (Lisa Loven Kongsli) and their two children head out for a vacation at a ski resort in the French Alps. During a family meal outside the resort, a controlled avalanche nearby suddenly appears to lose control. With no time to think, Ebba immediately grabs her kids, while Tomas grabs his iPhone and bolts off in the other direction. The avalanche turns out to be a false alarm; it stops just in time, covering everyone in a cloud of white fog for a brief moment. Once the air clears, it's obvious that a major shift just occurred within the family unit. When it came time for Tomas to act as the strong, protective man in the family, he did the exact opposite. The next three days of the vacation deals with the fallout from Tomas' cowardice, with Östlund hilariously letting it all play out through one awkward, thorny interaction after another.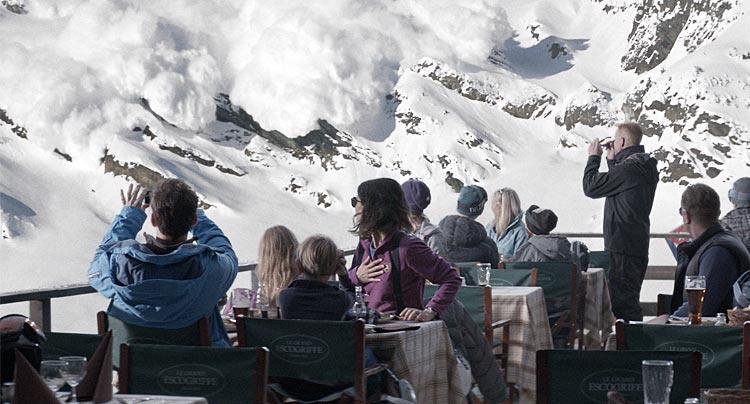 Force Majeure is disarmingly funny because everything about it screams drama. Östlund and cinematographer Fredrik Wenzel use the Alps location to create a precise, sterile atmosphere, the kind of style that immediately brings Michael Haneke to mind. Combined with the subject of a family quickly falling apart, it's natural to expect something serious and emotionally charged. Instead, Östlund has fun with the levels of discomfort he can create out of his story. Ebba repeatedly brings up what happened whenever they talk to anyone else, demanding their opinion on how Tomas behaved. The most painfully funny moment comes when Ebba drags Tomas' brother Mats (Kristofer Hivju) into the discussion. Torn between a familial commitment to protect his brother and the indefensible faux pas he committed, Mats' attempt at a defense for Tomas provides one of the film's biggest laughs.
In fact, most of the laughs come at Tomas' expense. When Ebba confronts him over running away from his family, he denies it and tries to move on. It takes too long for him to understand he can't just settle back into the role of patriarch again, that his status as head of the family might actually be in jeopardy. He sets off on his own for a day, hoping to get back in touch with his manly side, only to get his pride and machismo wounded in the most embarrassing way. Ebba doesn't fare too well on her own either; she looks for help by talking to another woman vacationing at the resort, but her unconventional lifestyle (part of which includes an open relationship with her husband) only shatters Ebba's perception of family and gender roles further. Östlund sees the absurdity of still believing in archetypes like the strong father or the protective mother when, in reality, those types don't really exist. It's hard not to laugh when Östlund shows how archaic of a belief system it is.
And while the film is more than happy to tear into the kinds of roles people play for themselves and with others, there's a feeling of Östlund pulling back a little bit. As the family's vacation starts winding down, and their fractured relationship must lead to some kind of resolution, the way it plays out feels lacking. The final scene, a cute attempt to extend the film's themes from family to community, doesn't stick the landing. That absence of a strong conclusion, along with the comedic tone, makes Force Majeure light on its feet, an enjoyable but not too penetrative exploration of a fascinating topic. That's not exactly a bad thing, though. Östlund's film is great entertainment, a wickedly funny takedown of masculinity and the family unit. Other films wish they could be this incisive.
Force Majeure Movie review