Evolution (TIFF Review)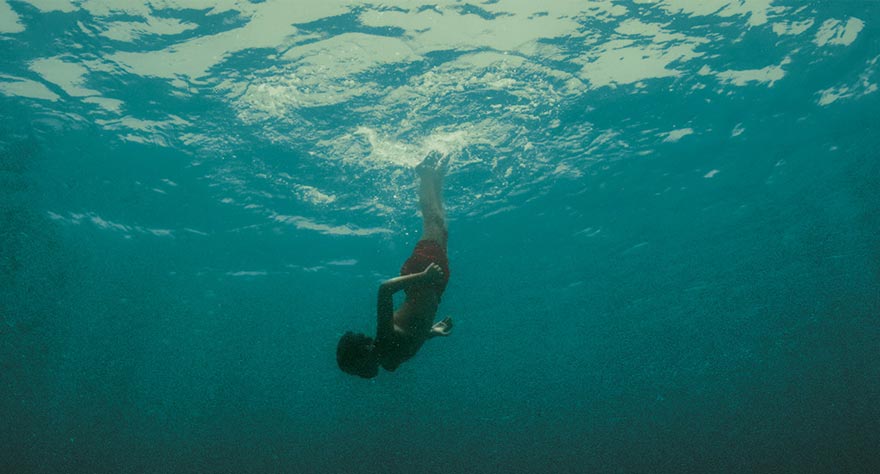 A gorgeous, enigmatic, and sensory experience from one of the most unique filmmakers working today.
It's been over a decade since Lucile Hadzihalilovic baffled people in the best way with her incredible and underseen debut, Innocence, but now she's back to show off her incredibly singular style with Evolution. From the opening, Hadzihalilovic (aided by cinematographer Manu Dacosse) wastes no time showing how much her unique vision has been desperately missed. A series of underwater shots around the coral reef of the film's isolated location (shot on the Canary Islands, it looks like another planet altogether) are a feast for the senses, and the sensuous visuals continue throughout. But unlike Innocence, where Hadzihalilovic followed young girls in a similarly enigmatic and potentially sinister location, Evolution switches the focus to young boys and brings the darkness to the forefront.
On the edge of the island, where the small village of white houses stands out next to the black sand on the beach, 10-year-old Nicolas (Max Brebant) discovers the dead body of a boy around his age at the bottom of the ocean. He tells his mother (Julie-Marie Parmentier) about it, but she dismisses him; and the next day Nicolas goes back to find the body no longer there. Even before the cover-up, Hadzihalilovic makes it clear that something seriously abnormal is going on. The only people on the island are other boys, and each of them has a "mother." The mothers all dress in the same bland, brown dress; pull their hair back; and feed their children what looks like bowls of boiled gunk scraped up at the bottom of the sea. Nicolas, unlike the other boys around him, is growing increasingly aware that his situation might not be a safe one.
And that's all before Nicolas and his friends are shipped off to a medical facility on the island, where nurses start conducting experiments on the boys. Going into the undefined horrors in store for Nicolas and his friends would ruin the surprises Hadzihalilovic has in store, which evoke names like Lynch and Cronenberg. But comparing Hadzihalilovic to other filmmakers feels somewhat unnecessary and more like a need to find something tangible when trying to describe her work. Hadzihalilovic simply doesn't make films like anyone else, and if her narrative falters—largely because narrative takes a back seat for her—it's made up for by a command of mood and atmosphere that's unparalleled. This is Evolution's greatest strength.
With Innocence, Hadzihalilovic played things extremely close to the chest, and with her follow-up she loosens her grip just a little. That doesn't mean it won't be hard to figure out what exactly is going on throughout Evolution, but it will certainly be easier to guess than her debut (also worth mentioning again since it's remarkable: this is only her second feature). There are times where the film's small hints of information lead to some of its most unforgettable images, like when Nicolas discovers what exactly the mothers do at night when they walk out to the beach. Other times, like when Nicolas befriends hospital nurse Stella (Roxane Duran), the film comes perilously close to introducing exposition and breaking its own spell. Thankfully it doesn't get to that point, but there are times where Hadzihalilovic seems lost at sea when it comes to figuring out how to leave out vital breadcrumbs to her audience.
But as I said, the benefit of Evolution is that plot doesn't really matter. This is a film about nailing down a tone that walks the line between dream and nightmare, teetering on either side throughout. And in that respect, Evolution succeeds. It's by far one of, if not the best looking film of the year, with images that look like paintings come to life. The constant presence and role of water in the film (tied directly in with the protective, maternal relationships between the women and children on the island) make it easy to get submerged in the otherworldly sights and sounds. Whether it's for good or bad reasons, Evolution is a film that will linger in the mind long after seeing it. I just hope it won't be as long of a wait before Hadzihalilovic works again.
Evolution (TIFF Review) Movie review