Crimson Peak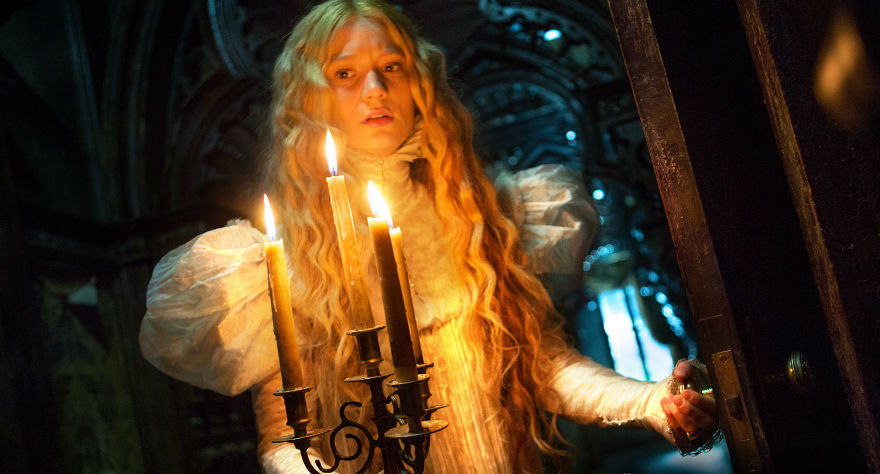 A not-so-serious haunted mansion story with stunning gothic imagery you won't soon forget.
Filmmakers with imaginations as wild and uninhibited as Guillermo del Toro's (there are only a few) cultivate rabid fan followings because, even if their films aren't a success, we're guaranteed an honest expression of their innermost demons and desires. Crimson Peak is the Mexican filmmaker's latest, a 1901-set gothic horror tale with a wicked sense of humor that pays homage to super-cool stuff like Hammer Films, Edgar Allen Poe, and Alfred Hitchcock. It never brushes the greatness of his most popular work, Pan's Labyrinth, another lushly-imagined, mildly terrifying storybook picture, but it's entertaining throughout and visually show-stopping, which won't come as a surprise to del Toro die-hards.
The film's ensemble is rich in talent, led by the delicate Mia Wasikowska as Edith Cushing, our virgin heroine who sees ghosts but is more often than not laughably naive to the immediate real-world threats that constantly circle her pretty little head. She lives in Buffalo, NY and has a longtime admirer in Alan McMichael (Charlie Hunnam), an eye doctor and respectable gentleman. Edith's finds a foreign visitor more fetching, however; British charmer Thomas Sharpe (Tom Hiddleston) has come to town to seek funding for a clay mining operation on his estate back in England (the valuable resource is blood red in appearance—crimson, in fact!) but finds himself equally enamored with fair-skinned Edith.
They fall for each other and get married, a development Alan takes with honorable acceptance. Less accepting of the arrangement is Lucille (Jessica Chastain), Thomas' sister, who becomes the proverbial third wheel as the three travel from New York to Allerdale Hall, the siblings' childhood home. It's an almost laughably haunted-looking mansion with a big hole stabbed through the ceiling due to weather damage. A nest of dark passageways, dusty-but-ornate rooms, and creaky elevators that plunge you into the dark mines underneath the mansion floor, where the clay operation (and probably some icky stuff Thomas doesn't want Edith to know about). Del Toro riffs on the same story elements and themes Hitchcock perfected in the feverish Notorious. Del Toro being the Hitchcock expert that he is (he taught Hitchcock classes in Mexico), the film honors its roots well.
Much of the film's movie's humor stems from how clueless Edith is to the fishiness of her arrangement with the siblings. Lucille has more than a few obvious psycho-killer tendencies (Chastain hams her performance up to mixed success) and Thomas is just as suspicious in how he always seems to be hiding something. Wasikowska's aloofness might be a turn-off for those seeking material less littered with silly dialogue, but for this critic, the schtick was fun and good for a laugh. It seems at times the actors struggle with the script's nimble tone, and it's hard to tell whether the occasional oddly-delivered line of dialogue is the fault of the actors or the writers (del Toro co-wrote with regular collaborator Matthew Robbins).
Without question, one of the major draws of a del Toro picture is the visual presentation, and Crimson Peak will let no one down on this front. The cinematography is spellbinding, as is the costume and production design. The sets are instant classics and Edith's handful of interactions with the vaporous ghouls that haunt her are startlingly convincing (del Toro never settles for his movie creatures looking anything less than tactile).
What's missing in this immaculately presented story is a sense of spiritual involvement, something the film strives for but doesn't quite grasp (Pan's Labyrinth felt more fully-realized as an expression of del Toro's beliefs in the supernatural). The plot is so evasive with the siblings' motivations that it undermines Edith's reluctant relationship with those from the great beyond. Nothing, however, could distract from the stunningly detailed gothic imagery which, like in many del Toro pictures, supersedes everything else.
Crimson Peak Movie review