Come Out and Play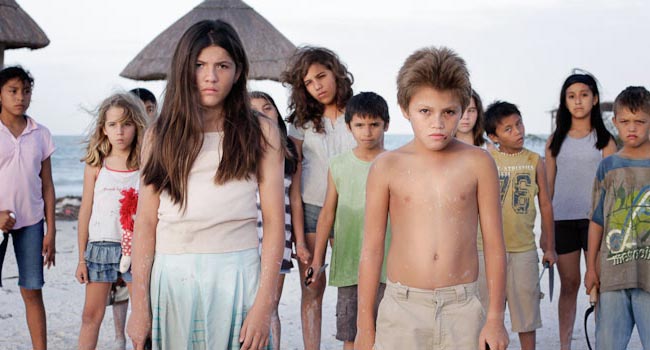 Everything that works easily outweighs everything that doesn't.
Come Out and Play is a vicious and methodical new horror film by a mysterious new film director who only goes by the name of Makinov. This film is an update of Who Can Kill a Child?, the 1976 film that some horror aficionados call one of the best Spanish horror thrillers ever made. While the film isn't a home run, there is a lot to admire here.
The film starts with a couple, played by Ebon Moss-Bachrach and Vinessa Shaw, who are getting in one last vacation in Mexico before they welcome their first child. While speaking to a local, Francis finds out about a small island that is nearby that is not well traveled among tourists. He runs back to the hotel where his sick (and very pregnant) wife to tell her what he has discovered.
The film spends little time getting the couple to the island. Once there they find out that things are not what they seem. At first the couple seems to be alone. Come Out and Play features plenty of great eerie shots of Francis and Beth walking around in the desolate village. Soon they find out that they are not alone and will end up having to fight for their lives.
The island turns out to be populated with kids that are killing off all the adults. Come Out and Play then turns into a savage tale of survival. While the film doesn't really explain why the kids are obsessed with killing all of the adults, one scene seems to point to some kind of curse that hangs over the kids.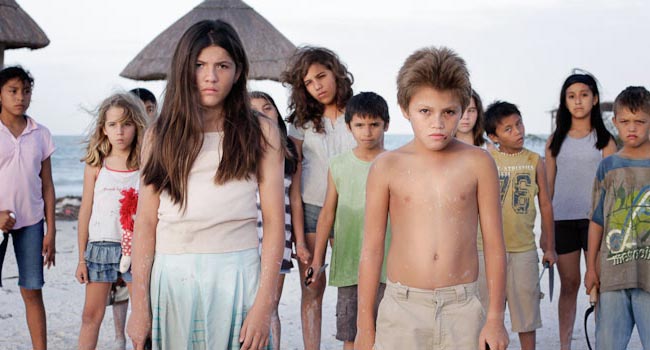 What Come Out and Play excels at is its setting and mood which ends up being the best part about the film. Makinov nails the mood with a fantastic sound design that is mixed with a great atmospheric score that would leave John Carpenter and a host of other synth led horror maestros from the 70's more than pleased.
With these two powerful aesthetics underlining Makinov's overall plot, Come Out and Play just about succeeds with flying colors. There are, however, some issues the film has that almost undercut everything the film works towards. For one, the idea of two grown adults being afraid of a pack of kids seemed a little silly. Second off, some of the plot twists that happen near the end also came off as humorous.
While at first these issues were quite bothersome to me, I let the film digest for a while. It occurred to me that the film comes off as a nice little love letter written to the violent, penetrating horror films of the 1970's and couldn't help but think that they were meant to be a little cheesy. While forgiveness is not on the table for some of these setbacks, I can't completely disregard what does work with the film. And to me, everything that works easily outweighs everything that doesn't.
Come Out and Play Movie review