Chef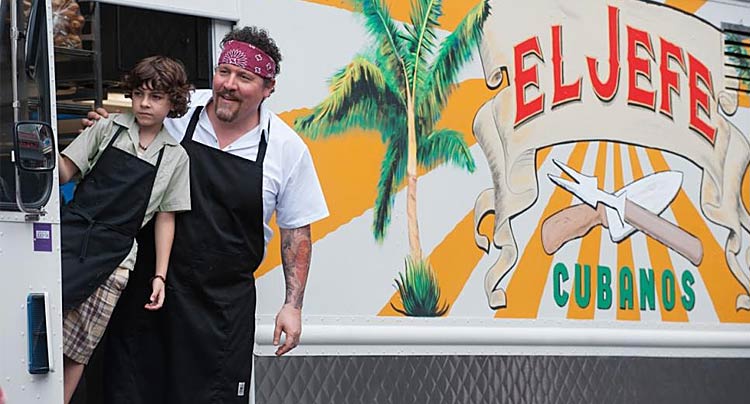 Perfectly cooked, the film is heartwarming and tummy grumbling.
Between viewing options like Godzilla and X-Men: Days of Future Past, which make up the usual beginning-of-Summer box-office listings, is the smaller scaled and incredibly satisfying Chef. Jon Favreau takes a break from action movies and mainstream projects to get back to his indie comedy origins.
In Chef, Favreau (who wrote and directed) plays LA chef Carl Casper, a tattooed foodie who starts the film preparing for a big deal food critic who will be dining that evening at the posh restaurant where he works. He creates a creative new menu to showcase his culinary talents, aided in the kitchen by Martin (John Leguizamo) and Tony (Bobby Cannavale), his friends and associates. When the restaurant's owner Riva (Dustin Hoffman) puts the pressure on Casper to play "his greatest hits" and stick to their usual menu, he gives in and predictably receives a horrible review by critic Ramsey Michel (Oliver Platt) who calls him out on having given up on the inspired dishes of his youth to cater to the boring palettes of the social élite.
Shaken by the review, Casper ruminates on the accusations, and when introduced to Twitter by his ten-year old son, Percy, he finds an outlet in which to retaliate, which he does without realizing the very public nature of Twitter. The Internet turns the online dual into an even bigger deal and Casper challenges Michel to another tasting, but when Riva puts his foot down once again Casper reaches his breaking point, quitting his job and erupting on Michel in a very public outburst that only perpetuates the scandal as its shared online. When his good friend Molly (Scarlet Johansson) points out that he hasn't been truly happy in some time, Casper can't help but face the music about his life and ambition.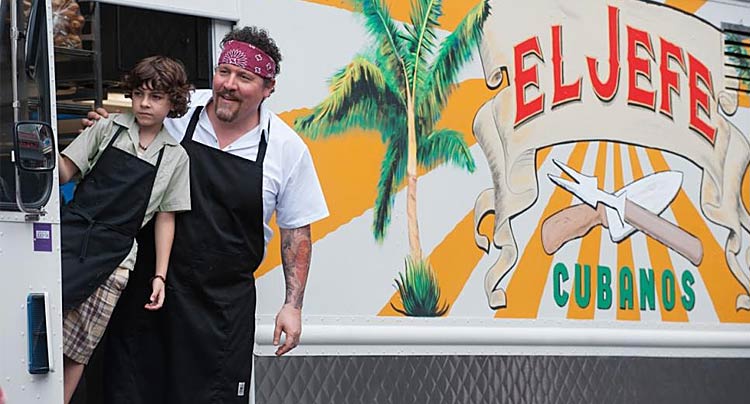 Dejected and out of options Casper takes his ex-wife Inez (Sofia Vergara) up on an offer to go to Miami to spend more time with his son and in a way get back to his own roots in food making. In a hilarious cameo by Robert Downey Jr. playing Inez's other ex-husband, Casper is offered a food truck and he decides to finally go into business for himself making the food he does best: cuban sandwiches. Joined by his best friend Martin and his son, the three make the trek from Miami to LA and Casper doesn't just learn how to be the chef he should be, but also the father he should be as well.
With a touch of shmaltz and a whole lot of butter, this film should not be seen on an empty stomach. Favreau takes his time, allowing his characters to develop with the same precision and delicacy each meal on-screen is made with. Emjay Anthony plays Percy, Casper's son, and his big brown eyes perfectly convey the sort of constant watching a young boy does of his father; looking for cues, lessons, and love. Like other foodie films, Chef doesn't dance around the metaphors of recipes for food as recipes for love, but uses it to great effect. And the film is truly hilarious, using Casper's lack of social media understanding for quite a few jokes that keep the film from feeling too indie.
Favreau uses all his famous friends (Downey Jr. and Johannson are both from Iron Man) but doesn't abuse them, letting Leguizamo do the sort of cheeky comedy he's so good at. The film's ending is a bit Hollywood perfect and I wouldn't advise anyone consider this an accurate career representation. Also, Casper's naïve reaction to his food's criticism doesn't serve much as a lesson in thick skin by any means, and any allegory to Favreau's own opinions on criticism of his work isn't especially effective. But what Favreau maybe unintentionally proves is that when a creator gets to the core of what they do best, their work will almost always be applauded, and Chef is the kind of filmmaking Favreau excels at.
Chef is a fun summer film that leaves viewers happy and heart warmed, albeit hungry. No explosions or caped crusaders necessary.
Chef trailer
Chef Movie review