Cartel Land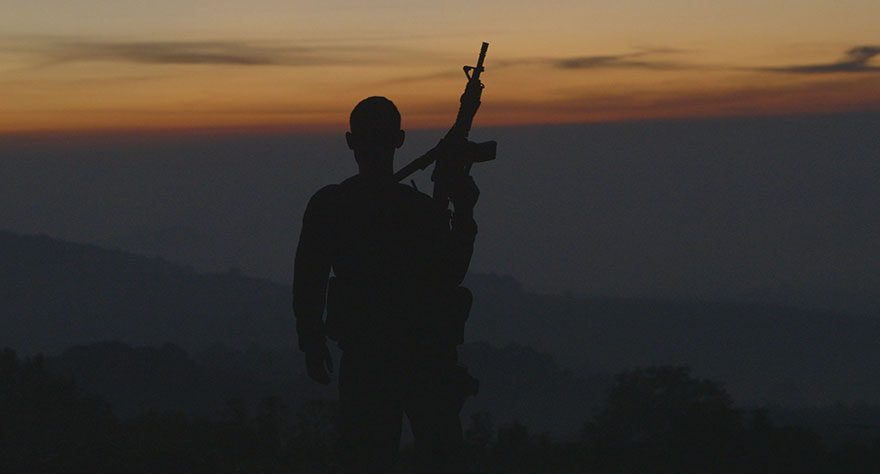 A complex, towering portrait of two men raging against lawless terror and the imposing system they are trapped within.

For years, the violence and aggression of Mexican drug cartels have made headlines across America, and by the looks of it this violence has grown progressively worse as more cartels sprout up, clash for territory, and vie for power. Still, few films have spotlighted this conflict as a subject, and while TV has crossed paths with the topic, it's usually never more than in passing. This year sees several films looking south toward the border, including Denis Villeneuve's upcoming Sicario and the powerful new documentary Cartel Land.
Cartel Land opens around a smoke-filled barrel, with a group of Mexican meth cookers carefully mixing a large batch of the product. And while it's hard not to be terrified by their ease and comfort crafting such a toxic substance, a voice over explains that these men have to work here to support their families and stay on the good side of the cartels. They are simply trying to survive, and this stark, gorgeously shot scene sets the tone for what follows. Cartel Land chronicles the near-parallel lives of two men, one Mexican and one American, who pick up arms against the cartels, fighting a war that they believe their governments have forgotten, only to be vilified by the people they are laying down their lives to defend.
In the Mexican state of Michoacan, "El Doctor" Jose Mireles begins a tireless effort to battle the cartels eroding his small town. The militia he forms becomes an overnight success, slowly running the Knights Templar cartel out of one town after another. But as their militia numbers grow, their reliance on Mireles' charisma and leadership quickly leads to internal strife.
A thousand miles away, across the border in Arizona, Tim "Nailer" Foley, an American vet, founded the paramilitary group Arizona Border Patrol. The group's original purpose was stopping the steady stream of immigrants crossing the border, but they soon realize that the true problem lies with the same vicious cartels smuggling drugs through the rugged mountains.
Over and again, Cartel Land touches on the senseless violence and countless lives taken for next to nothing by the cartels. Testimonials by fear-stricken people serve as reminders as to why Mireles and Foley continue to fight, even as their power grows and the media and government tarnish them. Director Matthew Heineman, who embedded himself deeply and survived fire fights to capture the film's footage, builds a compelling and painful picture of two men setting their sights on being the change necessary to save their homes from violence and corruption.
Not only does Cartel Land succeed in sheer bravado of filmmaking and powerful human narrative, it's a masterfully well-crafted picture. Heineman took home awards for Best Director and Best Cinematography at Sundance, and every frame shows why he deserved to win. Lensed with all the dust and sun expected from Arizona and Mexico, the film is all the more biting for its unflinching nature and the beauty with which all the violence is captured. In one scene, as two known killers are caught and attacked by dozens of raging townspeople, the unwavering depiction of these vilified monsters turning into cowering, terrified men is painful to watch.
One of Heineman's best tricks here is stripping the audience of a cipher, making it difficult to figure out who to root for. The hard, obvious answer is no one. But watching so many men attempt to do good, only to fail so earnestly, helps, even if only in a small way, to make some sense of the cyclical nature of the war raging in these remote towns and villages.
Only late in the third act does Cartel Land waver, as it tries to wrap up the loose ends of its complex stories, but it nevertheless remains engaging, even as some of its subtleties go out the window, forcing the audience to play catch up with some convoluted but essential details. Unbelievably gorgeous, Cartel Land is an important, complex, and towering portrait of two men raging against the lawless terror inflicted on thousands of innocent lives, and the imposing system that traps all of them.
Cartel Land is now playing in select theatres across the US, and opens July 10th in Toronto at the Bloor Hot Docs Cinema.
Cartel Land Movie review