Butter on the Latch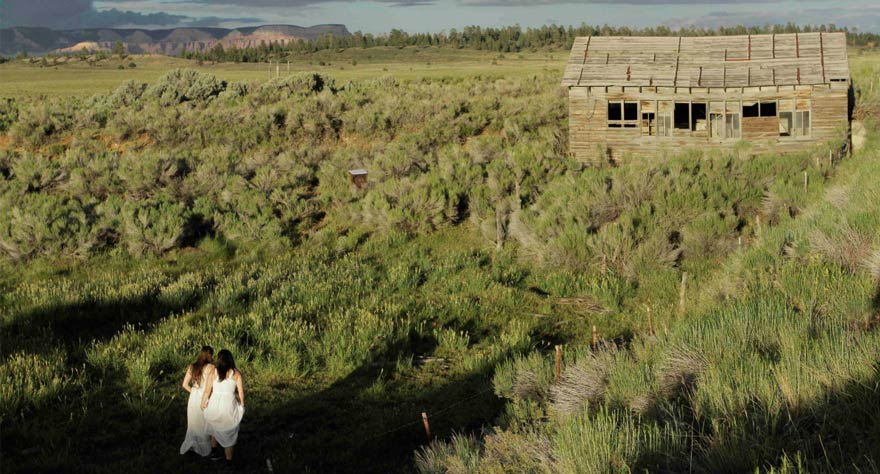 Decker and Connor truly work wonders to visually capture the magnetism of both feminine allure and feminine malice.
The famous real estate idiom about the three most important factors in determining the value of a property, aptly applies to Josephine Decker's experimental feature debut: "location, location, location." Take "feature" with a pinch of salt, however, because Butter on the Latch is twice removed from any other feature you'll see all year (except, maybe, Decker's second narrative film released this year, Thou Wast Mild and Lovely, which we've recently reviewed here). Decker's background in performance art is felt throughout Butter; to the point that the two central characters' movements feel as choreographed as their dialogue is improvised. But it's not the movements or the narrative that keep the viewer engaged through-out this performance piece; it's the woods where it's shot, specifically a forest in Mendocino County, California, that seems to be the point of inspiration for everything else.
Sarah (Sarah Small) lives in New York, and after waking up half-naked in some ramshackle warehouse on the lower side of Manhattan, decides to visit her old friend Isolde (Isolde Chae-Lawrence), who's at a Balkan folk music camp in Mendocino, getting over a break-up. The two re-unite and leisurely converse over Slivovitz (a Balkan plum brandy, originating from Serbia), and make-up; Isolde recounts her adventures with a mysterious masseuse from the East Village called Victor, Sarah remembers a Bulgarian folk song she heard, about a dragon entwined in a woman's hair and whisking her away. It's romantic and frightening all at once, but compelling enough to start having an influence on Sarah's dreams. The friendship is abruptly strained with tension when Sarah's gaze falls on a banjo-playing crooner called Steph (Charlie Hewson). Sarah and Steph grow closer, Isolde's capriciousness grows stranger, music and nature work in harmony to distort the lines of fiction and reality.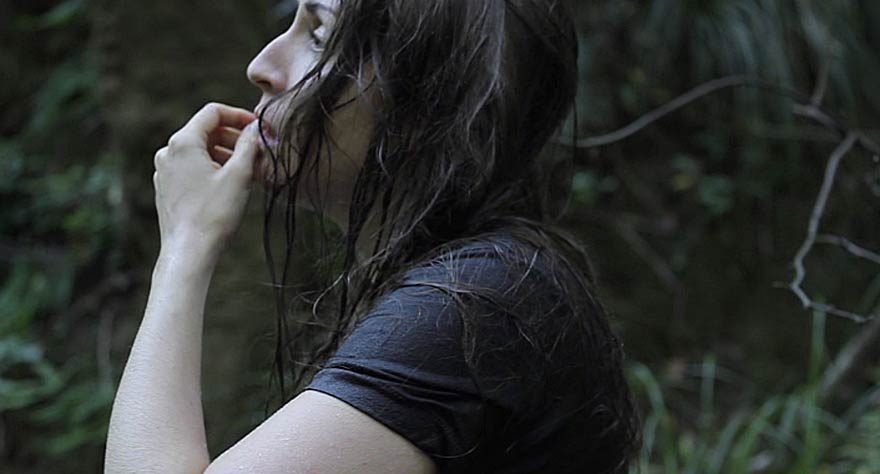 Decker's film is one of those tough watches that will either frustrate the viewer to the point of not wishing to continue, or completely enchant them. Directed and edited by Decker, shot by Ashley Connor, and playing out as a real-life encounter of two friends called Sarah and Isolde (in its most experimental move, all dialogue is improvised, thus this 'feature' doesn't have a screenplay); the essence of Butter is very much a feminine essence. Decker discovered a fascinating way to connect the dots of folklore, music, and nature, and the result is a drawing of whatever the personification of female psychology would look like. Presumably a female figure covered in a lot of hair (one of the most striking visual motifs in the film). Aesthetically, and on a purely poetic level, Butter on the Latch is as sumptuous and inviting as its wonderful title suggests.
Connor's cinematography has been singled out as a standout, and it is. Images of caterpillars slithering toward the fringes of focus, the crackling of a fire reflecting off a sleeping face, and strolls through the woods in the middle of the night lit by flashlights, pervade the entire picture with a tenuous sense of mysticism. Decker's editing, however, should be championed as much as Connor's cinematography; the influence of Bergman's Persona and Lynch's Twin Peaks is most intensely absorbed through the way Decker vigorously cuts and splices Sarah's dream sequences, and its inebriated final moments. And as much as Bergman and Lynch must have been artistic influences, there's a disarming sense that the spirit of Roman Polanski's Repulsion is never too far away.
The trouble many will find with Butter, however, is precisely its disorienting nature, which seems to refuse any sense of narrative out of some experimental, post-modern, principles rather than a storytelling necessity. It's an alluring piece of work, to be sure, but it seems to revel in confusion rather than attempt to escape it or truly put it to any good, compelling, use. A great example, in fact, of when improvised dialogue may not have been the best artistic choice. Due to this, Butter feels like the work of a student still learning her craft and something that doesn't quite reach the creative heights it's stretching toward. But, for someone who's just begun her very promising directorial career, that's hardly a big criticism. Decker and Connor truly work wonders to visually capture the magnetism of both feminine allure and feminine malice. Visuals inspired by a psychological location of the psyche as much as the physical location of the woods.
Butter on the Latch Movie review