Breathe In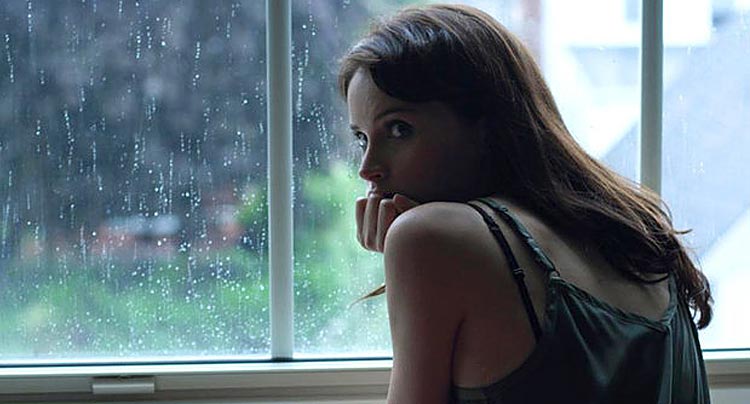 A beautiful but overly-restrained romance, dealing with questions of love, fidelity, and family dynamics.
Breathe In, Drake Doremus's second indie romance since Like Crazy (2011), follows the story of disaffected high school music teacher and part-time concert cellist Keith Reynolds (Guy Pearce) and his family. Keith finds himself increasingly attracted to the talented foreign exchange student, Sophie (Felicity Jones), who will be spending a semester with his family. This reserved, soft-spoken narrative delves into love, fidelity and family dynamics, striving for the difficult-to-achieve balancing act that is "understated drama." Unfortunately, it falls short of the mark.
To its credit, the film has a lot of things going for it–-a great score, beautiful shots, good performances from our two stars (particularly Mr. Pearce), and a wonderful sense of pacing and rhythm. Using its quietness in a fluent manner, the film keeps the narrative moving, never falling into the lethargy that can threaten such a restrained film. Mr. Doremus had allowed his actors in Like Crazy to improvise their own lines, following only a loosely outlined plot–-at places Breathe In uses the same technique, and its dialogue feels honest and straight-forward.
Thus the film's great failing isn't the performances or the execution, but the story itself. Without giving away too much, Breathe In follows the straightforward trope of a middle-aged man seduced by a younger woman, attracted to the open possibilities and "freedom" presented by such a relationship. Keith Reynolds is a man dissatisfied with his suburban life, resenting both his family and the world surrounding him when he thinks of the artistic life he gave up to settle down (apparently just as his musical career was beginning to pick up). You have quite a bit of sympathy for this man, dealing with an unsupportive wife, a lackluster daughter, and the desire for a much more creatively fulfilling life.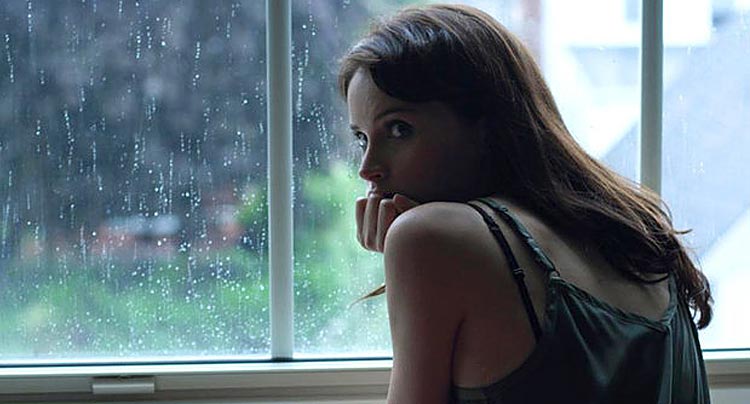 The attraction Keith feels towards Sophie, with her youth, positivity, and obvious talent, is a bit of a no-brainer. We watch the gradual buildup between the characters, setting the stage for what could have been an interesting and dynamic climax–the conflict between social/familial obligation and the escapist urge for "something more."  But despite this phenomenal setup, the film putters through its crux with a half-hearted yelp. Rather than addressing the deep emotional underpinnings developed throughout, the film seems to blow through its final scenes with such brevity that we're left scratching our heads, trying to figure out what happened.
It's a shame that such solid acting and production value couldn't save the film from its poor and stifled conclusion. Perhaps Doremus became so enamored with his own understated aesthetic, he couldn't let the film run its course, and never allowed his well-developed characters more room for expression? Whatever the cause, Breathe In leaves us in suspense without ever releasing its pent-up energy–we're still stuck holding our breath, long after the credits roll.
Breathe In trailer
Breathe In Movie review