Blood Cells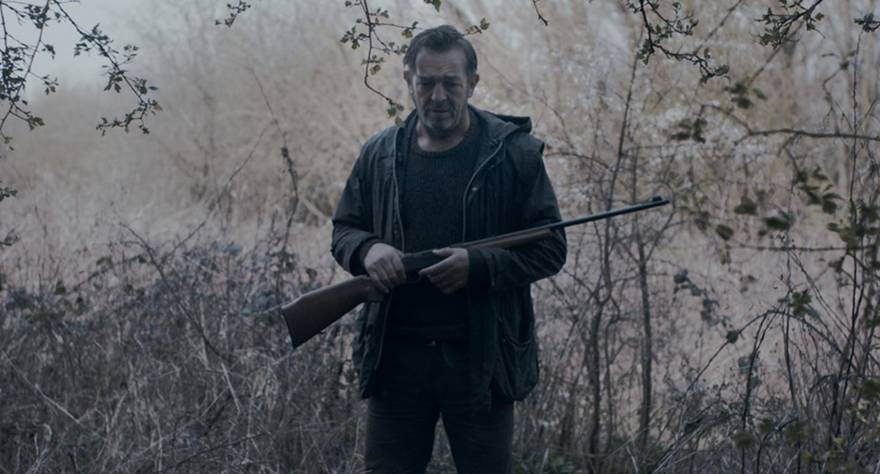 An intense passage through the bleak and beautiful terrain of a distressed mind and the accompanying British landscape.
This debut from British duo Luke Seomore and Joseph Bull is a heartfelt study of the begrimed contemporary landscape of Britain, yet the film suggests it could almost be set between the margins of any town or city, as it is through the dishevelled worldview of a single man that we identify with the struggles of everyday life.
Barry Ward is Adam, a man on a quest for a new direction, but clearly set back by miserabilism and beseeching feelings of guilt and melancholy. News from home sets Adam off on a journey that sees him revisiting ex-girlfriends, old friends, and finally, the family that he is expected to welcome back with open arms. The history of the family is a sour one, but what we do know is that turmoil set in after agricultural death with the rise of the Mad Cow disease crisis, which blighted Britain in the early 2000s. This section of the story is immediately told with striking visuals and a poetic touch reminiscent of Under The Skin, an earlier well-received British gem that also had its first outing as an official selection at the Venice Film Festival.
Barry Ward is exceptional at achieving psychological shades of grey in his performance. From a suspiciously pleasant evening on a pier drinking with two underage girls to an odd attempt at levelling self-harm, this character study is almost endearing in its uncompromising, yet altogether authentic and sincere, approach to mental health. Adam's flight inevitably brings more fear and conflict, but also the courage to save his life. We only get glimpses into his past, but something is definitely missing, obstructing the path, perhaps a lack of existential purpose, a loving relationship, or a crippling anxiety. Either way, the ideas presented are deeply melancholic and ambidextrous.
The film's images are compelling in their vast display of fractured landscapes and decaying beauty, but occasionally these moments can get lost in their own fever. It can be too unbroken. Overly permissive imagery sometimes cramps the film's style. The script, however, remains loose and allows for a delirium of realities to float around discontinuously. The film is not essentially surreal, although it does have a few oddities, it has too much momentum in its storyline to fall under the absurdist label. The film remains at a crossroads, one wrong turn, and there is danger of being led down a hollow expanse. Undeniably, the depth of character and contemporary reflection on society is what this film achieves best, even if one can feel lost in it all.
The score is intense and unsettling, looping and whirring around like Adam's disquieting state of mind. It is an unnerving experience and the film feels like it could come undone at any moment. It is not an uplifting tale of spiritual conquest or warranted redemption, but a bleak passage in the life of a washed-out man. Sometimes it feels healthy to witness glum material like Blood Cells, where emotional depths have something interesting to offer. The film certainly offers this as a film that caters for and beyond an arthouse audience. It is a good debut that establishes its directors as ones to watch, even if the material is bound to make one feel utterly miserable afterwards.
Blood Cells Movie review